By Katherine Bond Jun. 28th, 2010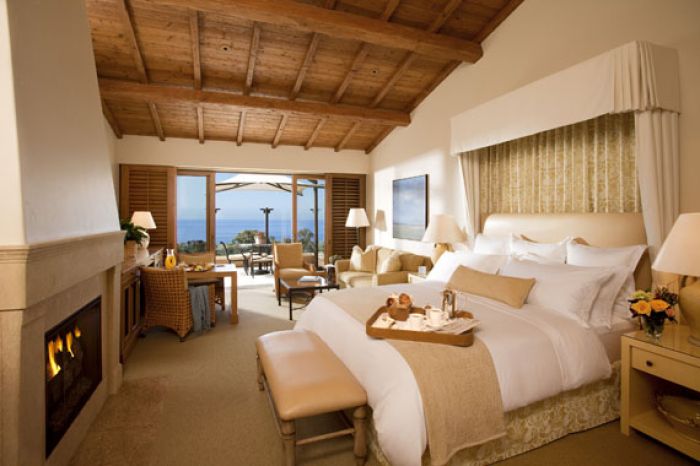 Hotel Reviews:
The secret is out: Pelican Hill Resort, the 504 acre resort resting atop rolling golf greens and enjoying view of the Pacific Ocean in
Orange County
, has travelers flocking to it from around the world. Not even two years old, this impeccable resort has already racked up the industry's top distinctions, including Travel + Leisure's,
It List
and the Robb Report's
Best of the Best
.


While strolling along the crescent shaped terrace overlooking the resort's Coliseum pool, the largest circular pool in the nation, I soaked in the bubbling energy around the property. Young couples, groups of gal pals, generations of families, and golf buddies lounged and laughed all around. It put a small smile on my face. I love a property that just doesn't facilitate meetings, but makes moments.

Pelican Hill such an epic escape. The resort imparts a feeling of warmth and of being home but on the grandest of scale in luxury. I have visited hallmark resorts that boast a 5 star quality because of their size and statue, but then miss the fine details by having thin, worn robes in the closet, a housekeeper that doesn't greet passersby with a smile, or a sloppy resort activity list that hardly passes for thoughtful planning.


The Pelican Hill simple logo displayed ubiquitously on soaps, umbrellas, and staff members symbolizes absolute comfort. Guest comfort is anticipated everywhere, from a seashell book in our villas deep bathtub to a blanket offered by a attentive staff member at sunset while dining al fresco. When we arrived early evening, I was delighted to be offered the Friday night Spa Soiree. This is a weekly event in the resorts stunning 23,000 square foot retreat completed with complimentary drinks and an artist's canvas guests could paint on. Had it been earlier in the week, I would have jumped on the Art and Olive Tour, a 60 minute olive tasting and art exploration of the property's Plein Art collection.

Selfishly, I can only hope the secret of this Southern California gem resort doesn't spread too far to spoil it. I'll just make it my duty to visit Pelican Hill often to ensure it stays great, year after year. See All Luxury Hotels in California
Katherine Bond
Katherine Sutton Bond is a freelance travel and luxury item writer for Justluxe.com. She's traveled the world and sampled some of the leading hotels and destinations of the globe. She often covers luxury events and technology. ...(Read More)