By Merilee Kern Jul. 29th, 2010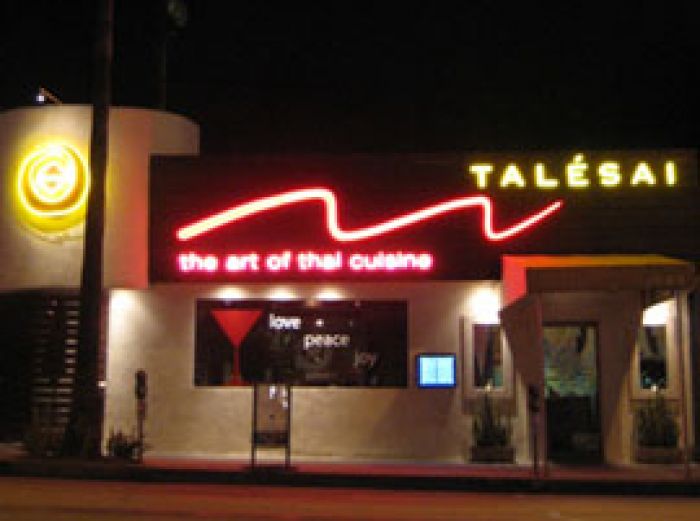 Restaurants in LA:
When in
West Hollywood
, there are endless top-shelf dining options. Restaurants of every sort abound, especially on the Sunset Strip where diners' expectations decidedly higher. One not-to-be-missed restaurant for those serious about cuisine is Talesai — long regarded as the best Thai food in Los Angeles fore more than twenty-five years. Priscilla Presley, who quietly rolled into Talesai with her entourage for dinner on the night of my visit, undoubtedly agrees.
The restaurant is currently owned by 26-year old Executive Chef Kris Yenbamroong, but don't let his young age fool you. Kris is a professional of the highest caliber who has been integral in propagating the success of this family-owned business by ensuring it not just meets — but exceeds — 21st Century standards.
In 2008 the restaurant was renovated, resulting in a clean and contemporary ambiance that's particularly warm and inviting. The dining room and full bar area are accented by mirrors, wood, white linens, bronze flatware, and the inspired work of local artists. Ask for a seat by the picture window overlooking the Strip, which offers endless people-watching opportunity. The intimate restaurant now seats 60, with plans to open a 1,200-foot private dining room and event space in the Fall of 2010.
Also revamped is the menu, now focused on Thai classics interspersed with an array of modern dishes that Chef Yenbamroong discovered while studying and living in Thailand. The food at Talesai is distinctive from other Thai restaurants in the area, one for its evident use of fresh, top quality produce, meats and seafood.
In my recent dining experience at Talesai, I was lucky enough to partake in a wide selection of items from the restaurant's famed menu, which offers a selection of appetizers, soups, salads, stir-fries, grilled items, Thai curries, noodles, rice and "eclectic" options.
First up was the restaurant's signature appetizer Hidden Treasures, consisting of shrimp, crab and calamari melded and baked with chili and coconut. This was served piping hot in a cast iron escargot-like dish, with each morsel individually capped by adorable miniaturized food domes to maintain just the right temperature until the second it's to enter your mouth. This hallmark dish was rich, creamy and savory with an incredible flavor profile that perfectly complimented the sweet, delicate seafood.
Also from the appetizer menu, we feasted on Chicken Satay, skewered and expertly grilled, served with a perfectly sweetened, creamy peanut sauce; Dim Sum Dumplings of pork, crab, shrimp and jicama, with roasted chili oil and a lively dipping sauce; and delicate Mushroom Fries, served with a rich cilantro, garlic and lime aioli.
As if my palate was not elated enough by these starters, the Thai cuisine quest continued with the entrée course. With this, it became abundantly clear why Talesai lives in the hearts and minds of Thai food aficionados around the globe. Our entrees for the evening consisted of the Thai Boxing Chicken — a boneless breast perfectly spiced and grilled, served with a chili and garlic plum sauce that's nothing short of addictive. The Chicken Curry (choice of red or green) with eggplant, bamboo shoots and peppers more than lived up to my high expectations, as Red Chicken Curry is my staple dish ordered whenever I'm frequenting a Thai restaurant. Of course, most I've had pale in comparison to
Talesai's version. The coup de grace, however, was Talesai's Sea Bass Tamarind entrée — delicate and flaky Chilean sea bass coated with a crispy tempura-like batter and topped with sweet and tangy tamarind sauce. This was served along side farm fresh green beans. Of course, every Thai restaurant has its own spin on fried rice, and Talesai's version with chicken, egg and onions served as a nice compliment to all of the dishes.
Other standouts on the Talesai menu include the Spicy Rib-Eye appetizer of sliced charbroiled steak topped with a fresh chili, lime juice, onions and chili; New Zealand Lamb Chops grilled with Thai spices and served with pickled cabbage; Pulled Short Ribs slow-cooked with green curry; Heavenly Duck — crispy, twice-cooked with a ginger soy sauce; and Red Devil Noodles — flat rice noodles with grilled rib-eye steak, jalapenos and Thai basil.
On the lighter side, salads are one of Talesai's strong suits. Notables include the Green Papaya Salad tossed with lime Juice and fresh garlic; Naked Shrimp Salad with lime and roasted chili over mixed greens; and the spicy Bangkok Rib-Eye Steak Salad over lettuce with fresh lime juice and chili.
If a full dinner is not on the agenda, do stop into Talesai's full bar that mixes up a myriad of unique cocktails. The restaurant also offers a rotating wine selection that focuses on unique, small production wines from lesser-known growing regions. This helps ensure a special experience on return visits with something new to pair with the restaurant's fabled fare.
Appetizers at Talesai range from $6-$18; entrees from $10-$23; and desserts are $8. Speaking of dessert, for a truly authentic experience, I do recommend the restaurant's traditional Thai Custard served alongside coconut ice cream and sticky rice. A perfect mélange of flavors, textures and temperatures and an outstanding finish to an extraordinary meal.
Overall, the Talesai menu allows for a rustic and adventurous Thai dining encounter, or for a proper and refined Thai supper. Whatever your mood and craving, Talesai will not disappoint.
Visit
www.talesai.com
to learn more.
Merilee Kern is JustLuxé.com's "The Luxe List" Executive Review Editor. She scours the luxury marketplace for new and captivating product, service and travel "musts." Submissions are accepted via e-mail at Merilee@JustLuxe.com. View all of Merilee's Luxe List articles from here (scroll to page bottom) and follower her on Twitter here: twitter.com/LuxeListEditor.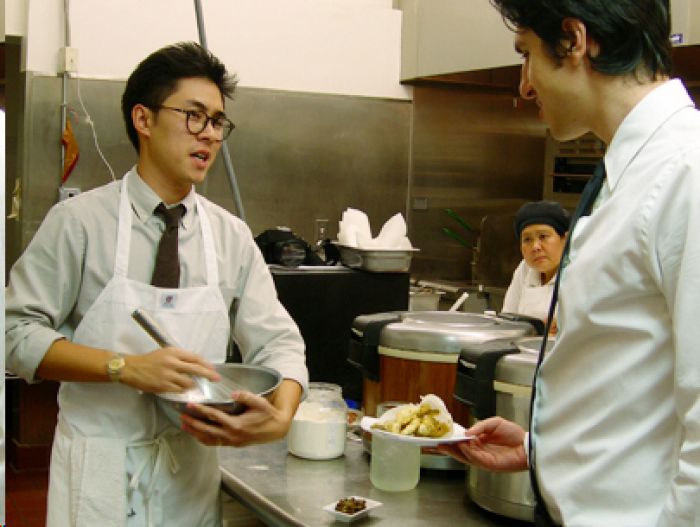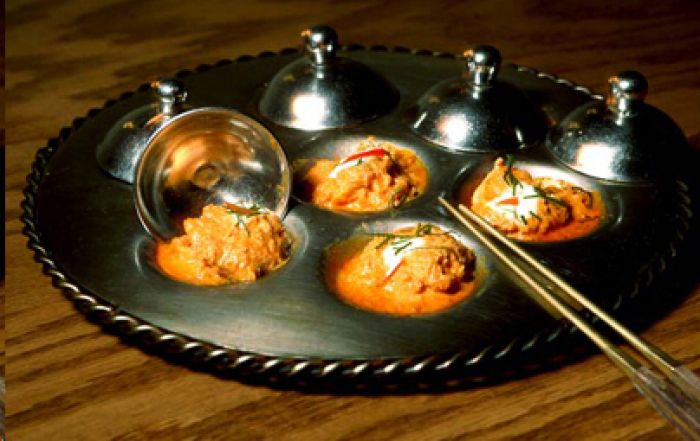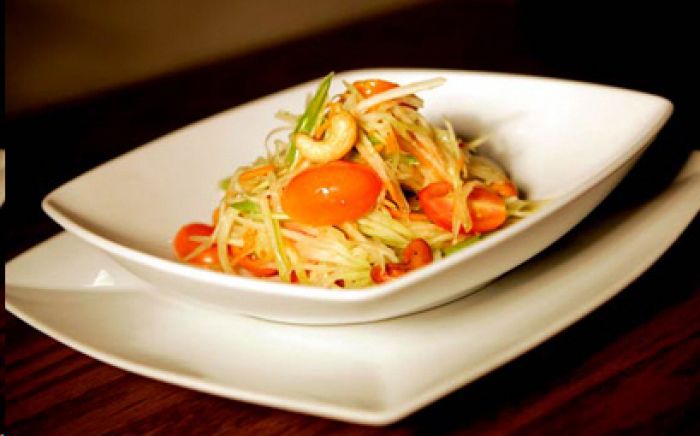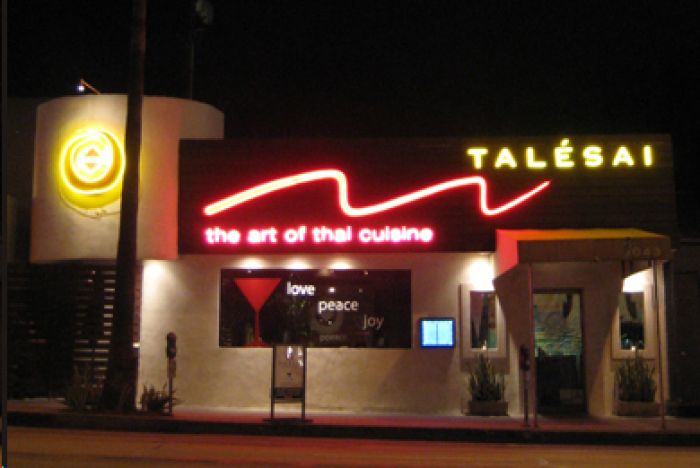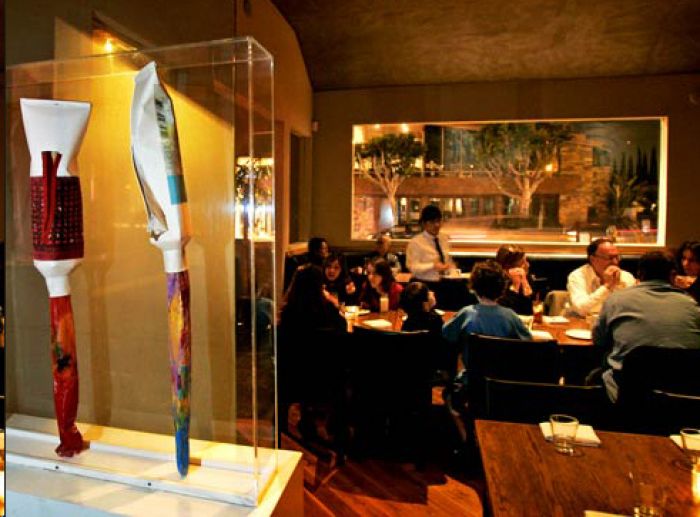 Merilee Kern
Branding, consumer product trends, leisure and lifestyle expert Merilee A. Kern is a good life connoisseur who keeps her finger on the pulse of the marketplace in search of new and innovative must-haves and exemplary experiences at all price points, from the affordable to the extreme. The best of the best across all product, service and travel categories–as well as noteworthy marketplace change ...(Read More)