By JustLuxe Team Aug. 2nd, 2010
Bars in Los Angeles:
In the spirit of Tales of the Cocktail, the summer Spirits Fest and Awards ceremony in
New Orleans
, I decided to tip back a couple of gin classics with LA's nominee Eric Alperin (American Bartender of the Year) in his classically inspired and nominated (Best American Cocktail Bar) Varnish Bar in downtown LA.
You are hard pressed to get Alperin to talk about himself as he'd sooner cut to the cocktail and start mixing his magic and let the pours speak for themselves, which they did. Those little wonders were a mouthful of magic.
Now you had to be sleeping under a sober rock to not know the absolute influence of the seemingly understated Alperin, who is largely responsible for the classic cocktail resurgence that has taken So Cal by storm.
Hailing from New York, Alperin's worked with the famed Batali/Bastianich family of restaurants, designed LA's own Osteria Mozza's bar menu and recently partnered with classic cocktail God Sasha Petraske of London and New York's Milk and Honey to create LA's Varnish Bar. The rest is liquid history.
This Renaissance man set up shop in downtown LA in what has been compared to a speakeasy style bar. Not liking the comparison as, "it's legal to drink now". One can't help but conjure up a saucy image of yesteryear as you sneak in to the back of old school Cole's restaurant in downtown LA in to what is now The Varnish.
I was raised under the influence of the Irish with grandparents who upon their US arrival ran their own speakeasy and distilled their own gin. So, his bar immediately felt fun and familiar to me. The atmosphere and the gin cocktails, not to mention Alperin's bar charm had my imbibed heart all a flutter.
Alperin led me through an inspired liquid lesson pouring three classic gin cocktails. An artist at heart, Alperin chose three diverse cocktails served in three distinctly different cocktail glasses. Adept at engaging his audience, he threw down mid lesson having me step up to the plate and the bar making the little liquid gin ditties myself.
As a student is only as good as their teacher, I must say it was a Master Class. Three jazzy gin cocktails later, we (he did help) made the iconic Poet's Dream, Eagle's Dream and the Gin Fix. True to form and their names they were in fact creative little wonders, truly dreamy and in fact just the fix I was looking for.
As Alperin believes in not overdoing a drink, his choices were truly classic gin cocktails. The Poet's Dream with its Gin and Vermouth is a good one for those who favor the more classically styled martini. The egg white, violet and lemon in the Eagle's Dream made for a very sensual, smooth and creamy cocktail with a citrus edge, while the Gin Fix with Gin and Pomegranate Grenadine and an overflowing glass of crushed ice makes for the perfect classic for the steamy summer season for any kitten that finds herself on a hot tin roof or perhaps the guy who chooses to sip by a vintage, San Simeon styled pool, a la old Hollywood style.
Whatever the chosen backdrop, there's nothing quite like the real thing. So, if you want to catch a bit of the Alperin action and a wee look at the Varnish Bar, the cinematically savvy Alperin is definitively ready for his cocktail close up. To see Eric in action at
The Varnish Bar
, visit 118 East Sixth St. in Downtown LA, CA 90014; (213) 622-9999.
Poet's Dream
-2 oz gin
-¾ Dry Vermouth
-¼ Benedictine
- Dashes orange bitters
-Cocktail glass
-Stirred
-Lemon twist
Eagle's Dream
-1 ½ gin
-Egg White
-½ Lemon
-1 Violet Sour glass
-Shaken
Gin Fix
-2 oz Gin
-½ Lemon
-¾ Pomegranate Grenadine
Build and pour over crushed ice in a rocks glass, lemon wedge garnish
You can follow Karen on
Twitter@LAKarenLoftus
By Karen Loftus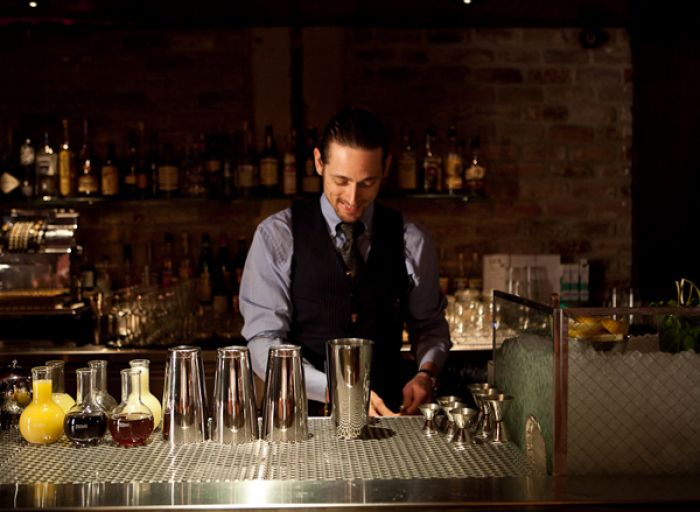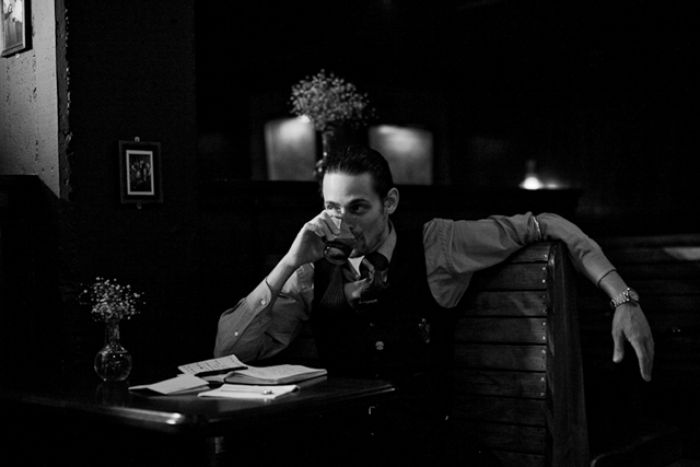 JustLuxe Team
The JustLuxe Team strives to bring our members and readers the very best in luxury news and conversations. We love to hear your opinions and suggestions, but most of all, we love to interact with you. ...(Read More)