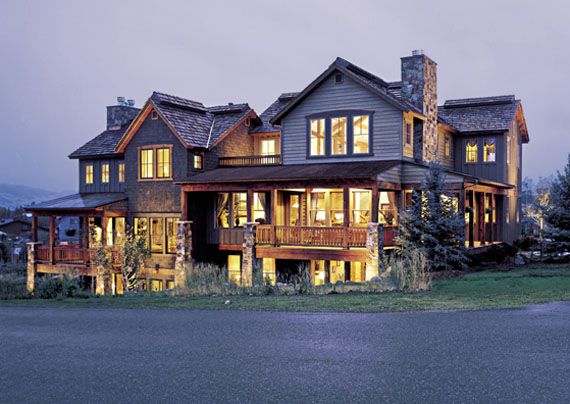 Photo Courtesy of The Porches
Offering Steamboat Mountain, South Valley and Emerald Mountain views, locations such as The Porches are non-existent in the United States and generally hard to find globally.


"Ski Town USA," also known as Steamboat Springs, is home to the oldest continual ski resort in Colorado - Howelsen Hill and easy to get to with direct flights into Hayden airport. This family-friendly town is also home to some of the newest luxury has to offer, such as The Porches located at the base of Steamboat Springs Ski Resort.

The Porches offers large twin-townhome configurations for whole or fractional ownership, as well as a select few in a rental pool for nightly rentals. Still developing the 20 acres in snowcountry, 40 units are completed with 82 total planned in the near future. Home to 69 Olympians, the city of Steamboat Springs is a perfect setting for these exquisite pinnacles of luxury living.

The townhomes, which feel like large estates in and of themselves ranging from 3,100 to 5,000 square feet, are well suited for multi-generational use. The four-and five-bedroom properties pay homage to western architecture and utilize a high quality craftsmanship. Exuding Old-World charm, such as plaster walls, rich woods, and solid granite countertops, the builder, Structural Associates, specializes in luxury real estate.


Each home includes a porch, the namesake of the property, with most floorplans including a porch off the master suite as well. Fireplaces, AC, powder rooms and game rooms equipped with pool and fuseball tables are all a part of the units, with mudrooms and additional storage adding to ski vacations and summer trips alike for equipment. Bunk rooms are another unique aspect of these destination condos and are a hug hit with the kids and young families alike, with ample living and activity space for all guests.

Every unit is furnished, with whole ownership options presented with a furnishings package option. Pinnacle Resort Management runs the illustrious community, with a top-notch maintenance team, housekeeping staff and first-rate concierge and shuttle services. "The Barn" serves as a clubhouse, complete with outdoor pool and hot tubs that are open year-round.



The steam room is perfect for post-workout relaxation, whether coming for the many outdoor activities Steamboat Springs has to offer or from the first-class fitness facility on-property. Continued attention to detail and craftsmanship flows into the central "Barn" structure, from the 1863 barn floor to the complimentary steaming lattes served by smiling staff members.

From a summer escape to a winter destination, The Porches at Steamboat Springs offer luxury accommodations and an outstanding property. Six direct flights to Hayden Airport afford a quick taxi ride with continued shuttle service through The Porches.

The Porches of Steamboat Springs
2096 Indian Summer Dr.
Steamboat Springs, CO 80487
866.500.6673
www.theporches.com

Via Examiner.com