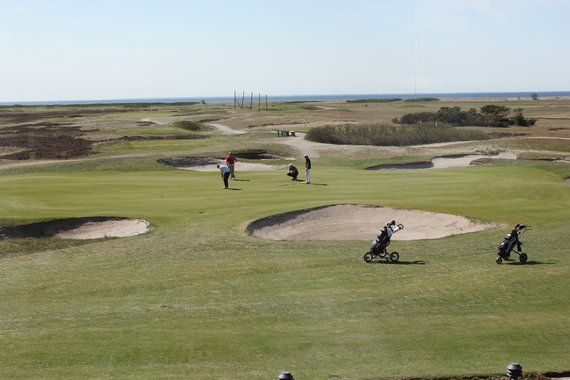 Photo Credit: Carrie Coolidge
Scotland may be the first destination that comes to mind when selecting a golf holiday overseas. One of the best kept secrets, however, is Sweden, which is home to some of the
best golf courses
in all of Europe.
Golf is wildly popular in Sweden, and as a result, there are many players (500,000 golfers out of a population of nine million), and more golf clubs per capita than nearly anywhere else in the world, second only to Florida. While many of the best golf clubs in the U.S. are exclusive and only for the use of their members and guests of members, this is not the case in Sweden, where all of the courses welcome visitors - even if the club itself is private.

Not only will you enjoy world-class golf, but the greens fees are a fraction of what you would expect to pay elsewhere and many of the clubs offer luxurious accommodations, as well. JustLuxe recently traveled to Skane in the southern region of Sweden to visit and play at several of the finest courses the country has to offer.

Skane is particularly good for golf, as the climate is milder than the northern areas of the country and there are nearly 70 courses throughout the region. We visited PGA National of Sweden, Falsterbro Golfklubb, and Barseback Resort, each of which we highly recommend.

PGA National of Sweden
PGA National of Sweden is one of the newest golf clubs in the country. Built in 2010, it is located in Bara in the southern region of Sweden. PGA National offers two 18-hole championship courses and a nine hole short course, all designed by acclaimed designer, Kyle Phillips.


PGA's 18-hole Lakes Course offers smaller greens, larger bunkers and many water hazards while the 18-hole Links Course features beautiful sweeping views of the landscape with insidiously placed bunkers, slopes and a stream running sideways across the course.

The club certainly lives up to the promise it makes in its brochure: It is a piece of Scotland in the middle of Skane. We were further reminded of its resemblance to Scotland as a strong gust of wind swept through as we made our way down one of its extremely long, open fairways.

The club offers several packages, which include accommodations in a luxury suite, breakfast, lunch and a two-course dinner, in addition to a round of golf, cart rental and driving range balls. If you want to play 18 holes, the total cost, including accommodations, breakfast, lunch and dinner, cart rental, etc. is 2375 SEK ($376 U.S.).

The same package, with 36-holes (and an additional lunch) is 3285 SEK ($521 U.S.). Without accommodations, the cost to play 36 holes, including lunch and a cart rental is 1660 SEK ($263 U.S.). The club has an excellent selection of rental clubs, should you decide to leave your irons at home, including Ping and TaylorMade.

Barseback Resort
JustLuxe next visited Barseback Resort, which is one of the most breathtakingly beautiful golf courses we've seen anywhere in the world. Ranked by Golf Digest as one of top courses in Continental Europe, Barseback, which was founded in 1969, has been host to 13 European Tour events, including the Solheim Cup in 2003.


A one hour drive from downtown Copenhagen, Barseback offers 45 holes, including the Masters Course, the Donald Steel Course and the Litorina Course, in addition to a nine-hole short course. "One of the things that is rather unusual about the Masters Course is that it is part land, part forest and part seaside, all on the same course," says Barseback's General Manager, Jonas Ohrvik.

Indeed, forest holes with grand pines are intermingled with holes in a park landscape and others with interesting water obstacles. A benefit to being located on the coast of southern Sweden is that all three courses are open from March to November while one of the courses is kept open all year round (only closing in the event of snow or frost).



While dining on its lovely terrace, we enjoyed views of Copenhagen in the far off distance, across the North Sea. The resort also offers two restaurants as well as a full-service hotel with a swimming pool, 36 double rooms and 40 terraced apartments with fully equipped kitchens and two to four bedrooms. A four bedroom, 110-square-meter apartment costs 5,000 SEK per night ($792 U.S.). Golf packages with discounted greens fees are available for weekly guests.

The cost to play Barseback is 750 SEK ($119 U.S.) for the Masters Course, 550 SEK ($87 U.S.) for the Steele Course and 1100 SEK ($174 U.S.) to play both courses (36 hours). Junior players (up to 21 years of age) receive a 50 percent discount on green fees. The Barseback Golf Academy, which has five PGA Club Professionals on staff, trains golfers at all levels, from beginners to European Tour players. Rental clubs, including Ping and TaylorMade are available.

Falsterbro Golfklubb
One of the most prestigious, oldest clubs in Sweden is the Falsterbo Golfklubb. Located on the most southern tip of Sweden - the Falsterbo peninsula - this club (seen in photo above) is only 30 minutes by car from the Copenhagen Airport. The private club, which is bordered on three sides by the sea, celebrated its 100th anniversary two years ago and has been ranked as one of the top 50 golf courses in Continental Europe. Its traditional well-bunkered links course features dunes as well as a historic lighthouse, and is reminiscent of some of the great links courses found in the British Isles.


The club is located in a nature preserve, and it is not uncommon to see birdwatchers mulling about, as the area is on the migratory path of many bird species. The club is opened year round. The cost to pay Falsterbo ranges from 400 SEK ($63 U.S.) for 18 holes to 800 SEK ($127 U.S.), depending on the time of year and day of the week. The fee for Juniors (under 21 years of age) is 200 SEK ($32 U.S.), except in July and August when the fee is 250 SEK ($40 U.S.).

While Falsterbo does not offer accommodations, JustLuxe recommends staying at Ystad Saltsjobad in nearby Ystad. Ystad Saltsjobad is a historic, but recently renovated five-star luxury beachside resort with a full-service hotel and a beautiful spa. The nightly rate for a deluxe room for two adults, including breakfast and spa passe, is approximately 2080 SKR ($330 U.S.).


Be sure to dine at Vendel Ales Stenar in Kaseberga Hamn, which is owned by a rising culinary star, Anders Vendel. The beautifully appointed restaurant offers spectacular views of the sea, outdoor seating, an impressive wine list, incredible gourmet cuisine. Tables are equipped with handheld telescopes which are wonderful for admiring the views of the vast blue sea. On your way out, be sure to buy some fresh baked goods, including the delicious cookies, at Vendel Ales Stenar's organic bakery on the ground floor.