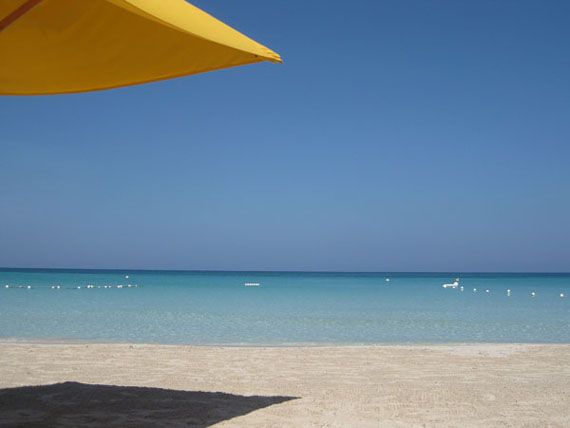 Photo Credit: Stefanie Payne
Twenty minutes after landing in Montego Bay, you, too, could be traveling — Red Stripe in hand — towards a lesser-known paradise on the island nation of
Jamaica
: Negril. Only about 90 minutes south of the airport, but eons away from the casino encrusted avenues of the well known beach city of Montego Bay, lives the pristine seven mile beach called "Seven Mile Beach."
Seven miles of sparkling turquoise bathwater, fine grained sand that shimmers like diamond powder, bars and beach vendors...this beach is touted as the best on the island. You can saddle up at "Sandals," "Breezes," or "Couples" if the all inclusive is your speed, or you can select one of the many boutique hotels spanning seven mile beach for a more authentic stay.

Undoubtedly, you seek an island like Jamaica for the sun, surf and sand, but after peeling off layers of this western coast city, you will find that there is much more to the area than Jimmy Buffet's Margaritaville and overpriced jet ski excursions. After a few days unwinding with the books that have been collecting dust on your night stand, and soaking in the first necessary breaths of sunny warm pleasure, you are ready to explore.



There are some discrepancies of whether or not Negril is a safe area. Locals say that spreading the news of danger on the beaches and in cabs at night is just a ploy from the hotels to keep you at their establishments, spending desirable American dollars. Others will say that there are vagabonds hiding on the beaches ready to rob you and cab drivers that… well, who knows. As in all traveling, staying safe often relies on using your best judgment and trusting your gut.


Opt for a driver – someone recommended by your hotel and known by other guests. Then pack into the air conditioned van and head out to the sparkling YS Falls to swim in and zip line over a tier of five waterfalls. Stop along the way and enjoy some habanero or jerk peel n' eat shrimp on the side of the road. Watch local cliff diver's catapult from handstands into the surf below at "Rick's Cafe." Eat goat at "Sweet Spice" – a local eatery not frequented by tourists.

Visit the farms. Whatever your plans while in Jamaica, whether you intend to journey to the Jamaican Blue Mountain Coffee plantations in the east or lounge on the sparkling beach observing the crystal blue waters with a daiquiri in one hand and a dollar to tip the reggae performers in the other...get off the beach and explore the real Jamaica for at least one day. It will lend an entirely different perspective to your stay. Whatever you do, make it yours and it'll all be "irie" (good).