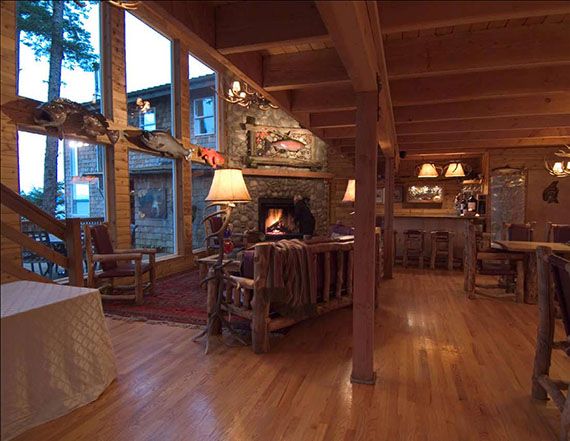 Photos Courtesy of Dove Island Lodge
Maybe you have never heard of Sitka. It is a beautiful village in southeastern Alaska located on Baranof Island along the outer coast of Alaska's famed Inside Passage. You can't drive there from here— or from anywhere. The only access is by sea or by air. Only a few cruise ships are allowed. There is no cruise port.

Sitka is a perfect setting for the delightful, charming and luxurious Dove Island Lodge. Located just offshore on its own private island the lodge is everything you could hope for in a place to get away from it all.

When you arrive at Dove Island you'll find that it is much more than just a fishing lodge. As a matter of fact you don't even have to fish to enjoy the amenities offered here. If half of a couple would rather not fish there are plenty of options, but first, let's explore the lodge.


Your first decision is whether you prefer a private cabin or one of the two-room suites. As a guest of the owner, I stayed in a very plush upstairs suite with a view of the ocean. The bedroom, with a large wall-mounted flat panel TV and personal refrigerator stocked with beverages. The living room features a luxurious sofa, giant flat panel TV, and rear door opening onto the balcony where my own personal hot tub awaited. Of course, there was a view of the bay from the hot tub where you could glimpse an occasional eagle skimming above the water searching for salmon. Should you decide the hot tub is not enough to engage your senses, there is also a wonderful, wood-fired Sauna. It is outdoors along the walkway to the boats and is not only functional but an interesting bit of architecture that fits nicely into the island landscaping.



Once you're settled into your accommodation of choice, you will want to spend some time in the warm and comfortable lobby, probably close to the large fireplace where guests gather to meet and exchange tales of their day's adventures. This may happen either before or after dinner, although you may find yourself lingering at the dinner table at the conclusion of your perfect five-course gourmet meal prepared by the resident chef. Dining is at the large community dining table found also in the lobby or "great room" as you may prefer to call it.

Chances are the lodge owners, Duane and Tracie Lambeth, will be dining with you and the other guests and you soon become an extended family. You may find your talk to be of your day's adventures and the host may even put some of your day's photos on the large TV screen to share with the other guests.


If you enjoyed a day like mine the conversation may be of the mother bear and her two cubs that were passed on the hike into a salmon "hotspot" that my guide led me to after being flown into a remote stream by the lodge owner, Duane, who just happens to be an experienced pilot. Dove Island is the only fishing lodge in Sitka with its own float plane, a dependable DeHaviland Beaver workhorse.

Because I wanted some exercise, I was taken on a long hike into a great little stream where the salmon were waiting for me to arrive. As a beginner fly fisherman I had a few lessons to start the day and then found myself pulling in salmon faster than I could have imagined. On a fly rod even a small salmon provides a lot of action and I quickly hooked several battlers. We released them all and then enjoyed our lunch that had been prepared by the lodge. Hiking out to the open water to catch our float plane back to Dove Island we had another great opportunity for bear watching. We had spotted a couple of deer on the way in and observed eagles watching us from high in the treetops.

And, for those who don't wish to fish you can be sure there is plenty to do. Of course, just hanging out at the lodge would make a lot of people quite happy. But, for those in need of more activity, Sitka has quite a bit to offer. I can highly recommend visiting the Sitka National Historic
Park with its impressive collection of Tlingit and Haida totem pole carvings, the Fortress of the Bear where you can get an up-close view of Southeast Alaska brown bears and the Alaska Raptor Center inhabited by a number of spectacular bald eagles and other birds.

You might want to catch a performance of The New Archangel Dancers as they preserve some of the area's Russian heritage through dance or The Sheet'ka Kwaan Naa Kahidi Dancers offering a look at Tlingit culture through storytelling and dance.

There are excellent hiking trails in Sitka and a number of fascinating historic structures, so visit Dove Island and fish to your heart's content or explore the rich historic village of Sitka.

For further information visit the Dove Island Lodge website.