Rana Babac View Profile

Luxury Communications Consultant | Brand Critique
The Famed "Orient Express" Arrives in Istanbul
Posted: Sep. 8th, 2011 | Comments 0 | Make a Comment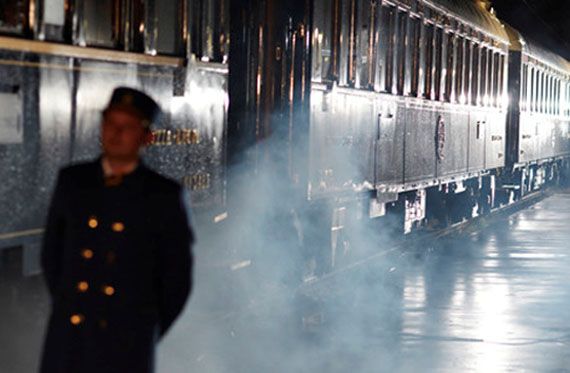 Photos Courtesy of The Venice-Simplon Orient Express
"The train against which all other luxury trains are measured"
-Vanity Fair
The Venice Simplon-Orient-Express— aka The "Orient Express"— departed from
Paris
on Sept. 2, 2011, and has arrived in Istanbul on Wednesday through Budapest, Bucharest and Varna with its 97 passengers from 31 different countries around the world, including Australia, New Zealand, Canada, Germany, US, France and Italy.


The Orient Express— famously described in Agatha Christie's novel "Murder on the Orient Express" — is indeed a legendary train described as a five-star hotel on tracks. Its true Art Deco icon carriages— each of which has played a significant role in the golden age of luxury train travel during the 1920s to 30s— are individually designed and has been lovingly restored to their former glory.


Each of the Orient Express carriages has its own personal story. From transporting European royalty across the old continent to being shot at during World War II, the Orient Express even inspired the events in Agatha Christie's "Murder on the Orient Express" novel. The famous book was directly inspired by a real-life event, when, en route from Istanbul, the train was trapped in Turkey for six days in deep snow.

Orient Express was also featured in Alfred Hitchcock's "The Lady Vanishes", the James Bond thriller "From Russia with Love" and Graham Greene's classic "Stamboul Train".

All of the Orient Express cabins have an original washbasin cabinet with hot and cold water. Each cabin becomes a comfortable bedroom at night-time, complete with soft towels and crisp linen. Cabins are converted in moments from daytime seating to a luxurious bedroom by cabin stewards whilst passengers enjoy their gourmet dinner in the train's one of three delightful restaurant cars.

In addition to its fascinating history and delightful vintage cabins, this iconic train also takes pride in its tradition of lively on-board entertainment and gastronomic cuisine. Lunch, dinner and brunch are served by waiters in one of the three individually-styled
Restaurant Cars: Cote d'Azur, Etoile du Nord or L' Oriental. Breakfast and afternoon tea are served to passengers travelling in the train's luxury cabins. As all dishes are always freshly prepared on-board by talented French chefs— with the finest supplies taken as the train journeys through Europe— dining on board the Venice Simplon-Orient-Express has often been referred to as "an unforgettable delight".


Ciragan Palace Istanbul has also just completed a decade of catering Ottoman food onboard the Venice Simplon-Orient-Express. It has became a tradition every year for the Ciragan Palace Istanbul team to meet the Venice Simplon-Orient-Express in Kapýkule— on the Turkish Bulgarian border— and prepare an exclusive lunch on board with the train's chefs. As the train heads to Istanbul, the Orient-Express passengers enjoy "Palace food" with carefully prepared traditional Turkish dishes.

The luxury train travels at a speed of 100 km/hour and provides a nostalgic travel experience between Paris and Istanbul. Those passengers who want an entire compartment for themselves have to pay an extra €3,360 for this legendary journey throughout Europe, the Balkans and Thracian until Istanbul.

Visit the Venice Simplon-Orient-Express's official website for more information at OrientExpress.com.
Related Topics : Istanbul, Luxury Vacation, Paris, Luxury Travel
LET'S CONNECT LUXURY NEWS & MORE






Featured Luxury Hotels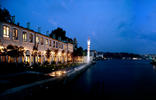 Istanbul, Turkey
Sumahan on the Water
Sumahan is a Hotel on the Water Sumahan sits on the very edge of the...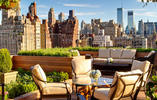 New York, United States
The Surrey
Exceptional moments at The Surrey extend well beyond your accommodations....

Fort Lauderdale, United States
W Fort Lauderdale
Lounging on Florida's sugar-sand coastline W Fort Lauderdale makes its debut as...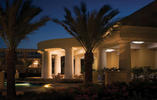 St. Maarten, Netherlands Antilles
The Westin Dawn Beach Resort and Spa, St. Maarten
The Westin Dawn Beach Resort & Spa, St. Maarten is an island treasure...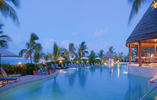 George Town Exuma, Bahamas
Grand Isle Resort & Spa
Welcome to your own private Caribbean paradise! Grand Isle Resort & Spa offers...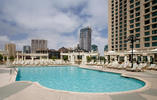 San Diego, United States
Manchester Grand Hyatt San Diego
See the best of San Diego, California up close with a stay at Manchester...