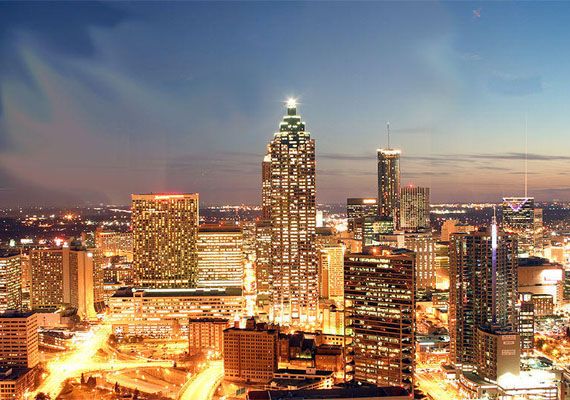 Atlanta has come a long way from its antebellum roots as a rough and tumble town, transforming into one of the nationís most modern and luxurious cities.
From its start as railroad crossing before the Civil War, Atlanta grew into a city during the war and has emerged into a major metropolis, complete with skyscrapers of the 1920s. The architecture reflects the many periods and transitions that Atlanta has survived, from the few pre-Civil War homes and buildings to the turn of the centuryís fascination with revival architecture, including elements of Beaux Arts Classicism, Neo-Classical, Tudor-Jacobean, Renaissance Revival, Colonial Revival and Commercial.
Although Atlanta is buried deep in the South, it has remained politically remote and is home to a wide array of people, making it one of the fast growing metropolises in America. With so many top hotels to choose from, we've compiled a list of the best hotels in Atlanta with quick overviews for your convenience.
The St. Regis Atlanta: As the crown jewel among luxury Buckhead hotels, The St. Regis Atlanta stands out as a true "in-town" luxury resort that is gracious in each finely crafted detail. Savor the inviting feel of a AAA Five Diamond boutique hotel along with the impeccable service that is uniquely St. Regis. Experience the uncompromising luxury of our 151 spacious guestrooms, including 31 suites, each adorned with plush custom furnishings and original art. As an exemplar of elegance and refinement, the St. Regis Atlanta is uncompromising in the pursuit of excellence among the best hotels in Atlanta. Every stay is commissioned to meet guests' highest standards and refined to express bespoke attention to every desire. For every guestroom, signature butler service. For every guest, indelible memories.



W Atlanta - Downtown: Contemporary sophistication is all yours at this savvy southern W Atlanta Downtown. Relax in the soothing, trend-spotting Living Room, or enjoy stunning views of the magnificent city. This chic downtown neighborhood may be bursting with the best restaurants and nightlife in Atlanta, but you don't have to step out to enjoy an intimate dinner for two at the hotel's signature restaurant BLT by Laurent Tourondel. For taking care of business, your room is completely wired so you're always in touch with everywhere in the world. And if you need anything else, the Whatever/Wheneverģ team is on duty 24/7/365.



The Mansion on Peachtree: Designed by noted architect Robert A.M. Stern, The Mansion on Peachtree sits high in the picturesque Atlanta skyline. Crafted from classically inspired limestone and cast stone for dramatic effect, this property is simply gorgeous, creating a sophisticated and welcoming ambiance. The hotel's 117 rooms and 10 luxury suites boast an air of understated elegance and refinement. Offering an exceptional experience with state-of-the-art amenities, marble bathrooms, luxurious furnishings and breathtaking views of Atlanta this property has it all.



The Ritz-Carlton, Buckhead: Buckhead's iconic luxury hotel sets a new standard for comfort and elegance with a dramatic renovation of guestrooms and suites inspired by the timeless appeal of Southern gardens. Surround yourself with an irresistible combination of Southern hospitality and relevant sophistication at The Ritz-Carlton, Buckhead. The hotel is ideally situated in the heart of Atlanta shopping, dining and entertainment, offering guests effortless access to the notable nightlife, culture and commerce of this celebrated neighborhood. Renowned as one of the best hotels in Atlanta, a landmark on the social scene, and presenting the most luxury suites in the city.



Four Seasons Atlanta : With business, shopping and the arts at your door and service that lends new distinction to Southern hospitality, Four Seasons is dynamic Atlanta's premier hotel address - offering Midtown views, ultra-spacious rooms and peerless meeting space and dining. Four Seasons Hotel Atlanta offers 244 elegant guest rooms, including 18 suites, contained within a stunning neo-classical tower of rose and marble granite overlooking Midtown Atlanta. Park 75's marriage of various styles and rich textures produces a refreshing ambiance. Sunlight mingles with the warm glow from custom light fixtures and iron candelabras, while a large commissioned watercolor evokes a sense of garden tranquility. The Executive Chef maintains a precise touch, using the finest seasonal ingredients available from Atlanta and around the globe.

Take the guesswork out of your next luxury vacation by discovering some of our favorite local attractions. See our list of things to do in Atlanta.