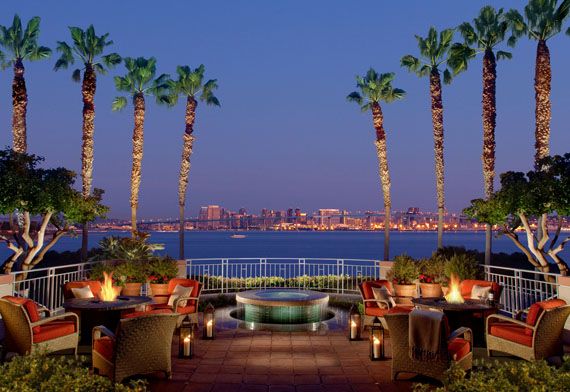 Loews Coronado Bay Resort
Whether youíre looking to surprise your valentine with a laid-back cozy weekend or an extravagant romantic getaway, Coronado is the perfect destination. Just across the bay from bustling downtown
San Diego
, Coronado is a world of its own.
Gorgeous beaches, crystal clear skies and rich sunsets make this the perfect backdrop for a weekend retreat. Consistently ranked as one of the top 10 beaches in the US, itís no surprise that Coronado has been a renowned and sought after destination hotspot for more than a century. From sophisticated luxury to fun in the sun, Coronado has something for everyone and will keep you coming back for more.
With so many options, picking where you want to stay in Coronado can seem daunting. It sets the mood for your entire weekend, but donít let that worry you, as it is hard to go wrong.
The Glorietta Bay Inn, a charming 1920s mansion located in the heart of Coronado, radiates elegance. It offers 11 rooms in the historical mansion, each one different from the next, with unique features such as hand-carved travertine fire places, patios perfect for watching the setting sun, and even a penthouse that makes up the entire third floor. Once you climb into the cozy feather beds you may just want to stay there all weekend. If you do manage to get out for some fun during the day, you will be greeted with turndown service, and milk and cookies at bedtime.
If what you are looking for is ultimate vacation customization for your sweetheart,
Loews Coronado
is the place to stay. With direct access to the beautiful Pacific Ocean, you can cruise up in your private boat and dock it at the 80-slip private marina. Luxury suites await you, each one original in style and comfort, with breathtaking views of the ocean and setting sun. Start your weekend escape off right by taking a romantic gondola ride in the nearby canals or a moonlit stroll on the beach.
Though Loews is farther from the heartbeat of Coronado, it may not matter because you really wonít need to leave this fabulous hotel; it offers pretty much anything you could want or need.
A fabulous spa awaits those looking to be pampered; three outdoor swimming pools, whirlpools, and the Silver Strand Beach (where you can get private surfing lessons) are there for those looking to get wet or maybe just lounge in the sun. If you are feeling sporty, head to the private tennis courts, or just minutes away, one of San Diegoís many fine golf courses. Whenever you work up an appetite, stop for a bite to eat at any one of the fabulous cafes featuring mouth-watering dishes made from local farm-fresh produce. Whatever it is you are looking for in a vacation, Loews Coronado is bound to have it and more.
The ultimate destination in
Coronado
is the iconic Hotel Del Coronado (or Hotel Del as the locals call it), easily identified by its bold red rooftops. This Victorian era beach resort offers modern luxury in a truly historic hotel that can boast of famous guests from presidents and princes to Thomas Edison, Babe Ruth, Brad Pitt and even Madonna.
In addition to the story book castle, Hotel Del offers secluded oceanfront cottages at The Beach Village with access to all that the hotel itself has to offer. These private seaside dwellings offer private kitchens that the concierges will stock with any goodies you request.
You can even surprise your loved one with a romantic dinner in, when you invite one of the Delís master chefs to your villa to create a meal for two.
Hotel Del
is right on the beach and oozes romance at every turn. Cuddle with your partner by the fire on the beach, where you can make símores and sip Champagne. Enjoy a tandem bike ride along the scenic coastline or rent a sailboat nearby and spend a lazy day on the water enjoying the bayside breeze. Fun abounds with a spa, pool, shopping and a multitude of other activities. On Sunday morning, before you head out, treat yourselves to a lavish brunch at the Crown Room, consistently voted best brunch in San Diego.
No matter where you end up staying, there is fun for everyone in Coronado. Visit the house where the Wizard of Oz was penned or the famous Spreckles mansion on the History Tour of Coronado. Catch a matinee at the local Village Theater or just stroll along Orange Avenue.
Donít miss a fine dining experience at the local French bistro, Chez Loma. This cozy candle-lit restaurant is the perfect place to wine and dine your beloved. The menu is bursting with mouth-watering delights and desserts no one should miss out on. Chez Lomaís fallen chocolate soufflť is now one of my all time favorite indulgences. Swing by Delís Babcock & Story Bar before dinner for an aperitif or by The Tavern, a local English Pub for after-dinner drinks.
Whether extravagant or low-key, a vacation in Coronado will be luxurious. The perfect place to spend a dreamy weekend together, Coronado is sure to make your sweetheart swoon.
See romantic hotels in San Diego >
Things to do in San Diego >
Coronado San Diego Bay
Coronado Beach at Dusk
Sea Spa Passion Loews Coronado Bay Resort
Coronado Ferry Landing Shops
Coronado Wheel Fun Rentals Surrey Bike
Coronado Beach Dunes
Loews Coronado Bay Resort