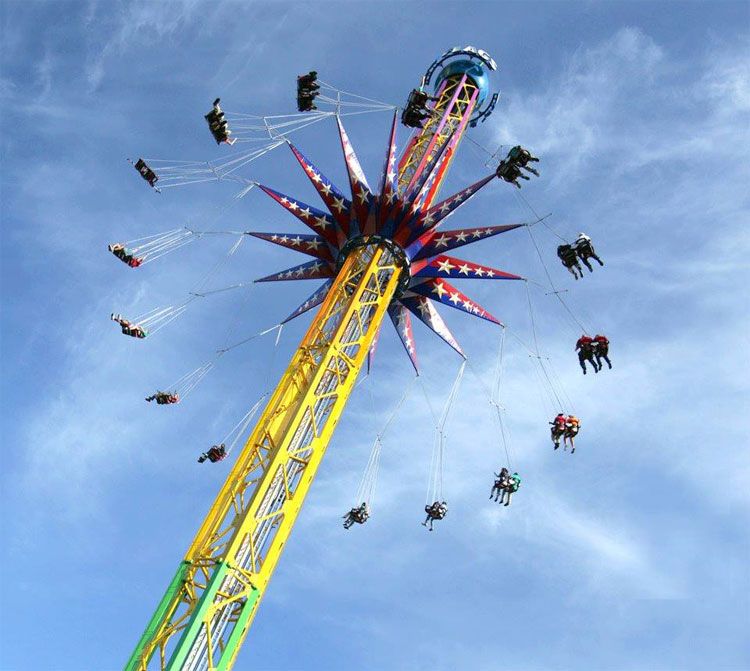 Photo Courtesy of Six Flags
A recent news story about rich people allegedly
hiring handicapped tour guides to jump lines at Disney
ignited a firestorm of commentary online. One question we as travel experts ask is: Why go to such questionable lengths when almost every amusement park has a VIP offering that gets you line-jumping privileges and plenty of other perks? 
With help from the folks at IAAPA (International Association of Amusement Parks and Attractions), we found great VIP upgrades at all America's favorite parks, available for an upfront fee, and guaranteed not to land you on a front-page expose.
Photo Courtesy of LEGOLAND
LEGOLAND Hotel
With the April 5 opening of
LEGOLAND Hotel
, generous parents can give their toy-loving youngsters an unforgettable visit to a world made of LEGOs. Every guest room is themed after a LEGOLAND park area (Adventure! Pirate! Kingdom!) and more than 3,500 LEGO models are situated throughout the property. To keep the LEGO mania going, buy Premium Play passes for your park visit—it gets you line-pass privileges for the attractions, reserved seating at shows, and limitless dining at a half-dozen F+B venues.
Photo Courtesy of Great Wolf Lodge
Scooops Kid Spa at Great Wolf Lodge
Props to this indoor waterpark chain for being creative with its extra-special experiences: Poolside cabana rentals let guests pretend they're in Vegas, while "Park After Dark" lets groups in after-hours. But our favorite VIP treat is
Scooops Kid Spas
, invented just for young guests, with ice cream-themed treatments and pink robes to wear during the visit. Scooops are at all the resort locations—and mothers, before you ask, yes, "Mom and Me" packages are available.
Photo Credit: Mike Aguilera/SeaWorld San Diego
SeaWorld
Lots of places offer dolphin swim experiences, but leave it to SeaWorld to let people in the water with the rare and cartoonish-looking Beluga whale. Kissing the Beluga is the high point of an animal-intensive behind-the-scenes tour that also introduces a small number of guests to polar bears and Pacific walruses. This is one of a few VIP experiences offered at
SeaWorld San Diego
.
Photo Courtesy of Universal Studios Hollywood
Universal Studios
Offering a combination of line-jumping privileges, visits to completely staged landmarks (Courthouse Square, Little Europe) and mundane behind-the-curtain peeks (NBCUni employee parking), the recently re-imagined VIP Experience at
Universal Studios Hollywood
is great for visitors who want a star sighting and a gourmet lunch to break up 10 hours' worth of rides and City Center madness. In the hot summer months, the air-con on the trolley is reason enough to splurge for this pass.
Photo Credit: Ben Hansen
Nickelodeon Suites Resort
Orlando's Nickelodeon-themed hotel isn't exactly a theme park (though it's partnered with many), but it certainly offers an, um, immersive visitor experience. One main reason to stay here is to be slimed. If you don't want to be part of the daily mass sliming at the pool, upgrade to a private sliming. Or, buy your way into the Double Dare Live game show reenactment, and get slimed onstage for an audience of fellow hotel guests! All of this is wildly popular, but if you don't see the attraction, less sticky VIP experiences are available, including breakfast with SpongeBob or dinner with the Teenage Mutant Ninja Turtles.
Photo Courtesy of Santa Cruz Beach Boardwalk
Santa Cruz Beach Boardwalk
All that you see in this photo can be yours! For a few hours, at least. Santa Cruz's iconic beach park can be rented out for private parties, so that every sun-soaked, postcard-perfect scene—from the old-school arcade to the coaster opening this year—can belong to you and your friends. Even most Northern California locals don't realize this is possible, so if we've inspired you, you're welcome. Email the self-explanatory
Party@BeachBoardwalk.com
address to get pricing details.
Photo Courtesy of Busch Gardens
Busch Gardens
Amusement park thrills, animal encounters, and foodie experiences—
Busch Gardens Williamsburg
offers a VIP version of all of them. For coaster lovers, the Elite VIP Adventure is the ticket: in addition to front-of-line passes and unlimited food/drink, it also includes a choice of special activities like the Roller Coaster Insider tour. Don't want to spend all day on the rides? Opt for an Animal Encounter, a concert/dinner package, or "enhanced experiences" at The Busch Gardens Food & Wine Festival, a new event running Friday-Sunday, May 31 to June 23.
Photo Courtesy of Six Flags
Six Flags
With the most terrifying roller coasters, greatest teen-pop outdoor concert lineup, and possibly longest lines of any amusement park,
Six Flags
is THE preferred hangout for high schoolers from coast to coast. And for those who want to get the most perks, the VIP Tour package available at all Six Flags gets you a private tour guide, front-of-line passes, preferred parking, and reserved seating at shows and restaurants.
Photo Courtesy of Hersheypark
Hersheypark
Hersheypark
offers a similarly straightforward VIP experience, but with a couple notable differences—perhaps because this is more of a family destination than a teen hangout. The "Sweet Access Pass" also gets you a complimentary 4x6 photo, stroller or wheelchair loan, and two comped game vouchers for each pass-holder. Also, one meal is comped (encounters with Hershey costume characters are not guaranteed, but very likely) while additional food and drink gets a 15% discount.
Photo Courtesy of Quassy
Quassy Amusement Park

Support your local family-owned amusement park, and they will hook you up in ways a huge park never would. For example,
Quassy Amusement Park
in Middlebury, Connecticut, offers all kinds of perks to season pass holders, ranging from private behind-the-scenes tours of their Wooden Warrior coaster (pictured) to invitations to appear in Quassey TV commercials. Now THAT's star treatment.