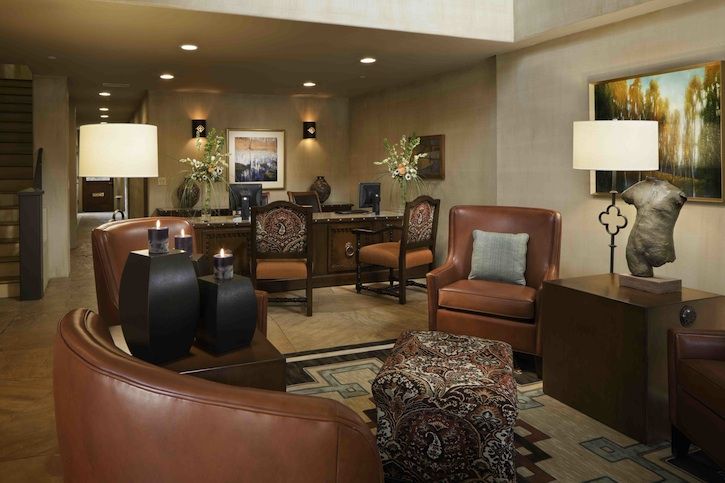 Photo Courtesy of El Corazon de Santa Fe
Experiencing Santa Fe combines past and present, old and young, ancient history and intense immediacy, liberation and invigoration. It is also where I spent my honeymoon nearly three decades earlier. I had not returned, even though we lived nearby for many years, so the memories of Santa Fe remained clear as the remembered pink sunrises over the Sangre de Cristo Mountains.
Photo Credit: Susan Kime
Santa Fe's past is everywhere — many of the old cathedrals, basilicas and churches, some built in the 16th century still stand — and through the invisible fissures of Terra Cotta stucco, plaster, and adobe brick, the wind whispers of Santa Fe's history, a history I feel and know. Near the churches, the Plaza still exists, an area that has been inhabited since around 900 AD. Today, Native Americans from pueblos nearby — Acoma, the Jemez, and others — still lay their jewelry on its sidewalks. I walked by the place where my new husband had once bought me a turquoise bracelet. Neither my azure bracelet (lost in an airport lounge) nor the friendly Taos pueblo vendor existed anymore except in my memory, the liveliest dimension.
Photo Credit: Susan Kime
It is the location of Santa Fe that makes
Fairmont Heritage Place, El Corazon de Santa Fe
so compelling. Its name, meaning The Heart Of Santa Fe is well designated also, as its location allows guests and owners to experience the best of the past as well as the present; the heart of the heart, an urban sanctuary. El Corazon de Santa Fe is only three blocks from the Plaza, where exceptional restaurants, boutiques and multiple art galleries co-exist near two historic holy places, The Cathedral Basilica of St. Francis (1869) and the Chapel at Loreto (1872). Also, unlike any other state capitol, Santa Fe is 7,200 feet above sea level. The lightness and dryness of the air inspired D.H. Lawrence, Willa Cather, Eliot Porter, Ansel Adams, Georgia O'Keeffe and others who felt profound connections to the high desert light that lives in sunsets and sunrises of dazzling pinks, gunmetal blues, and smoky sagebrush greens.
Photo Credit: Susan Kime
It is understandable then that El Corazon de Santa Fe is a Fairmont Heritage Place property, the private residence club dimension of Fairmont Hotels. Fairmont is very particular about launching these clubs, and as of this writing, there are only eight Fairmont Heritage Places in the world with only four in the United States. But even with others in Colorado, Florida, and San Francisco, the El Corazon de Santa Fe is unique, as is reflects the exceptional nature of Santa Fe.

There are a total of 22 homes with two separate floor plans: the Terra residence is a two bedroom, two bath single-level room with 1,150 square feet of space and the Montanas residences are a two story, two bedroom two-bath suite ranging from 1,500 to 1,800 square feet. Both feature full kitchens with designer appliances, flat screen HD televisions in the living room and master bedroom, dining area, luxury bathroom amenities and products, Kiva fireplaces and a private balcony or patio. The vigas (rough hewn wooden beams), clay plaster walls and original art and iron work in the residences reflect the true Santa Fe sense of place.
Photo Courtesy of El Corazon de Santa Fe
Recently, the property expanded its clubhouse and reception area, added a new owners' fitness area and private owners' park and refreshed various furnishings throughout the resort. The residences are sold as deed 1/8 shares per home. Typically with Fairmont, the owner participates in a reciprocal use program which allows him or her four weeks each year to travel to the other Fairmont's worldwide as well as The Registry Collection properties. Prices range from $130K to $185K, and yearly HOA fees start at $5,300 to $6,900. Currently, El Corazon de Santa Fe is about 60 percent sold out.
In addition, El Corazon has strategic alliances with resorts, restaurants, golf courses and the Santa Fe Cooking School, so guests and owners can enjoy activities, food, treatments, and Southwestern lessons at discounted rates.
Photo Courtesy of Santa Fe CVB
One of the most exceptional amenities, located about 10 miles away, is the Santa Fe Opera. The relationship between El Corazon and the Santa Fe Opera seems synchronous: El Corazon defines the urban heart of Santa Fe while the Santa Fe Opera defines the cultural heart. When I was there, I saw
La Traviata
, a classic opera, but the staging and set design redefined how I experienced it. The Opera House is a large, open air structure, so when the production is in process, the viewer can see desert sunsets, clouds, or the open, darkening sky. It is a fascinating visual experience, listening and seeing an opera with the backdrop of high desert colors that change with every scene.
Photo Courtesy of Santa Fe Opera Press Office
The years had indeed passed, but the memories of the turquoise bracelet, of the pink and gunmetal gray sunsets, the Sangre De Cristo deep pink mountains, remained, and will remain. Walking the streets near the Plaza, I remembered how much in the present I was while my memories were of the past. I was pregnant in Santa Fe and carried a son who would ultimately return to Santa Fe, and love the high desert palette as much as I did and do. The concordance of all moments harmonized together there, and El Corazon de Santa Fe, a property whose residences often combine lives like mine, allowed these memories to coalesce. Great abodes in great locations, like El Corazon have that power to allow families to relax, re-bond and re-connect.
Photo Credit: Susan Kime
Thirty years ago, I bought
Mornings in Mexico
by D.H. Lawrence at a bookstore that no longer exists. I took the book with me on this trip and re-read it. A paragraph I underlined, in my faded yellow marker, is as true then as it is now: "…the moment I saw the brilliant, proud morning shine high up over the deserts of Santa Fe, something stood still in my soul, and I started to attend. There was a certain magnificence in the high-up day, a certain eagle-like royalty. In the magnificent fierce morning of New Mexico one sprang awake, a new part of the soul woke up suddenly, and the old world gave way to a new."
Magic. Priceless.