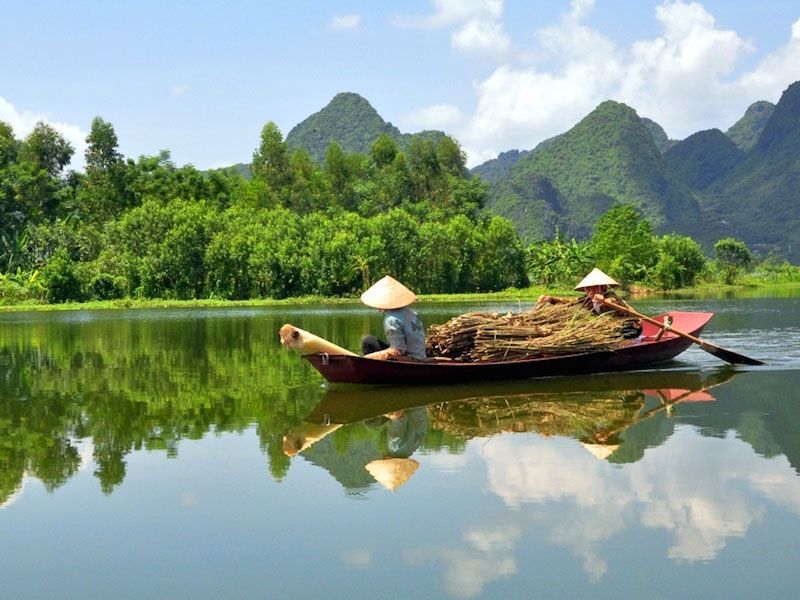 Photo Credit: Viking River Cruises
In Part One of our Mekong Viking river cruise series, we discussed the ship itself, what to expect in Cambodia, and some of our favorite aspects of the trip. This article meets back up in Vietnam, the second portion of the trip, which highlights the best of the journey and insights into life aboard the ship.
The Magnificent Mekong cruise starts and ends in Vietnam. During the first portion you'll make your way through Cambodia before venturing back through Vietnam. Once in Vietnam, you'll head to the French-conceived, former capital city of Hanoi which is filled with cultural sites, Buddhist temples, pagodas and a lively Old Quarter. For accommodations, we took up residence at the Sofitel Legend Metropole, a historic luxury landmark since 1901, which combines Vietnamese hospitality with colonial grandeur. During the war years, it was a hub for press and diplomats. Today's guests can sign up for Sofitel's new "Path to History" tour based on the hotel's recently rediscovered bomb shelter hidden in its basement.
Photo Credit: JRN
Here you'll make stops at the Vietnam Museum of Ethnology for an interesting overview of the 54 ethnic groups living in Vietnam and the infamous, barbed wire enclosed Hoa Lo Prison which held American POW's during the Vietnam War. We also made our way to the Temple of Literature, Vietnam's oldest university, built in 1070 and dedicated to Confucius. For an iconic culinary treat, head to Cha Ca Thang Long for their Hanoi turmeric fish with dill, served alongside rice noodles, peanuts and fresh herbs.
Leaving the hustle and bustle of big city behind, you'll head back to the ship to explore the backwaters of the Mekong Delta, Vietnam's food basket. Streams of ferries, tankers, bamboo rafts, hand carved canoes and fishing boats decorate the river all at once. In Sa Dec, guests can venture on land to see the ornate home of the aristocratic Chinese family featured in Marguerite Duras's autobiographical novel, The Lover based on her ill-fated affair. Sa Dec's bountiful street market is filled with colorful produce, as well as local delicacies such as snakes or specially raised, vegetarian rats. Before making your way to Ho Chi Minh City, you'll visit the sleepy town of Cai Be which offers one of the few remaining floating markets.
Photo Credit: JRN
Ho Chi Minh City (HCMC) is home to 10 million people and was originally designed by the French to be a miniature Paris. Today many of the classic French colonial buildings including the Notre-Dame Basilica and the neoclassical Saigon Central Post Office are cheek by jowl, with towering steel and glass skyscrapers and incense-infused temples creating an exciting urban hodge-podge. Landmarks include an energetic Chinatown, Ben Thanh Market (better for photos than shopping), an ornate City Hall and Opera House, and the Reunification Palace, which brings to life the famous scene captured by so many photojournalists in 1975 of North Vietnamese tanks crashing through the wrought-iron gates.
During a visit to the Cu Chi Tunnels, you can experience firsthand the struggles of life in wartime Vietnam while exploring the labyrinth of underground passages used as hideouts and living quarters by the Viet Cong during the Vietnam War. For a great foodie tour, consider the Saigon Street Eats excursion.
Photo Credit: JRN
The intimate size of this 60-passenger, French colonial riverboat feels more like you're an invited guest aboard a very wealthy friend's yacht rather than a huge, impersonal cruise ship. The staterooms are one-size-fits-all and offer 168 square feet of space, floor-to-ceiling sliding French doors and balconies. There are no TVs on board, so be sure to bring a laptop or iPad should you wish to catch up on your favorite television shows while cruising.
Photo Credit: Viking River Cruises
Public areas include a bright dining room, a petite but serviceable spa, roomy main bar, and the movie room for nightly lectures or films. The sound of a gong announces mealtimes, which are all open seating. There is a continental breakfast offered for early risers before the 6:30 a.m. Tai Chi class, and a full buffet complete with a wide array of fresh tropical fruit and made-to-order omelets from 7-9 a.m. Dinner is slightly more formal and served at 7 p.m., along with free-flowing wine. Expect regional specialties such as coconut based fish curries or stir-fried chicken with morning glory, as well as a fixed roster of international classics if you aren't feeling adventurous.
Viking's Magnificent Mekong cruise starts at $3,669 per person and includes 14 guided tours within the two countries. All-inclusive roundtrip air and transfers are offered from 29 major cities around the US.