By Deidre Woollard Sep. 6th, 2011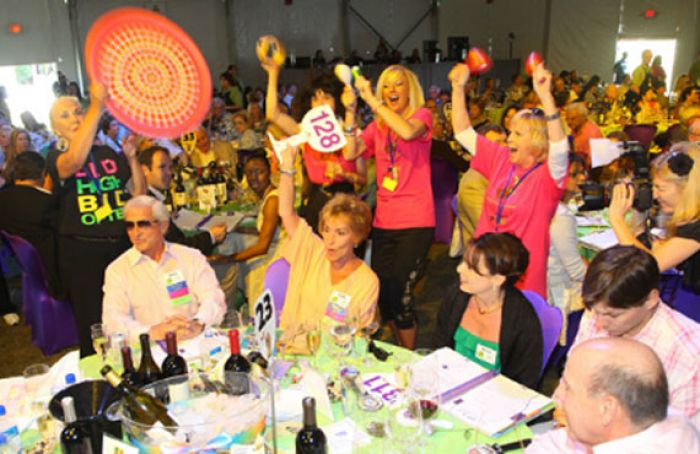 Photos Courtesy of The Naples Winter Wine Festival
Every winter, wealthy snowbirds convene in Naples, Florida for a wine auction and event that raises money for a great cause and also serves as an economic bellwether. Last year, in what seemed to be a moment of economic uptick, the three-day event crowned with a live auction raised $12 million for Collier County's underprivileged and at-risk children. That total easily bested the previous year's $8.1 million. What will happen next winter when the 2012 Naples Winter Wine Festival runs from January 27 to 29? One thing is certain, great food and wine will be the order of the day.
The event begins on January 27 with once-in-a-lifetime vintner and chef dinners hosted at Naples Children & Education Foundation trustees' homes. A total of 17 talented chefs are paired with 2012 vintners. The participating chefs feature some of the most revered names in the culinary world including Wolfgang Puck, Michelle Bernstein, Rick Tramonto and Chef de Cuisine, Tony Mantuano. Each themed dinner has 20 to 40 guests and is a collaboration among hosts, chefs and vintners.
This year's theme is "Believe in the Magic" and the festival begins with a tour of children's charities, followed by a luncheon wine tasting and the vintner dinners in the evening. The next day, the festival's 550 guests gather under giant tents on the grand lawn of The Ritz-Carlton Golf Resort, Naples for lunch. After guests are sufficiently wined and dined, the auction begins, with 65 lots including rare wines, exotic trips, fine jewelry and a vintage automobile will be available for bidding. The next day guests say farewell with a celebratory brunch.
The festival has raised $94.5 million since its inception in 2001. The Naples Winter Wine Festival is hosted annually in Naples, Florida by trustees of the Naples Children & Education Foundation and is considered one of the top wine auctions in the nation. Festival ticket packages are $8,500 per couple; $20,000 for reserved seating at the same vintner dinner for two couples. For a schedule of 2012 festivities and more information about the Naples Winter Wine Festival, visit NaplesWineFestival.com or call 888-837-4919.
Deidre Woollard
Deidre Woollard has been writing both fiction and nonfiction for years. She has a Master of Fine Arts from Spalding University and her short fiction has been published in literary magazines and anthologies. She served as the lead editor on Luxist.com for six years writing about real estate, auctions, jewelry and luxury goods....(Read More)