By Deidre Woollard Nov. 15th, 2011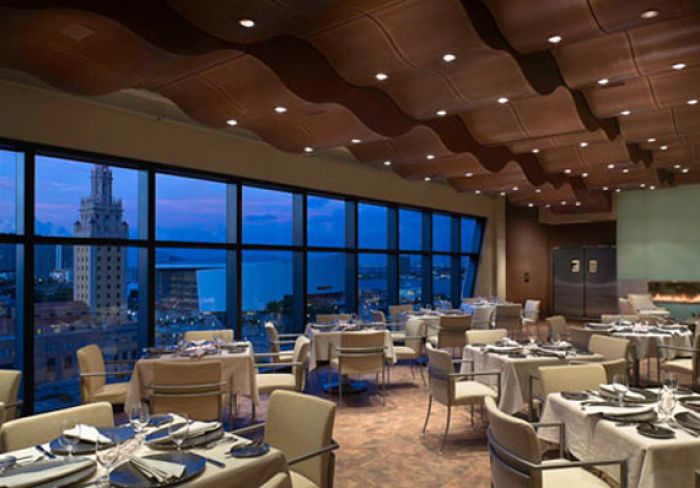 Photo Courtesy of Tuyo Miami
Chef Norman Van Aken's latest restaurant is a rooftop jewel set above the Miami Culinary Institute in Miami, Florida. Tuyo serves a fusion of New World cuisine and has spectacular views of Biscayne Bay and the Miami skyline.
The restaurant's menu dovetails with the Institute's approach to the culinary arts, focusing on environmentally sound practices and drawing upon the food grown locally and in the Institute's edible organic garden. Chef Van Aken is the only Floridian to have also been awarded the James Beard Foundation's Who's Who of Food and Beverage in America and is the author of several books.


"I could not be more excited about Tuyo," said Chef Van Aken. "We are a forward-thinking institution, and this restaurant will reflect that philosophy and keep Miami's food scene in the international spotlight." The restaurant menu includes a la carte offerings as well as prix fixe tasting menus, with a sommelier selection option.

The November Voyager's Menu includes Atlantic fish ceviche, seared sea scallops, a potato torta, roasted venison with creamy polenta and winter vegetable confit, and a dessert of chocolate buenelos. The dinner costs $95 with a $60 wine flight option. 

The eight-story Institute at the College's Wolfson Campus has a general kitchen and baking labs, a food and beverage theater with global connectivity capabilities, a first-floor café and bakery, and now, on the top floor, Tuyo. Tuyo is open Wednesday through Saturday, 6 p.m.–10:30 p.m. and can be booked for private events. For more information visit TuyoMiami.com.


Deidre Woollard
Deidre Woollard has been writing both fiction and nonfiction for years. She has a Master of Fine Arts from Spalding University and her short fiction has been published in literary magazines and anthologies. She served as the lead editor on Luxist.com for six years writing about real estate, auctions, jewelry and luxury goods....(Read More)