By Lena Katz Nov. 30th, 2011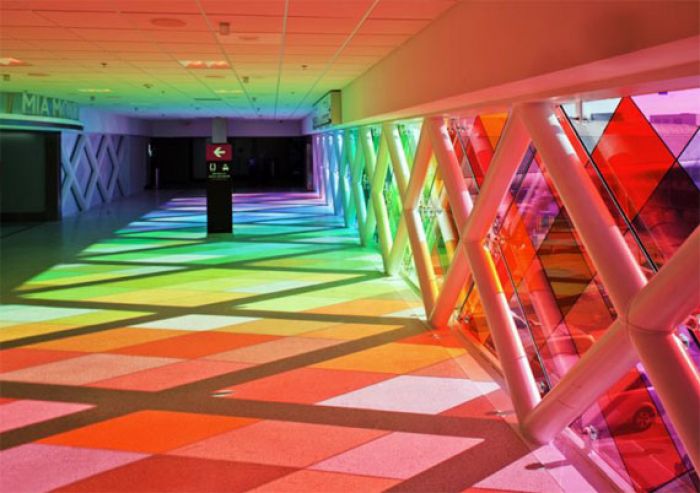 Harmonic Convergence by Christopher Janney
A dozen upright pianos play peek-a-boo in Miami's public spaces, sprouting wings and sporting the words "Bling-Bling" above googly-eyed cartoon faces.
Next-level graffiti goes three-dimensional in the Midtown Rotunda — one single piece towering 30 feet high, crafted from 12,000 fragments of contemporary furniture. The Miami Airport has given one of its main passenger walkways to an interactive audiovisual installation entitled "Harmonic Convergence." It looks like a rainbow tunnel and sounds like the Everglades.
Miami Art Week
is back and it's bigger, weirder, gaudier and more fascinating than any tabloid or socialite coverage might suggest. While most people are only vaguely familiar with the jet-set
Vogue
-favored social scene of Art Basel, this is actually a vibrant, city-wide affair that encompasses a dozen art fairs and has transformed Miami into a breeding ground for contemporary art.
Check out the full story and see more of the artists' work in our
Arts & Culture
section!
Lena Katz
Lena Katz is the author of the Travel Temptations series (SIP, SUN, SNOW), published by Globe Pequot Press in 2009. Lena is also a travel expert for Celebrations/1800FLOWERS and WEtv (online and on-air). She contributes to the South China Morning Post and ABC News online. Lena is a former Orbitz Travel blogger and former columnist for the LA Times. She's been published in Brides Magazine, Robb Rep...(Read More)