By Jared Paul Stern May. 9th, 2014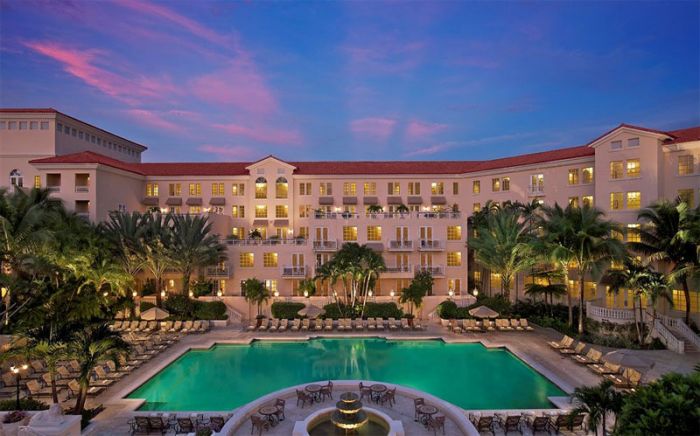 Photos Courtesy of Turnberry Isle Miami
A lot of golf-centric resorts claim to have luxurious offerings far beyond the links, but few can make the case as convincingly as Turnberry Isle Miami. The resort, located in Aventura, Florida just outside Miami originally opened in the early '70s as a county club for private members. Since then hundreds of millions of dollars have been invested over the years in making it the ultimate retreat, not just for golfers but for anyone who appreciates the finer things in life.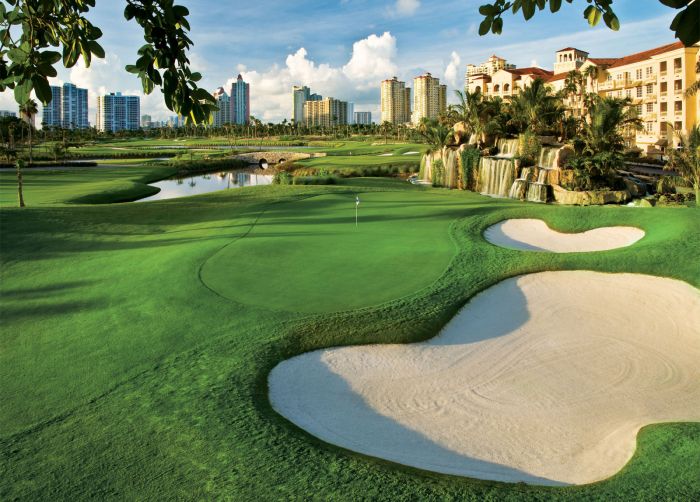 Of course golf remains a key feature of the incredible 300-acre property, with two 18-hole championship golf courses originally designed by Robert Trent Jones, Sr. and re-interpreted by golf great Raymond Floyd. Formerly operated by Fairmont and now part of the prestigious Autograph Collection, over the years it has attracted the likes of Elizabeth Taylor, Michael Jackson, Jack Nicholson, Elton John and Oprah Winfrey, to name a few, and has been featured in movies including Demi Moore's Strip Tease and Stuck on You starring Matt Damon and Greg Kinnear.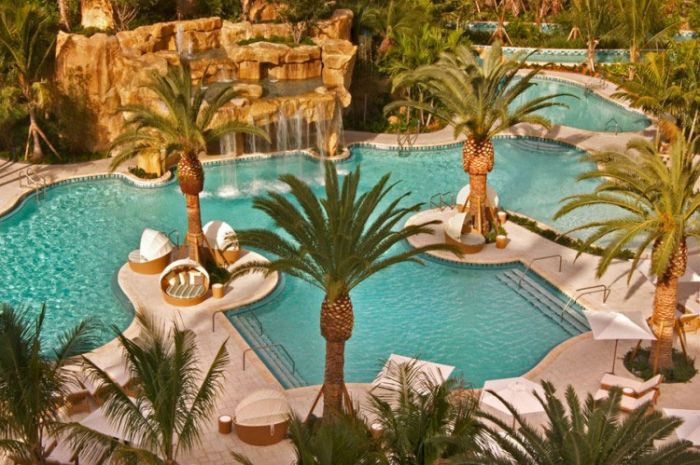 Turnberry has 400 rooms and suites, a three-story spa and fitness center, a tennis center, three swimming pools, 40,000 square feet of meeting facilities, and its own beach club on the Atlantic a short shuttle ride away. A private member's club still operates within the property with four levels for golf, social, beach and non-resident members. But our favorite feature is celebrity chef Michael Mina's award-winning Bourbon Steak restaurant, a mecca of manly American dining, Don Draper style, with leather padded banquettes, rich wood accents, massive wine vaults and an entire wall of whisky.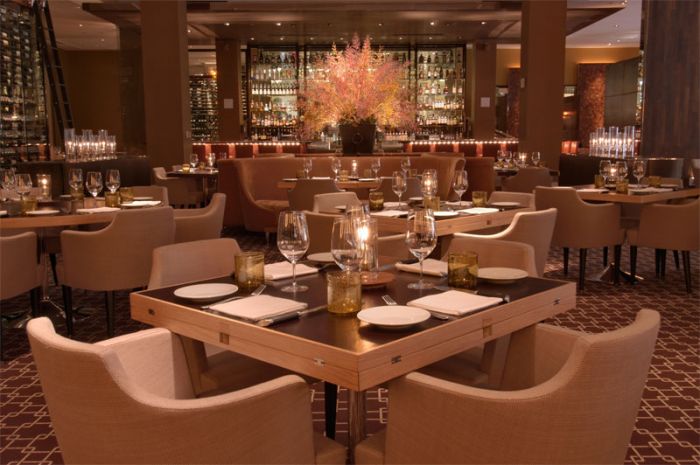 A clubby mix of nostalgia and modern elegance, Bourbon Steak attracts gourmands from far and wide, and even resort guests need to book tables well in advance. Mina, winner of a coveted James Beard Award, and a wood burning grill to get the most intense flavors from the very choicest meat and seafood, while the 1,000-bottle wine cellar ensures there's a perfect pairing for every meal. Modern American classics like rack of lamb and Maine lobster are always popular, while the big ticket item on the meat side is the porterhouse steak, and of course, Wagyu beef.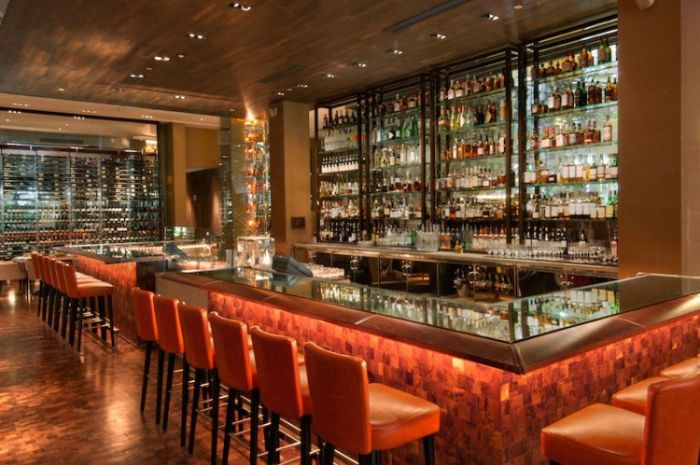 We started things off right with a bottle of Perrier-Jouët, our own bottle, and a selection that got a nod of approval from the managers dressed in natty Man Men-style suits. We decided to commence the feast with an abundant seafood platter and an organic mixed green salad to offset the rich meal to come, presaged by Mina's signature duck fat fries which arrived hot and crackling. The seafood platter came laden with Maine lobster, king crab, shrimp and briny oysters, all of which positively glowed alongside the Perrier-Jouët.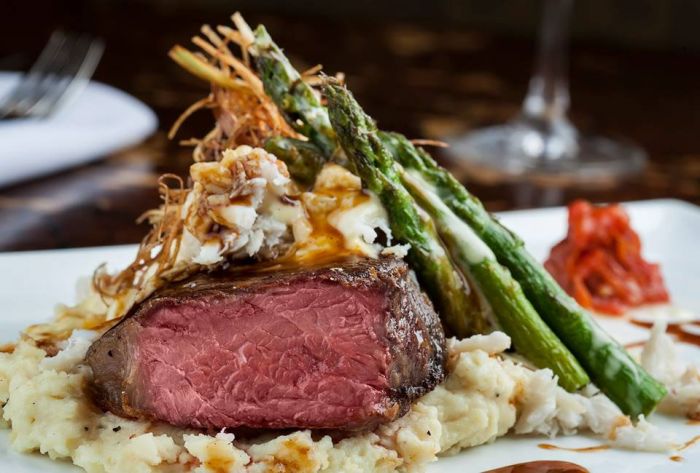 The salad came dressed with French feta cheese, red onion, grape tomatoes and niçoise olives in just the right quantity. Then it was on to primo Pinot Noir and an 18 oz. NYC dry aged bone-in ribeye, one of the very best cuts of steak we've ever head, anywhere. It even trumped one from Jean-Georges Steakhouse in Las Vegas, and that's saying something. In addition to the wine list there's also an extensive cigar list to select from following an epic meal.
Turnberry's courses, which have had many years of landscaping to mature and flourish, were quite impressive along with the plantings around the property. On loan for the week, the Mercedes-Benz SLS AMG GT Roadster seemed like an appropriate choice since plans are afoot to stage a concours d'elegance on the golf course at Turnberry. For real golf fanatics Turnberry offers an Ultimate Guys Golf Experience wherein 20 pals can play to their heart's content and enjoy all of the resort's amenities, including a private dinner at Bourbon Steak and a private table at LIV, the A-list nightclub at the stylish Fontainebleau hotel in South Beach. The Fontainebleau was renovated and re-opened by Jeff Sofer, the handsome husband of supermodel Elle Macpherson, and the Soffer family developed Turnberry Isle as well.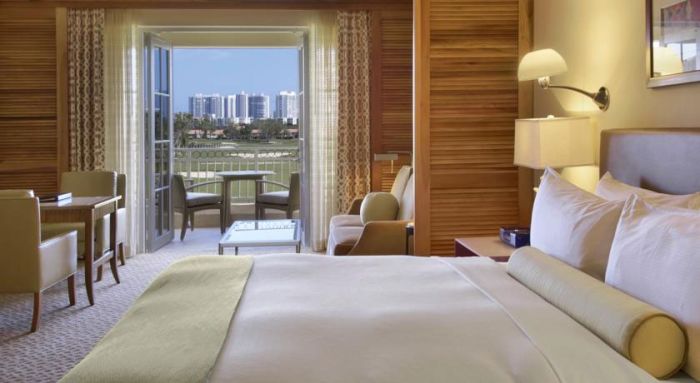 The beach club, an old school spot for families to soak up some sun and spend a day on the private sandy beach, has a host of attendants ready to cater to your every whim. In the SLS it was easy to zip around to Miami's various attractions, before returning to the oasis that is Turnberry afterwards. It's easy to see why the hotel consistently ranks amongst Travel + Leisure's "World's Best" lists amongst its other accolades. On our next visit we might even put down the Bourbon Steak menu long enough to pick up a golf club.
Jared Paul Stern
Jared Paul Stern is the Executive Editor of Luxury Life magazine and has written for the Wall Street Journal, New York Times, the New York Times' T magazine, GQ, WWD, Vogue, New York magazine, Details, Hamptons magazine, Playboy, BlackBook, the New York Post, Bergdorf Goodman magazine and Luxist among others. The founding editor of the Page Six magazine, he has also served as a judge for everythin...(Read More)