By Nicolle Monico Aug. 13th, 2014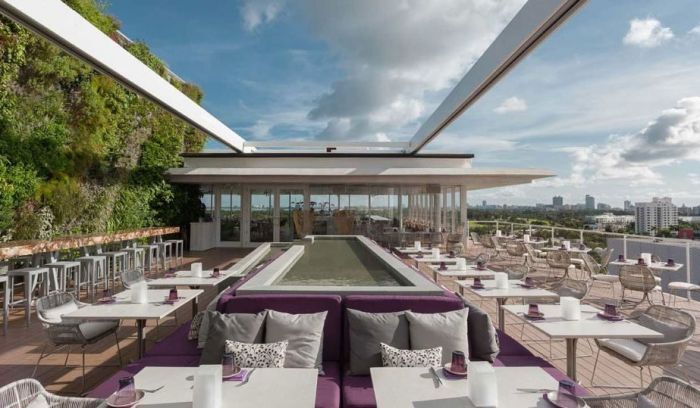 Photo Courtesy of Juvia
Even though the weather in Miami doesn't change too much from summer to fall, at least the cooler breezes are making their way back in a few weeks. This means it's time to get back outside and give your air-conditioners a break for a few hours. In preparation for autumn, we put together a list of the city's best rooftop bars and lounges offering stunning views, refreshing cocktails and plenty of sexy patrons.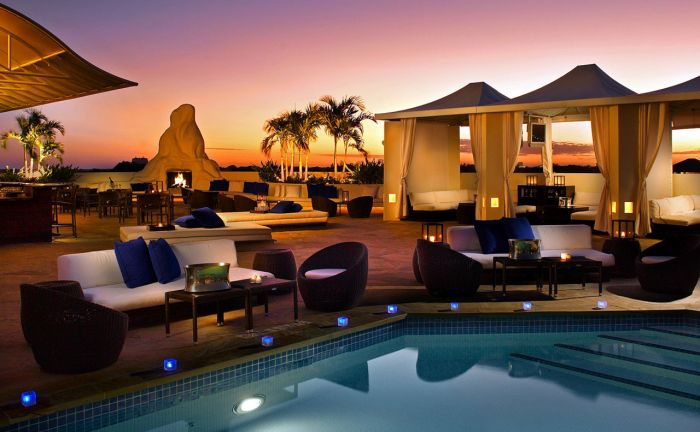 Photo Courtesy of Mayfair Hotel & Spa
Above Mayfair Pool Lounge
With its Gaudí-inspired design, views of Biscayne Bay and 15,000 square feet of space, the iconic Mayfair Hotel & Spa's rooftop lounge is one of the hottest places to enjoy a cocktail. White curtains dress eight private poolside cabanas and chic sofas with royal blue pillows decorate the space creating a flirtatious South Florida vibe. Don't miss the Rooftop Rendezvous Happy Hour every Friday from 6-10 p.m.
What to Order: Bacardi Pomegranate Mojito — Bacardi Limón rum, spearmint leaves, lime, simple syrup, pomegranate juice and club soda.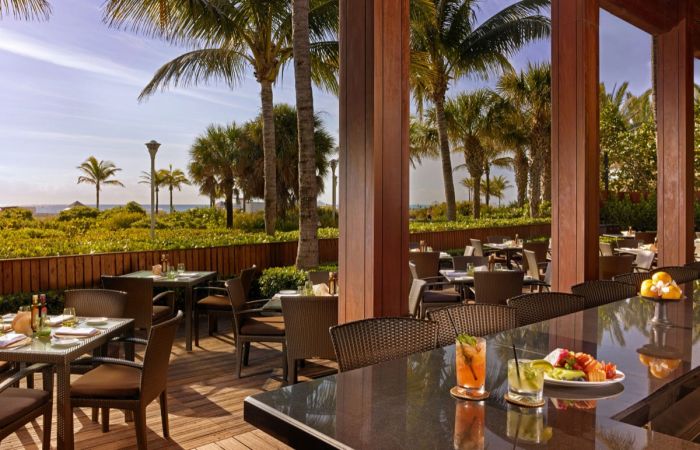 Photo Courtesy of The Setai
The Pool & Beach Bar
Only open 11:30 a.m. to 6 p.m. daily, The Setai's rooftop bar is located next to its three infinity pools so staying cool is never a problem. Below, the scene in South Beach is energetic but up here, the atmosphere is serene, tranquil. In addition to being a great place to score a drink poolside, the hotel was named #2 Best Hotel in Florida by Condé Nast Traveler readers in 2013. So go ahead and book a room for the night as well so you can drink freely throughout the day.
What to Order: Chili Passion Martini — Chili-infused Russian standard vodka, passion fruit-infused rum, passion fruit pulp, ginger syrup and chili flakes.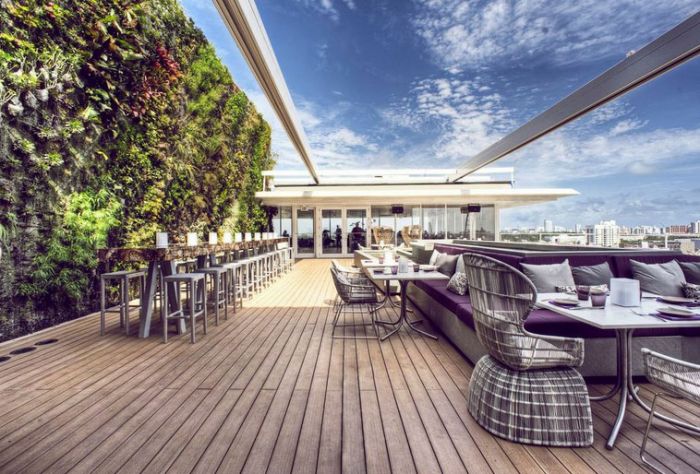 Photo Courtesy of Juvia
Juvia
Possibly one of the most unique settings for a rooftop venue, Juvia is a 10,000-square-foot indoor/outdoor restaurant on the penthouse level of the Herzog & de Meuron parking garage at 1111 Lincoln Road. Along with creative cocktails, the menu is also something to be admired with names like Sunny Oh, formerly of Nobu South Beach; Laurent Cantineaux, a protege of Daniel Boulud; and pastry Chef Gregory Gourreau, who has worked with Francois Payard and Alain Ducasse; creating its dishes. Because of its location and shape, guests can also get a really great panorama view of South Beach.
What to Order: Purple Rain — Grey Goose vodka, chicha morada (a sweet Peruvian beverage made from purple corn) and fresh lemon sour.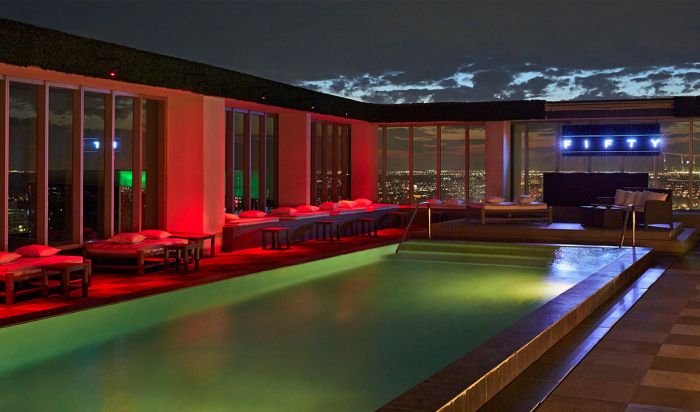 Photo Courtesy of Viceroy Miami
FIFTY Miami Ultra Lounge
For a quintessentially Miami vibe, FIFTY Miami Ultra Lounge at Viceroy is the place to be. Playing host to an international list of who's who, the rooftop venue sits on the 50th floor and is open Friday through Saturday evenings. It's no secret that the rich and beautiful frequent the high-end lounge, so be sure to dress to impress. Go-go dancers, mermaids swimming in the pool and DJs are just some of the treats you'll discover at FIFTY.
What to Order: Miami High Cocktail — Stoli Vanilla, amaretto, pineapple and Sprite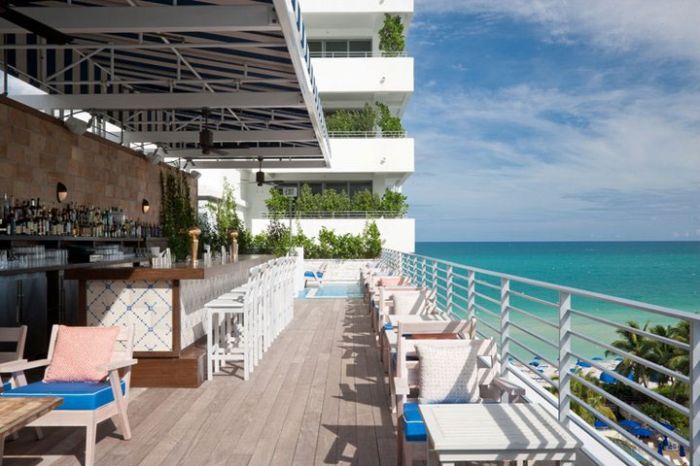 Photo Courtesy of Soho Beach House
Ocho
Bringing their London-based company to the states, Soho Beach House is one of three U.S. properties and sits in the center of South Beach action on Collins Avenue. Serving a variety of seasonal fares and drinks, Ocho is located on the eighth floor and overlooks the Atlantic Ocean. Access to the property is members-only, but once you're in, you'll be hobnobbing with prominent creative types from the film, fashion, advertising, music, art and media industries.
What to Order: Watermelon & Cucumber cocktail — Tequila Blanco, cucumber, watermelon, lime and agave.
Photo Courtesy of Epic Miami
Terrace Lounge at Area 31
Under the direction of Executive Chef Wolfgang Birk, the Terrace Lounge at Area 31 at EPIC Miami features fresh seafood this and gastronomical creations. Boasting shaded tables, comfortable sofa loungers and views of Biscayne Bay and Brickell Key, the lounge is a great place to catch some cool ocean breezes while mingling with friends. On Thursday and Friday nights, the terrace hosts DJs spinning the latest beats for a livelier vibe.
What to Order: Blood & Sand — Johnnie Walker Black, cherry herring, Martini Rossi sweet vermouth, fresh orange and flamed peel.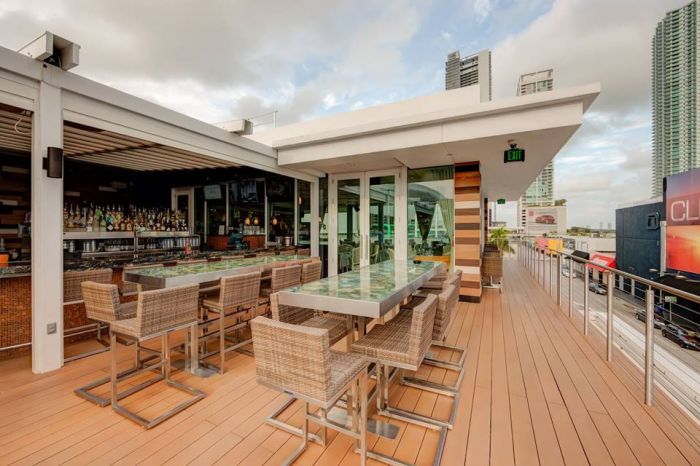 Photo Courtesy of Touché Rooftop Lounge & Restaurant
Touché Rooftop Lounge & Restaurant
One of Miami's newest hotspots, Touché Rooftop Lounge & Restaurant sits in the arts & entertainment district on top of downtown's sexy nightclub, E11EVEN. Helmed by Top Chef contestant Carla Pellegrino, the food menu offers Italian-Japanese fusion cuisine in the open kitchen. Open only in the evenings, the 7,100-square-foot wood plank deck features a retractable roof, comfortable couch seating, fire-pits, communal tables and a 16-foot by 10-foot LED screen. The venue also hosts live bands, resident DJs, salsa orchestras and jazz quartets.
What to Order: Keep it simple with Moët & Chandon
Nicolle Monico
Nicolle is an award-winning writer and Travel Editor using her expertise in the industry to write about luxury travel around the world. You can find her daily searching the web for the latest trends, best new hotels and most beautiful destinations to visit and share with her readers. She's been featured on The Huffington Post, Hard Assets, AMD Entertainment and Remy Martin. In 2014, she was vo...(Read More)