By Carly Zinderman Aug. 17th, 2009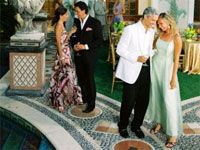 South Beach is getting a new nightclub and it is located at the exclusive address on Ocean Drive, the former Versace Mansion. Giannia Versace transformed the 20,000-square-foot hideaway from a rundown apartment complex into a center of South Beach's budding celebrity party scene. A few years after the fashion magnate's murder in 1997, telecommunications magnate Peter Lofti purchased the mansion for $19 million. Lofti transformed the exclusive address into a private club, later adding a boutique hotel and a small restaurant. His plan was to cater a select, elite few clientele who could afford to pay the $35,000 membership fee.
More recently, Scott Rothstein, a Fort Lauderdale lawyer and investor purchased a stake in the property from Lofti, which gives Rothstein control of operations. Rothstein plans to transform the cloistered rooms and courtyards throughout the mansion into Bova @ Casa Casuarina. He is basing the model on the Bova Ristorante chain in Fort Lauderdale and Boca Raton where Rothstein is a partner with chef and owner Tony Bova. The plan will not only include an exclusive nightclub, but a high-end Italian restaurant as well.
The new plans are different from Lofti's original vision for the mansion, making the new club a sort of transition that will allow more than just the elite into the hotspot. "The place has an amazing vibe just waiting to be released," said Rothstein, "Right now the problem is it's caught in between from where it was and where it wants to be."
Lofti's boutique hotel, which opened in 2005, made ten rooms available for vacationers to sleep in, surrounded by Versace's beloved velvet bedspreads and nymph frescoes. Since then, the dip in the economy has forced Lofti to open up the mansion to the public.
While the Casa still brings in revenue, the mansion now offers paid tours of the grounds, and anyone can dine in the restaurant. Attendants pass out menus, while passers-by snap photos of the mansion where the legendary fashion designer was shot down on the opulent steps.
Rothstein's new plan is to transform most of the grounds and building into a nightclub, as night turns to day. The private club will continue and Casa Causarina will continue serving Italian food. Under the new regime, parts of the mansion will be reserved for members-only events. Members can also enjoy getting into the new restaurant without notice, while everyone else will need a reservation.
While the Casa has enjoyed some success as one of the pricier venues for private parties, the new club should help Loftin even as the luxury market takes a downturn. Now the transition will allow more people, especially tourists to get the chance to experience the luxury of one of South Beach's most legendary (and most photographed) spots.
For
JustLuxe
Carly Zinderman
Bova Ristorante
Bova Ristorante
Bova Ristorante
Casa Causarina
Casa Causarina
Casa Causarina
Carly Zinderman
Carly Zinderman is a Senior Staff Writer for JustLuxe, based just outside of Los Angeles, CA. Since graduating from Occidental College with a degree in English and Comparative Literary Studies, she has written on a variety of topics for books, magazines and online publications, but loves fashion and style best. In her spare time, when she?s not writing, Carly enjoys watching old movies, reading an...(Read More)