By JustLuxe Team Feb. 2nd, 2010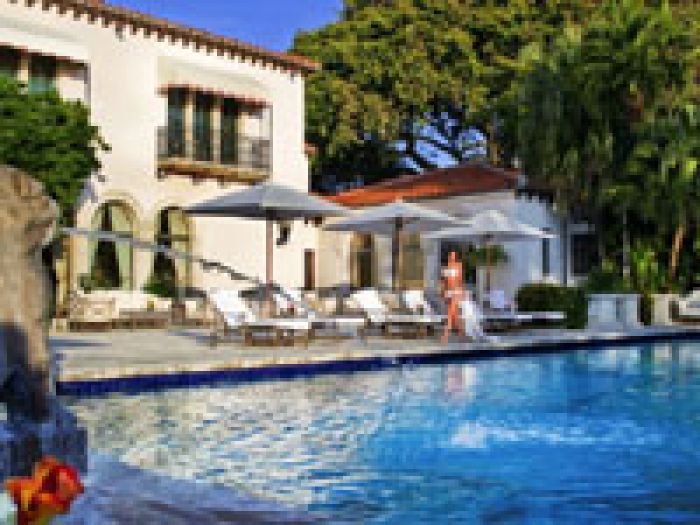 Luxury Resorts:
The historic Vanderbilt Mansion on Fisher Island, Florida, the private residential enclave routinely named as the country's most expensive zip code, has just been restored to its original glory as part of a $60 million island-wide restoration project. The Mediterranean-style mansion, built by William K. Vanderbilt II in 1925, is now the centerpiece of the Fisher Island Hotel & Resort, a 216-acre property housing a luxuriously-appointed 45-room boutique hotel. Other luxe amenities include a brand new private beach club and revamped 9-hole professional golf course, tennis center and marina.
Accessible only by ferry, boat or helicopter, Fisher Island is named after Miami Beach founder Carl Fisher, who traded the entire island to the dashing Vanderbilt heir in the early 1920s in exchange for his 250-ft. yacht, the Eagle. Vanderbilt and his wife Rosamund surrounded the mansion they built with lush landscaping and gracious guest cottages, entertaining the luminaries of their time in high style. Located minutes from Miami Beach it boasts amazing views of the Atlantic Ocean and the iconic Miami skyline. The island's famous residents include André Agassi, Ricky Martin, Julia Roberts and Oprah Winfrey. Phase two of the restoration plan will focus on the island's spa and other facilities.
JustLuxe Team
The JustLuxe Team strives to bring our members and readers the very best in luxury news and conversations. We love to hear your opinions and suggestions, but most of all, we love to interact with you. ...(Read More)