By Mila Pantovich Jul. 9th, 2015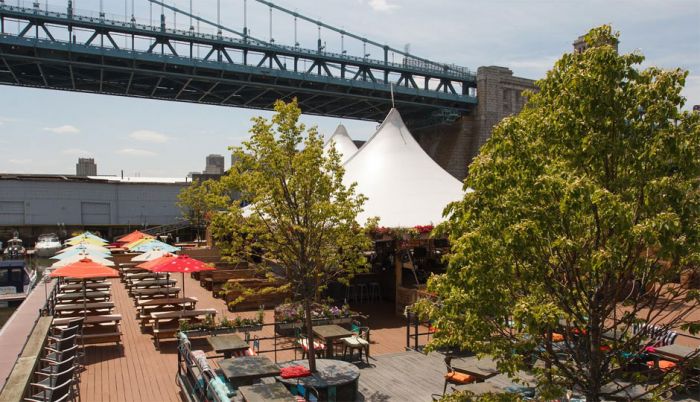 Photos Credit: Morgan's Pier
Dining at the Chef's Table is always a better experience no matter what restaurant you're in, but the exclusive table at Morgan's Pier in Philadelphia is definitely standing tall above its competitors. Gather up 19 of your friends for the $1,500 dinner that takes place on the restaurant's upper level, which is called the "Crow's Nest," and enjoy views of the Delaware River, the Ben Franklin Bridge, and the jealous commoners below.
The prix-fixe menu is crafted by Chef-in-Residence (and Top Chef winner) Nicholas Elmi, who will be there for the rest of the season, and Chef de Cuisine Kyle McCormick. Cocktail hour starts at 6 p.m. and dinner starts at 7 p.m., giving you the option of Whole Roasted Sucking Pig, New England Style Lobster Boil, or Herb Crusted Leg of Lamb. During the main course, you and your guests will be treated to fresh seasonal side dishes and afterwards, dessert. There is also a wide array of specialty cocktails, wines and craft beers to choose from.
Call (215) 279-7134 to book the Executive Chef's Table. If anyone in your party is vegetarian or pescatarian, let the restaurant know upon booking so the chefs can make the necessary changes to the menu.
Mila Pantovich
Mila Pantovich lives in San Diego, CA with whatever animals she is fostering at the time. With a degree in Literature/Writing and a Minor in Film Studies, she holds a marketing position at a prestigious law firm and has written for several publications, including JustLuxe, Citizine and Huffington Post. In her spare time she writes film reviews for various online publications, works on a creative n...(Read More)