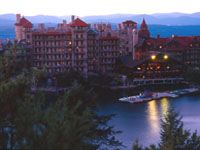 New York Area Resorts:
The Mohonk Mountain House sits overlooking a clear mountain lake high atop a forested plateau on the Mohonk Preserve in New York's Catskills Region. Bordered on most sides by sheer cliffs, the plateau is a geographical feature called a Sky Island. The 265 room hotel rises out of cliffs with stone walls, towers, and spires as though it had been plucked from the Bavarian Mountains. It's a castle in the sky!
Inside the hotel, guests are instantly greeted by an old warm charm of a bygone era when families would take entire summers off to retreat to the mountains. Dark wood paneling, finely upholstered furnishings and fireplaces everywhere. Mountain-view rooms face west over an endless sea of green treetops stretching to the horizon. Premium rooms face the lake. In autumn, the view is a kaleidoscope of rich red, yellow and orange hues. Balconies include wooden rocking chairs and small tables-- a perfect spot to sit, rock and sip a glass of wine. There are 138 fireplaces and 238 balconies-- quite a change from the humble beginning when Albert Smiley purchased 280 acres and a ten room inn in 1869. The resort now houses eighty-three buildings on 7800 acres. And it's been family owned for almost 140 years.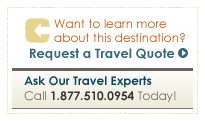 The resort caters to couples and families. On busy weekend evenings, the main dining room sings with a cacophony of excited young voices. A downstairs "quiet room" is available for a more intimate dining experience. The semi-circular "quiet room" overlooks the mountains with tall windows stretching up to the high ceiling. Getaway packages include an all-inclusive plan with breakfast, buffet lunch, Sunday Champagne brunch and a four course dinner, featuring salad and appetizer, followed by entrée and dessert. Jacket and tie is required. The menu changes daily with specials each night. Dinner may also be delivered and served to guests in their rooms for a small delivery charge.
The Mohonk Preserve is a world renowned rock climbing destination. Also called the Shawangunks' or Gunks, there are over 1200 climbing routes on cliffs up to 300 feet high. Rock climbing and climbing instruction is also available on-site on cliffs at the resort. Other activities include canoeing and rowing on the lake, seemingly endless hiking trails, horseback riding and carriage rides, nature walks, swimming, tennis, mountain biking, fishing, fly fishing and golf. In winter, the miles and miles hiking paths become cross-country skiing and snow-shoeing trails. Or strap on the blades and glide carefree at the covered ice skating rink. In the spring and summer, be sure to tour the meticulously groomed English Gardens or try to navigate the Victorian hedge maze.
Book This Hotel Now >>
There are three nearby wineries -- Adair Vineyards, Whitecliff Vineyard and Rivendell Winery. All are within a half hour's drive the along quiet country roads, up and down though mountain passes and along open fields and pastures rising and falling with the rolling terrain. This region of the Catskills will temp any motorist to abandon his or her car and purchase a motorcycle.
After a day of enjoying the outdoors, the Spa at Mohonk Mounatin House is an ideal respite. Built in 2005, the airy spa still looks brand new. The pool with an infinity edge is one of the most beautiful indoor pools in the world. Like the dining room, the pool room transitions to the outside with high ceilings and tall windows. The spa features a variety of massages and skin and facial treatments and includes a fitness center with exercise classes, Pilates and yoga. The spa's signature service is the Mohonk Red Massage, which combines Hawaiian Lomi Lomi and Swedish massage techniques with Thai stretching. This is followed by a warm towel face and foot wrap. The towels are infused with locally grown Mohonk Red Witch Hazel.
Book This Hotel Now >>
Any visit to Mohonk would be incomplete without hiking to the Skytop Tower Overlook and climbing within The Labyrinth. The Labyrinth is a strenuous rock scramble that cuts into and out of cliffs, up ladders and over tall boulders. In many ways it's more fun than rock climbing because ropes and carabineers and harnesses aren't needed. The whole thing is akin to an enormous rock jungle gym and leads all the way up to the overlook. There are also several paths up to the tower,
including a carriage road and a wooded trail. At 1542ft, the tower stands near a point that juts out from the plateau. The stone structure is a memorial to Albert Smiley and was built in 1921. After climbing the 100 stairs to the top, explorers will find an amazing panorama looking out onto six states-- New York, New Jersey, Massachusetts, Connecticut, Vermont and Pennsylvania. The view includes the numerous cliffs, the lake, the hotel, farm fields and trees, trees, trees' an unimaginable expanse of forest. A separate return pathway features a contemplative lily pond and all long the trail there are benches and gazebos to sit and relax.
So, for anyone who dreams of experiencing the great outdoors while staying and dining in style; or has dreamt of being a prince or princes in a fairytale castle, these dreams can come true at the
Mohonk Mountain House
.
Mathew Grahm
Freelance Writer specializing in Outdoors and Travel
JustLuxe
Contributor
Mohonk Mountain House
Mohonk Mountain House
Mohonk Mountain House
Mohonk Mountain House
Mohonk Mountain House
Mohonk Mountain House
Mohonk Mountain House
Mohonk Mountain House
Mohonk Mountain House
Mohonk Mountain House
Mohonk Mountain House
Mohonk Mountain House
Mohonk Mountain House
Lake Gazebo - Photo Karen Carra
Sky Top Tower - Photo by Karen Carra