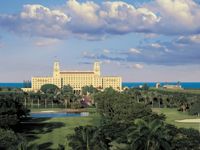 Luxury Resorts:
If you're looking to get away to a beachside, secluded bungalow, enjoy ocean views and luxurious amenities, and innovative epicurean cuisine, there is no place better for you than The Breakers at Palm Beach, Florida.
It's always a hassle when you have to fight for a chaise lounge by the pool or deal with noisy patios and crowded pools. This is where The Breakers has thought of everything.
Not only are you indulged in luxurious privacy in your spacious and lavishly appointed suite, but the resort also has Beach Bungalows and Grand Cabanas. If the beach bum in you desires some time by the water, soaking up the rays, renting a bungalow or cabana is ideal and complete with all the luxury amenities you can expect from The Breakers.
The Active Fun Pool, brand new and designed specifically with families with beach-loving kids in mind, has five Beach Bungalows around it, each supercharged with an unprecedented range of luxury amenities. These bungalows feature 300 square feet of privacy, including an outside patio surrounded by lush tropical landscaping.
But what if you aren't with child in tow? Don't worry, The Breakers has thought of you, too. Ten luxurious Beach Bungalows await you beachside across from the new Relaxation Pool, your destination for a relaxing, quiet area for those seeking a more peaceful environment.
All of the bungalows include a full bathroom for your private use plus the extravagant open-sky shower to rinse off after your dip. With complimentary wireless Internet access, a cordless telephone, wall-mounted flat screen TV, and a refrigerator stocked in advance per your request, you may never have to leave your exclusive bungalow (except to sleep, of course).
Also available to you at your privately rented bungalow or cabana are services and treatments provided by The Spa at The Breakers, listed as one of the top 25 spas in North America, with both indoor and outdoor indulgences from stress-relieving massages, revitalizing scrubs, body wraps, nourishing facials and more.
The endless ways to enjoy the ocean and beachside views also extends to your room or suite, with panoramic ocean and resort views. The Breakers is known for extending lavish and extravagant amenities to every corner of its property, literally from the floor up with custom-woven carpeting, Italian armoires, and imported marble in the elegant bathrooms.
The Breakers goes one step further in providing you with the utmost in luxury and exclusive amenities. The Flagler Club provides indulgent hospitality with a residential feel for those guests wishing for an enhanced level of exclusivity within the luxury resort destination. With only 28 rooms situated on the sixth and seventh floors of the oceanfront resort, The Breakers gives you a residential-style experience for enjoying your beachside stay as if you were in your very own home. It's described as the "little hotel within the hotel," bringing you distinctive and complimentary meal presentations, refreshments, spa and fitness admission, and valet pressing service.
For The Breakers, Palm Beach, the name of the game is exclusivity, combining luxurious amenities with privacy, ideal for making your getaway one you won't soon forget. From the lavishly appointed, beachside bungalows and cabanas to the opulent design and decoration of your suite, you'll enjoy the height of luxury with all the amenities The Breakers is known for at your fingertips. Provisions both for an intimate excursion and an unforgettable family vacation make this resort the perfect destination for your next escape.
For
JustLuxe
Kate Prihoda