By Ryan Eisenacher Mar. 21st, 2011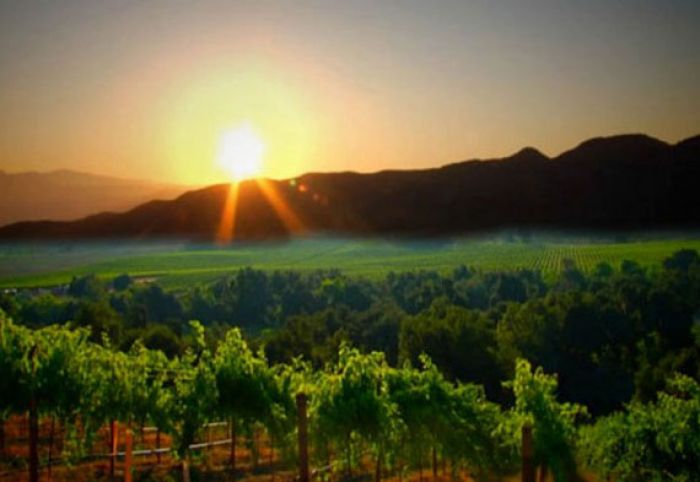 Photo Courtesy of South Coast Winery & Resort
Somewhere between the beginning of time and the Book of Genesis, the invention of wine came to fruition. Ancient Greeks offered it during celebrations, the Catholic Church utilized it during Mass and Egyptians used it for funerary rituals. And while many historians believe that its discovery was actually an accident, wine has played a fascinating role in many cultures over a span of thousands of years.
In today's day and age, vino connoisseurs have witnessed that the tantalizing world of wine has changed dramatically to include varieties and vintages from around the world. While Northern and Central California have primarily been recognized as the Meccas for wine production, over the years San Diego has gained popularity as one of the leading producers of expert wines in California.
And although Temecula wineries may be on top, wineries in Rancho Bernardo and Fallbrook also put San Diego flavor on the map. From SoCal's oldest operating winery and a golf icon's world-renowned masterpiece, to a luxury resort-slash-spa getaway and petite boutique vineyards, all oenophiles must explore the great vineyards and wineries in Southern California.
South Coast Winery & Resort
Surrounded by 38 acres of its own carefully tended vines, South Coast combines a working winery with luxurious sanctuary, adding a new dimension to an increasingly popular wine country. From grapes produced by the rich Southern California soil and ample Temecula Valley sun, the talented winemakers at South Coast craft award-winning blends and varietal selections with intense flavors and soft, supple structure. South Coast Winery produces four collections from its Southern California vineyards. Elevation wines include stylish, crisp and affordable Sauvignon Blanc, Merlot and Syrah varietals.
Under the South Coast Winery label, you'll find a select group of whites, reds and rosés grown in and around the Temecula and Southern California Appellation. What better way to learn more about this spectacular Southern California Temecula winery than taking a behind-the-scenes wine tour? From vineyards to crush pad, this $25 walking wine tour culminates with a private, plated wine and cheese pairing.
Wilson Creek Winery & Vineyards
Nestled at the end of Rancho California Road in Temecula, Wilson Creek Winery is warm and friendly, comfortable yet exhilarating and simple yet utterly elegant. Home of the famous Almond Champagne, the 70-acre winery has garnered numerous prestigious international wine awards including four gold medals for the 2008 Grenache Rosé and the 2007 Petite Sirah, two gold medals for the 2008 Viognier, and the Chairman's Best of Class Award for the 2008 Muscat Canelli at the 2009 Long Beach Grand Cru.
Stroll through the graceful gardens filled with radiant roses and flowers, take a few pictures to remember your day, or bring home a few bottles of wine from the friendliest tasting room in the valley. After your tour, head over to Creekside Grille for a relaxing experience in the al fresco dining room. Surrounded by the lush 30-year-old Cabernet grapevines, herb garden and flower-filled hanging baskets, the view and ambiance set the scene for an enjoyable day in the wine country. The tasting room is open seven days a week from 10 a.m. to 5 p.m. and costs only $12 per person. For those who are serious about vino, join the Wine Club and taste for free with three guests. For more details please visit
Bernardo Winery
In 1889, five Sicilian partners came to the San Bernardo Rancho area and established what is now the oldest continually operating winery in Southern California. Strewn with antique, turn-of-the-century buildings that house more than 12 village shops, a coffee shop, a salon and the award-winning Café Merlot, Bernardo Winery is undoubtedly one of North County's best kept secrets. Step through the front gates into the courtyard and you are immediately surrounded by beautiful Mediterranean gardens, lush vineyards and an inviting atmosphere.
Nestled in the middle of the beautiful winery courtyard, the tasting room offers over 30 wines to choose from and is open from 9 a.m. to 5 p.m. Monday through Friday and 10 a.m. to 6 p.m. on Saturday and Sunday. Guests can also enjoy a culinary delight at Café Merlot which boasts fresh, seasonal menus with a rustic Southern California flair. From lobster bisque and carrot ginger soup to Salmon BLTs and savory tri-tip sandwiches, Café Merlot offers a quaint winery dining experience.
Longshadow Ranch Winery
Located in Southern California's Temecula Valley, Longshadow Ranch offers a winery experience unlike any other. Take a wine-tasting tour the old-fashioned way: hop in a carriage where Longshadow's team of Belgian Draft horses will guide you through the luscious hills and vineyards of the Temecula Valley wine country. After your carriage ride, head to the Winery Tasting Room or the Old Town tasting room to sip and savor a variety of cabernets, merlots and syrahs.
After a long day of sampling wine, head over to Longshadow's Cowboy Bistro for some fresh and organic fare. From cheese fondue samplers and three cheese flatbread wraps to mandarin glazed seared ahi and filet mignon medallions with twice baked potatoes, Cowboy Bistro serves up a delicious selection of culinary delights.
Callaway Vineyard & Winery
It's not often that one would find a commonality between the golf industry and the production of fine wine. However, Ely Callaway Jr., the iconic founder of Callaway Golf, also established one of the world's most well-known and revered wineries in Southern California. Boasting 20 acres of estate vineyards planted with Viognier, Syrah, Dolcetto, Zinfandel, Sangiovese and Cabernet Sauvignon grapes, approachable, flavorful and extremely well-balanced wines are now synonymous with the Callaway name.
The time honored, Callaway tradition of using unusually cold temperatures during fermentation slows the process, allowing each of the wines to retain their natural fruit flavors and aromas. From cherry-flavored Merlots and earthy Sangioveses, to creamy Chardonnays and a crisp Pinot Gris, Callaway has a wine to suit every palate. Callaway hosts complimentary winery tours on weekdays at 11 a.m., 1 p.m. and 3 p.m. and every hour on the hour between 11 a.m. and 4 p.m. on the weekends. Callaway's all-new Wine & Truffle Tasting is offered Sunday through Friday from 10 a.m. to 5 p.m.
Ryan Eisenacher
Hailing from the town of Brea in Orange County, California, Ryan Eisenacher moved to San Diego five years ago to attend college at San Diego State University. While working towards her degree in journalism, Ryan was a senior staff writer for her campus newspaper, The Daily Aztec. During her sophomore year of college, Ryan took on an internship with DiscoverSD.com, and instantly felt at home. Since...(Read More)