By Tara Imperatore May. 4th, 2011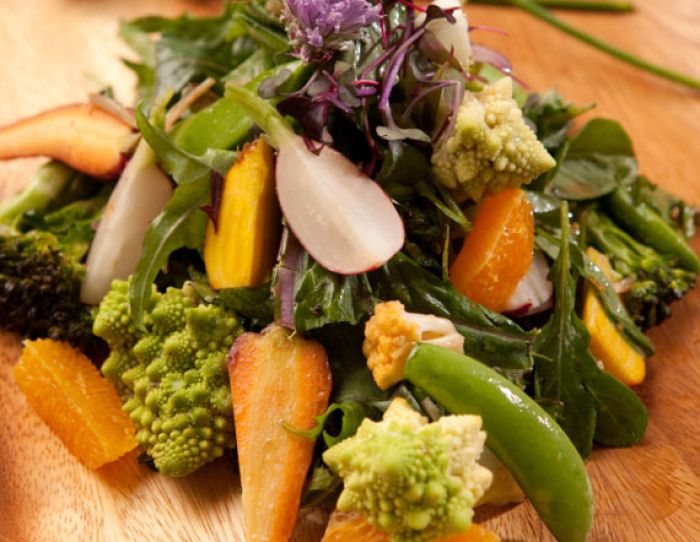 Photo Credit: Paul Body & Terra American Bistro
Farm-to-table dining has become popular recently thanks to strides taken by chefs to work with, and support, their local economies - all the while the goal remained to deliver satisfying meals to diners.

It seems like a large undertaking, but that's exactly the concept Chef Jeff Rossman has taken and ran with; especially as Terra has made a fresh start, moving a month ago from Hillcrest to La Mesa.


Currently, there are no restaurants around Terra that are of its kind. Chef Rossman's dedication to local, sustainable, organic agriculture of San Diego and Riverside Counties is evident from the time you step in the door to the last bite of your meal. Oh, and the tractor parked outside might've tipped you off before you even walked in.

Terra sits on bustling El Cajon Blvd. but has been making itself known to passersby, not to mention existing fans of the restaurant for the past 13 years. When you walk in, you feel warmth from the simplicity of the décor and get to preview some fresh ingredients being grown in Terra's own herb garden.

I soon came to find that most everything inside Terra's walls has been recycled or repurposed: the chairs, tables, wine shelves, piping along the bar, the armoire, the burlap coffee bags that line the ceiling, the Mason jar chandelier that sits above the chef's table, and the list goes on. It just proves that the concept is far from gimmicky – it's quite authentic.


Enough about the ambiance, let's get to what really matters: the food! Chef Rossman's menu is fraught with seasonal, fresh San Diego produce from salads to flatbread to sliders to pasta, meat, seafood and desserts. I started with the Organic Farmer's Salad (pictured above) which is picked at the chef's whim and included field greens, hard-boiled egg, peas, carrots, tangerines and kaffir lime vinaigrette.

As I dove into my pile of brightly colored greens, I started to realize what freshness really tastes like. The crisp, ripe flavors of the vegetables aren't hidden under dressing or preservatives, they're front and center ready to be appreciated; and appreciate I did.

Being Italian, I'm naturally drawn to pasta so I knew I had to get my fork on some of the Chicken and Sausage Pasta. Chef's Rossman's version of a creamy fettuccine included roasted dark meat chicken, house made chicken and fennel sausage, parsley garlic cream, grape tomatoes and Asiago cheese.


I was actually surprised by how light it was. When I see cream and cheese I think rich, heavy and the loosening of my belt, but that wouldn't be necessary after this plate. My favorite part about the dish was the chicken and fennel sausage. It was so tender and savory, it became obvious that it was made by two food-loving hands.

The next course was an easy choice for me, as I have become a big fan of Karl Strauss' variety of beers. The Braised Pot Roast in Karl Strauss Amber Lager was calling my name. It practically melted in my mouth and came perfectly complemented by roasted garlic potato mash, mushroom ragout and truffle oil. Again Chef Rossman's loyalty to the local economy was apparent, teaming up with one of San Diego's neighborhood breweries to create a memorable dish I'll definitely be going back for.

I wasn't sure what dessert would bring, but I made certain to save room. I tried a little smorgasbord of sweet treats starting with a crème brulee made with lavender freshly picked from Terra's garden. Lavender can definitely be overwhelming, but the taste was just right and wasn't overshadowed by the rich cream.


Chef Rossman personally slipped us some homemade marshmallows. He said he likes to offer them to guests instead of candy, and I graciously accepted the sweet, fluffy morsels. I also tried the homemade ricotta cheesecake with strawberries and basil compote, with both toppings grown at local organic farms. It was nice to still taste vibrant, fresh flavors even in dessert where sugar tends to rule all.

Not only was each course delicious, fresh, and thoughtfully prepared, but the concept of farm-to-table was never lost throughout the meal. It is refreshing to see a chef take his passion, conceptualize it and allow his guests to experience it through his eyes.


Chef Rossman executes his commitment to purchasing products that are cultivated sustainably and humanely through every bit of Terra's décor and bite of the fare. Talk about an honest meal.

Terra American Bistro
7091 El Cajon Blvd.
San Diego, CA 92115
619.293.7088
www.terrasd.com
Tara Imperatore
Since graduating from Penn State University, Tara has dabbled in several different realms of the publishing world. From food writing to an opinion column to city guide editorials, her work can be seen in newspapers, luxury lifestyle magazines and various websites. As Associate for JustLuxe, she is busy sharpening her eye for all that is opulent around the world. She is also a freelance writer for ...(Read More)