Gaslamp District Restaurants | Historial and Haute
Posted: Aug. 18th, 2011 | Comments 0 | Make a Comment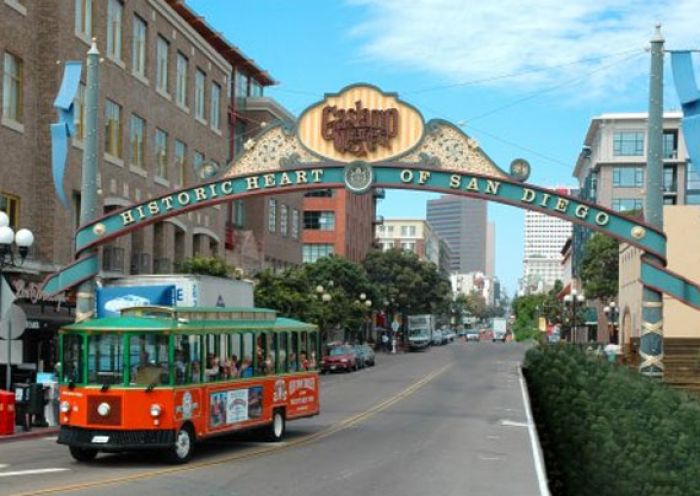 Photo Courtesy of SD Trolley Tours
To many, San Diego's Gaslamp Quarter is a center for good times and good grub. With over 150 restaurants and bars packed within 10 blocks, it's impossible not to find enticing happy hours, flashy nightclubs, and every type of worldly cuisine within a 10-minute walk.
What few know, however, is in the present location of an eclectic array of the Gaslamp's restaurants there once existed movie houses, banks, brothels and other establishments. Here are a few of these restaurants and some of their latest offerings.


Greystone Steak House


During the roaring 20s, the Gaslamp, like the rest of the country, boomed. Going to the movies became a national pastime, and in 1923 the Rivoli Theater opened in the Gaslamp. It showcased a handsome brass staircase that led to a balcony overlook and movies cost a nickel. In the 1970s, the theater was renamed the Bijou Theater and was then acquired by Pussycat Theaters, known for steamy adult films.




Today, Greystone Steak House is an independently owned steakhouse featuring European, American, and Pacific-Rim inspired cuisine nightly, starting at 5 p.m. The Filet Mignon Pot stickers, as well as the Filet Mignon A La Oscar, topped with fresh crabmeat and asparagus, are standout items on the menu. Starting in September, the restaurant will pay homage to its cinematic history by showing classic films every month or so, accompanied by a special menu. Champagne will be, appropriately, five cents for the first glass.


The MerK and Keating Hotel


A prestigious office building once stood handsomely at the corner of F and 5th Ave. in the epicenter of the Gaslamp. The Reid Brothers, architects of the famous Hotel Del Coronado, designed this prime office space in 1980. Soon it became home to San Diego Home and Garden magazine, Anderson Too! Bakery, and the Dunphy Construction Company.





The Keating Hotel, along with its subterranean nightclub, Sway, and two restaurants, Krust and the MerK, now claim the entire Reid building. The MerK, the property's sleek Italian bistro, blends artfully with the brickwork of the original building. Drinks and desserts are favorites of this hot spot and reminiscent of the "big business" days the Reid building once housed. Opt for "the Deal Closer" dessert for two, a massive bowl of deconstructed espresso mousse, whipped cream, and dense brownies. Or, toast success with one of 24 scotches, including the 25-year-old Macallan.


Osetra


How could one not bank on a restaurant formerly known as a bank? Osetra, an impressive two-story seafood mecca, once housed coins and bills, rather than imported wines and oysters. In the 1800s, The First National Bank operated five days a week serving the burgeoning downtown area's businesses, from tenants of the Reid building, to owners of "illegal" brothels.





The 240-square-foot underground vault now stores another kind of valuable: wine. Wine Spectator notes Osetra's comprehensive wine list, but the real spectacle is the "wine angels." From either story of the restaurant, limber ladies retrieve wine bottles from Osetra's center column, sailing up and down over 20 feet. A new form of "teller service," perhaps, but one not to be missed.
Related Topics : San Diego, Gaslamp District, San Diego Restaurants, Fine Dining, City Guides
LET'S CONNECT LUXURY NEWS & MORE






San Diego Map

Expand San Diego Google Map >
Luxury Hotels in San Diego >
Best San Diego Hotel Rates
See All Specials For San Diego Luxury Hotels >
* Lowest nightly rate based on select dates. Please click on hotel for details.