By Tara Imperatore Sep. 26th, 2011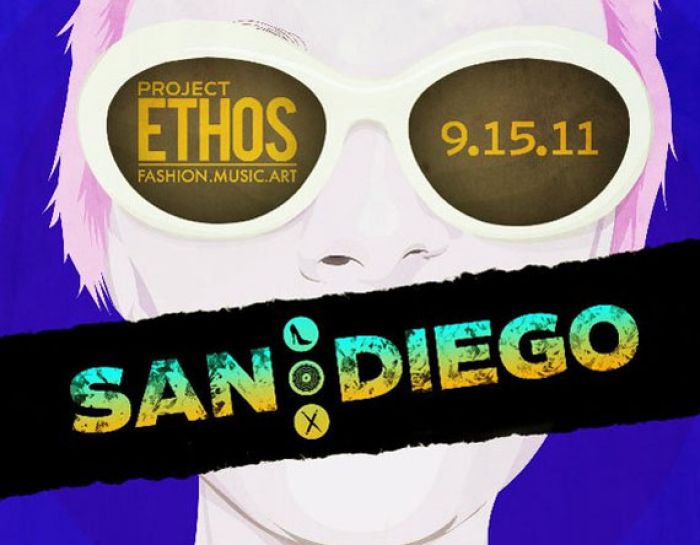 Photo Courtesy of Project Ethos
Project Ethos
has done it again producing yet another fabulous event merging the worlds of fashion, music and art seamlessly. The House of Blues in downtown San Diego was home to the artsy affair on September 15. It was the ideal location for such an event, with a hip, underground vibe already built in.
Vitamin Water Zero sponsored the soiree that's equal parts art gallery, concert, and runway show. There was no lack of stimulation in the room, that's for sure. All the senses were piqued with the vision of artwork, sound of the bands, taste of Vitamin Water Zero, touch of the goodies bags, and smell of fresh paint being stroked onto a canvas.

Members of various media outlets, key buyers, and the general public were all welcome to stroll around and view the many works by artists such as Joseph Topacio, David Ross, Eric Wixon, Gloria Muriel, Scott Saw, Jordan Roberts and Dave Warshaw. Surrealism seemed to be a theme that ran through many of the pieces, but there was a really inspiring variety of work on display making for an entertaining walk around the exhibits.


While checking out the artwork, three up-and-coming local bands took to the stage to make their individual sounds heard, while DJ Ayeena held down the turn tables all night. Indie/alternative The Maul Shoppe opened the event with a fun, pop flavor followed by the jam band sounds of Cuckoo Chaos. Republic of Letters rounded out the mini concert series with ready radio songs that pumped up the crowd for the soon-to-follow fashion shows.

The Art Institute of California San Diego students Cecilia Torres, Elina Sheripova, Haley Hanson, Amanda Alkas and Steven Mayor were chosen to show their unique collections to a room full of industry influencers, buyers, and consumers. All of the designers participated in the "Flavor Fashionista Challenge" in which each produced a garment to reflect a flavor of Vitamin Water Zero. The winner will be chosen by text votes via the audience after viewing the specially made pieces. The winning designer will receive a prize package worth up to $3,000. Sponsors Cardiwrap by Kymaro and Frederick's of Hollywood Swim also showed collections and continue to be a constant on the Project Ethos tour.



The night was packed with amazing talent that no doubt left an impression on those in attendance. With a mission to expose local bands, artists, and fashion designers, Project Ethos has successfully converged three very different worlds with a passion for creativity as the unifier. If you missed this exciting event, catch them at their next stop in Los Angeles on October 14. Visit ProjectEthos.com to learn more.


Tara Imperatore
Since graduating from Penn State University, Tara has dabbled in several different realms of the publishing world. From food writing to an opinion column to city guide editorials, her work can be seen in newspapers, luxury lifestyle magazines and various websites. As Associate for JustLuxe, she is busy sharpening her eye for all that is opulent around the world. She is also a freelance writer for ...(Read More)