Cynthia Dial View Profile

Freelance Travel Journalist | Travel Writing by Cynthia Dial
The Grand Del Mar Exclusive Ladies Only Golf & Wine Experience
Nov. 21st, 2012 | Comments 0 | Make a Comment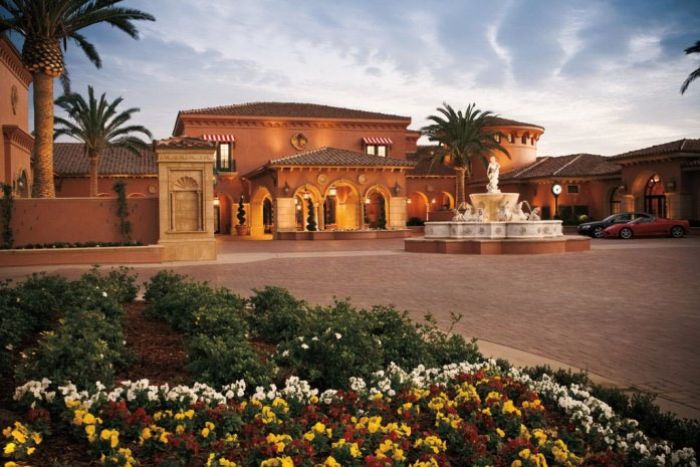 Photo Courtesy of The Grand Del Mar
"The reason the pro tells you to keep your head down is so you can't see him laughing."
Comedian Phyllis Diller
For many women the best way to approach golf is with humor (confession: I am one of those women). But after my introduction to golf at
The Grand Del Mar
, my game transformed from funny to fun. Serving as the centerpiece of The Grand Del Mar luxury resort, it is San Diego's only course designed by Tom Fazio, PGA pro responsible for 14 of America's "100 Greatest" as listed by
Golf Digest
. Paired with an ideal climate, sporting year-round temps ranging from lows of 49? F to 62? F and highs of 67? F to 78? F, here is golf at its best.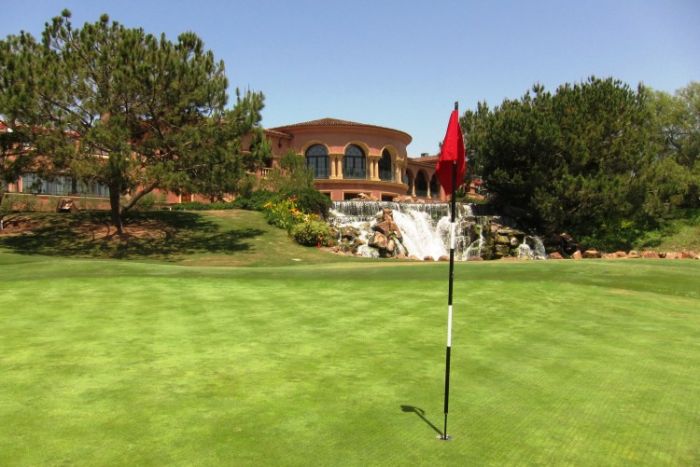 Cynthia Dial


Want specifics? Keep reading. Spanning over 380 acres along spacious fairways winding through the generous valleys of the Los Pe?asquitos Canyon Preserve, The Grand Golf Club features dramatic elevation, diversity of bunkering and precision-perfect greens—all bathed in Southern California sun and all cooled by Pacific Ocean breezes. It's a championship quality course with attention to every detail—much like the impressive resort. Features include a $1 million cascading waterfall on the signature 18th hole, carts equipped with Laser Link range finders, on-the-course marble bathrooms, the Forecaddie program that reinstitutes the longstanding tradition of pairing an experienced caddie with each golfing foursome and a powerful roster of classes, from 90-minute putting evaluation to half- and full-day lessons to one- and two-day programs.

Lessons are legendary. Stockton Golf, though founded more than 40 years ago, remains spearheaded by putting legend PGA Champ Dave Stockton Sr., with an outpost at The Grand Golf Club overseen by Dave Stockton Jr., pro golfer and PGA tour veteran. Dave Pelz Scoring Game School is designed to improve short game skills and its results are enviable. VISION54, an exclusive three-day seminar taught by Lynn Marriott and Pia Nilsson, was rated #1 and #2 in Golf Digest's Top 50 Women Teachers—both are internationally respected experts on the mechanics of the golf swing.

Photo Courtesy of Cynthia Dial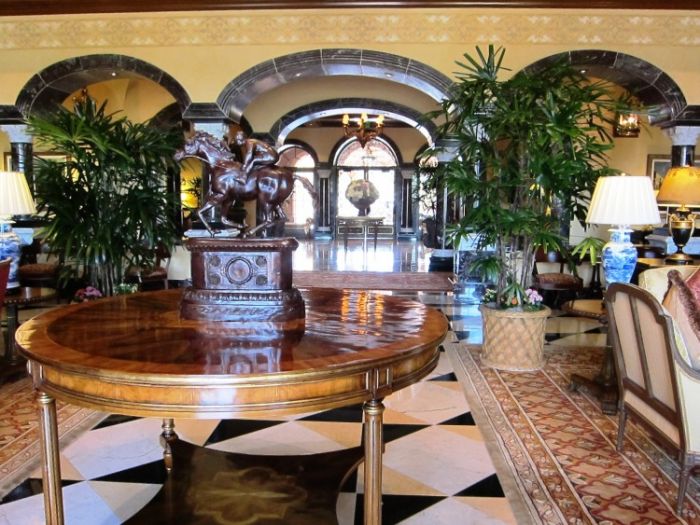 Cynthia Dial


Ladies Only Golf & Wine Experience, a seasonal series of golf instruction and wine tasting hosted by the resort's award-winning wine director, Jesse Rodriguez, is an every summer event. All instruction is under the tutelage of head pro Shawn Cox, formerly affiliated with Torrey Pines Golf Course (of 2008 U.S.Open fame); and all instruction is female friendly. "There's a fine line between getting someone ready for the course and scaring them that they're not ready," explains Cox. "Here we talk about the basics: how to check in at the golf shop, how to drive the cart, where to stand on the course. We believe that the more you know and the sooner you play the course, the more comfortable you'll be with golf."

Adding to the ladies' line-up is the recent addition of the red forward tees (taking the tee total to six), which makes the course one that accommodates all levels—including beginning and intermediate golfers. But wait, it gets better with the newest addition to the teaching team, female professional golfer Kristen Muranyi. After a putting lesson with golfing pro Erik Wilson and a short game primer with Cox, my golf swing class with Muranyi worked to establish fundamentals—videotaped my swing, reviewed the video, discussed suggestions, administered the advice, then re-videoed. Unexpected was an email follow-up, providing the link to my video lesson along with comments from the pro beginning, "Hi Cynthia, Coach Kristen here."

Photo Courtesy of Cynthia Dial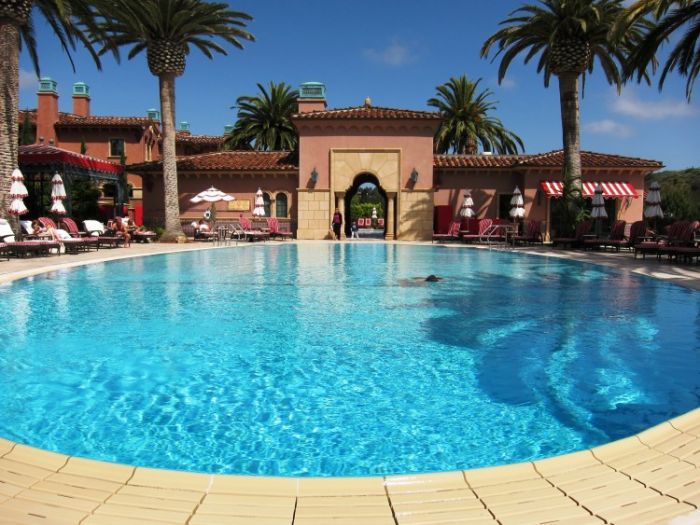 Cynthia Dial


Accolades abound at The Grand Golf Club: Top 75 Best Golf Resorts in North America, Gold Tee Award, Best of Golf Courses, Readers' Choice Best of Golf Courses. It's exclusive…so exclusive that you must be one of the 150 members (number is capped) or a hotel guest to play The Grand Golf Club .Accolades additionally laud the resort as San Diego County's only Forbes Five-Star and AAA Five Diamond luxury destination. Designed for those who take their pleasure seriously, The Grand Del Mar is where European elegance meets Southern California comfort. Inspired by an international Mediterranean flair, it is graced with spacious verandas, distinctive archways, impressive columns and more than 2,000 pieces of especially designed furniture and art.

The Grand has a Renaissance-inspired spa, four heated swimming pools with covered cabanas, a newly-debuted Equestrian Center (37 miles of horseback riding trails), a luxury golf shop with offerings from custom-fit clubs to custom-designed jewelry (example: platinum charm bracelet featuring the resort's signature sunburst logo), a 37,500-bottle wine cellar and six dining venues (headlined by Addison). Chef William Bradley's award-winning fine dining restaurant, Addison, showcases contemporary French cuisine and is the scene of our eight-course food and wine after-golf celebration. Here's just a sampling of our feast: (5th course) coffee roasted canard with caramelized endive and pistachios paired with a Barbieri Syrah, Colson Canyon. Topping off our festive mood was San Diego Magazine's just-made announcement of Addison for Best Chef, Best Food, Best Wine List.

Photo Courtesy of Cynthia Dial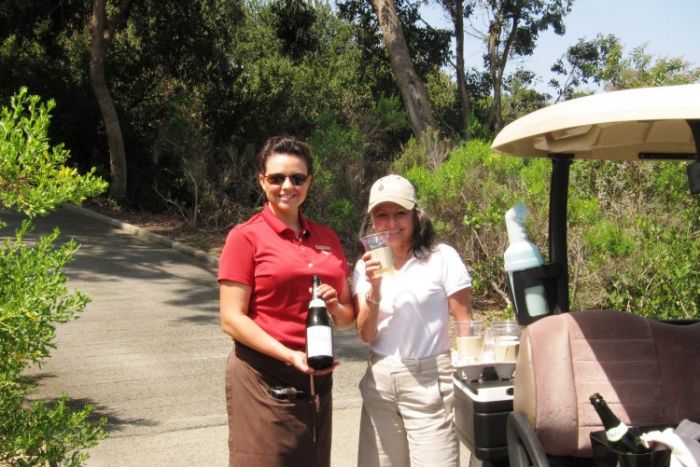 Cynthia Dial


Summation. After an assortment of lessons, al fresco lunch on Club M's veranda, a leisurely day on the links (complete with a surprise bottle of champagne delivered to the 15th hole), it's official. Watch out, Hollywood! Ladies golf at The Grand Golf Club rivals any red carpet.

Photo Courtesy of Cynthia Dial
Cynthia Dial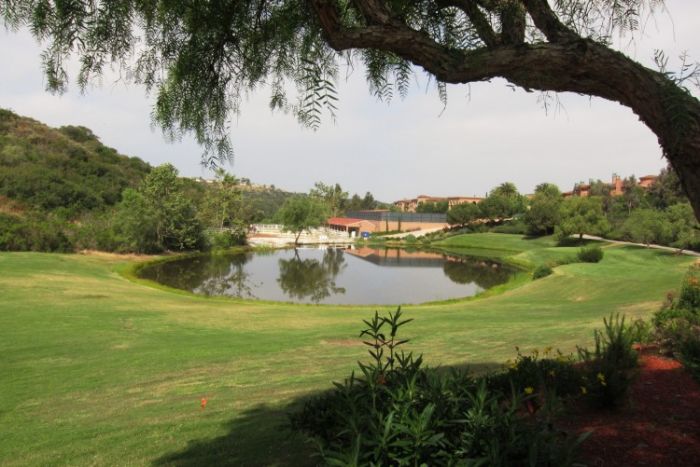 Cynthia Dial
Read More on
TheGrandDelMar.com
You might like :
Best San Diego Resorts
San Diego Map

Expand San Diego Google Map >
Luxury Hotels in San Diego
Andaz San Diego

Business, Boutique, Luxe Superior, Tourism, Nightlife, Urban
Hotel Del Coronado

Romantic, Business, Family Friendly, Spa, Beach, Golf, Wedding, Villas, Luxe Superior, Culinary
See All San Diego Luxury Hotels >