By Donald Herrera-Fairbairn Feb. 21st, 2014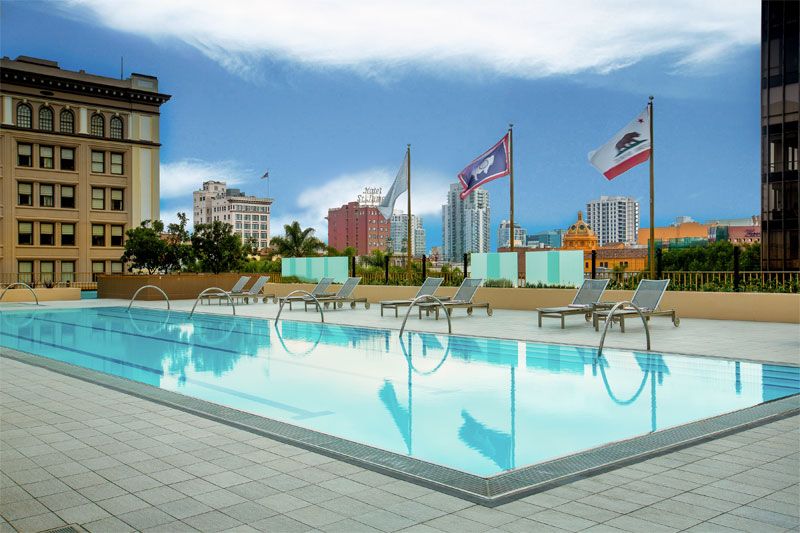 Photos Courtesy of Westgate Hotel
Since its opening in 1970, The Westgate Hotel in San Diego hasn't had a pool for guests to enjoy, which—in a sunny city like SD—is almost like a sushi restaurant without rice. Luckily, the owners finally came to their senses and added a place for people to take a dip in on those warm summer days. Even better, it's on the hotel's rooftop and comes with 10,000 square feet of deck, offers fitness amenities and incredible views of downtown. The massive deck offers a spectacular venue to hold professional or private events like weddings, fashion shows, small conferences or non-profit balls—all of which would be perfectly complemented by the contemporary design elements and comfortable lounge furniture of the property.

With the close to year-round sun shining down on this new pool and deck area, relaxation and leisure have reached a new pinnacle for the hotel. By offering guests cocktails and meals delivered via a poolside F&B service, spending a day soaking in the rays means never having to head to your room for a mid-afternoon bite. Moreover, the deck offers a Jacuzzi for guests and the pool is heated year round.
While the caveat of "weather permitting" is applied to pool access, the chances of foul weather hampering anyone's good time is practically nil in America's Finest City. Fitness buffs looking to keep up on a strict routine have been shown quite a bit of love as well. To stay in shape, there is a Junior Olympic size lap pool, outdoor studio fitness areas and a 1/10-mile running track.
Donald Herrera-Fairbairn
Donald lives in San Diego County with his wife and three children. He has written for a number of organizations in addition to JustLuxe, including Remy Martin, Yahoo!, Oh!Facts and more. Donald spent five years in the U.S. Navy where he discovered his knack for writing through creating instructional materials and standard operating procedures. Since his honorable discharge in 2009, he has embraced...(Read More)