By Merilee Kern Mar. 30th, 2009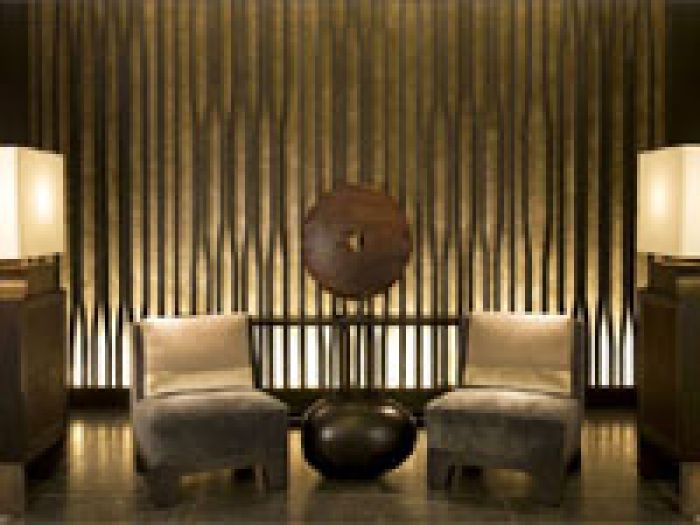 Luxury Hotels:
Life is busy. Too busy. I often get the urge to leave the daily grind behind and take single evening "power vacations" at local San Diego-area hotels near my home. You'd be surprised how cathartic even a one-night stay at a luxury hotel nearby can be. My enduring quest for hospitality-driven R&R led me to
Sè San Diego Hotel
, where I decided to take a romantic Saturday night sabbatical with my husband. And, to borrow a phrase from Kimora Lee Simmons, this property has "fabulosity" pulsating from its masterful architecture and uber-chic contemporary décor.
Having lived in South Florida, Hilton Head, Las Vegas and now San Diego, and travelling extensively both domestically and abroad, suffice it to say I've seen my fair share of fabulous hotels. Sè San Diego Hotel ranks high on the list of those I've been most impressed with - proximity aside. This due to the artful visual appeal of the thoughtfully designed surroundings, coupled with the hotel's impressive array of amenities and a service staff apparently hell-bent on ensuring the utmost satisfaction of each and every guest.
Book Your Stay at Se San Diego >>
Located in San Diego's downtown financial district, this 184-room luxury hotel is nestled among the eclectic mix of restaurants, shops and nightlife that largely comprise the famous Gaslamp Quarter. It's also mere minutes away from multiple beaches and the numerous sights and attractions that "America's Finest City" has to offer.
Many words come to mind, and feelings evoked, when thinking of Sè San Diego's design aesthetic: sleek, modern, sophisticated simplicity, and downright sexy. Designed by the Rockwell Group, the 23-story building is an artful steel and glass structure that stands out amongst the downtown architecture.
Inside, the hotel's ultra-modern, Asian-inspired décor has a quiet elegance that envelopes your senses and calms your nerves the minute you step foot into the lobby, which boasts two custom-made 9,000-pound bronze pivot doors, black ebony columns, Shanghai pavers, teardrop crystals, Nepali carpets and silver leaf covered walls and shagreen upholstery. And, this is just for starters, with hundreds of artistic visual and touch points spread throughout the property as a whole.
With just a few steps in the door we were welcomed and offered immediate check-in at a lounge seating area rather than having to approach and stand at the front desk. There were given a floral infused vodka and champagne beverage to refresh us while the paperwork was being processed.
Book Your Stay at Se San Diego >>
Within minutes we were whisked away to our extraordinarily well-appointed "standard" room. But, I can assure you there was nothing standard about this room, which contained custom made linens, Brazilian walnut wood floors, Jerusalem Bone Limestone, and teak vanities. All standard rooms also have a plasma television, wireless Internet, custom Italian furniture, luxury linens, iPod/mp3 docking stations and in-room coffee and tea service.
While Sè San Diego has 144 standard rooms with city side, city light and sky views, which start at $249 per night, it also offers 17 one-bedroom suites with balconies and 20 Luxe Suites and two Penthouse Suites for the jet set.
The property is also currently cultivating a Grand Penthouse soon-to-be-revealed. This 8,400 square foot space will purportedly be the most exclusive and largest suite on the west coast, featuring three bedrooms, a full kitchen, dining room, entertainment center with a full bar and six flat screen televisions as well as a wine wall, a patio terrace with private sundeck and Jacuzzi soaking tub, and floor-to-ceiling windows that offer 360-degree views from Mexico to Coronado Island.
After reveling at
our
lovely accommodations, I perused the rest of the hotel and got a sneak a peek at the property's incredible 3,400 square foot ballroom with walls adorned with Sapelli wood, upholstered silk panels and silver leaf. Towering two-story windows bathed the space in natural light. A 1,758 three-story skylight atrium area is also available, serving as a perfect venue for cocktail receptions and other soirées. I learned Sè San Diego employs a full banquet staff, a meeting planner, and even a set designer on-site for business meetings and special events.
The hotel's other notable amenities will soon include a private screening room with luxurious oversized armchairs and a state-of-the-art recording studio for performances and VIP recordings, which seems fitting since the property is located right next door to the House of Blues.
With my curiosity about the property satiated, it was time to head out to a romantic dinner at Siren - Sè San Diego's new poolside uber-lounge and rooftop oasis that had actually just opened the weekend of our stay. After settling in, my husband and I thoroughly enjoyed the electric outdoor atmosphere as we sipped cocktails and savored the restaurant's gourmet "small plate" style cuisine designed by executive chef Anthony Calamari.
While the portions of each selection were bite-size, the incredibly artfully presented fare made up for its size with abundant flavor. My husband and I saw fit to order most of what was offered on this concise menu, with each plate ranging in price from $3.50-$5.00. Among our selections were the lemon & olive oil cured scallops with an edemame puree and mushroom confit, and chilled lobster medallions with mache salad, cantaloupe and citrus dressing. While each dish was divine, far and away our mutual favorite was the rare filet mignon with julienne red onions, scallions and cilantro leaves with a soy and honey glaze.
Book Your Stay at Se San Diego >>
Siren is situated adjacent to the hotel's pool deck and VIP pool lounge - an Asian-inspired "chill zone" with lounge seating perfect for soaking up the SoCal sun in style. Private cabanas offering bottle service, food, and spa treatments are also available on deck. The infinity edge custom pool is even equipped with underwater surround sound to ensure swimmers don't miss a beat.


In anticipation of a couples' massage we had booked for late morning, the next day we were up bright and early for breakfast in bed. This in-room dining experience was quite impressive, with our breakfast banquet consisting of house-cured salmon with capers on a bagel with herb flavored cream cheese and scrambled eggs with applewood chicken sausage, scallion puree and Grana Padano cheese. In learning about the hotel, I discovered that a personal chef is available to those in Luxe Suites and Penthouses should the need arise, along with a Captain's Service option whereby an in-room dining attendant serves guests as if sitting in a regular restaurant. But, for this occasion, the private breakfast-in-bed for two suited us just fine.

Book Your Stay at Se San Diego >>

Having been energized by breakfast and more than our fair share of coffee, we then hit the hotel's state-of-the art fitness center equipped with Life Fitness machines and ample free weights. The large window overlooking the avenue was a nice touch, making the space feel larger than it actually was. The center is accessible on a complimentary basis for guests 24 hours a day, with a personal trainer available upon request.

Invigorated from our workout, we were then off to Sè SPA for our couples' massage. And, what a spa this was! This 5,500-square-foot world-class pleasure palace is the ultimate in relaxation and indulgence. With nine personal treatment rooms with private steam showers as well as two double specialty suites and a private VIP lounge, this sophisticated spa is an oasis offering an expansive menu of massage, skin, body, and nail treatments, each based on the cultural and aesthetic influences of Southeast Asia, India, Northern Africa and Japan.

Immediately upon arrival at Sè SPA we received a complimentary soma shot, which is a mixture of honey, pomegranate, and organic vodka (although you can get it without the alcohol) that is thought to provide you with courage, virtue, and long life - all among my many aspirations. And, the perfect elixir to ready my mind and body for the treatment up ahead.

One also can't help but notice the impressive custom artwork that adorns the Sè SPA space. On the wall immediately behind the check-in desk is Jennifer Prichard's "Loop" design encompassing hundreds of small and colored teacups, which are intricately placed to create a harmonious flow. In the hallway was an impressive piece of Raku ceramic artwork from Artist Joseph Conforti.

Shortly after arrival we were whisked off to "Studio Sutra" for our couples' massage. This lavish suite features a Japanese infinity edge soaking tub with colorful back lighting for added ambiance, large steam shower, flat screen television, lounge area and food and beverage service. While we only booked one hour, Studio Sutra is an ideal place for couples or groups to enjoy a full day of relaxation.

While I didn't opt for it, I found it interesting that Sè SPA has the only Moroccan Rasul treatment offered in the United States. This Arabic mud, heat and aromatherapy-infused steam based cleansing ritual exfoliates the skin and draws out impurities from the body, fostering relaxation, detoxification, invigoration, etc. based on the "type" of mud one selects. The Rasul can be experienced as an individual or couple's treatment.

Book Your Stay at Se San Diego >>

With our couples spa treatment done, my romantic 24-hour sabbatical felt complete. And, Sè San Diego certainly delivered. This proved to be one of the most enjoyable, relaxing and indulgent getaways we ever had - here in town and otherwise. Indeed, this urban retreat brought out my inner Zen.

The Luxe List product review editor Merilee Kern scours the luxury goods marketplace for new and innovative must haves. Product submissions accepted via e-mail at Merilee@JustLuxe.com.

- Merilee Kern
JustLuxé.com's "The Luxe List" Product Review Editor
Merilee Kern
Branding, consumer product trends, leisure and lifestyle expert Merilee A. Kern is a good life connoisseur who keeps her finger on the pulse of the marketplace in search of new and innovative must-haves and exemplary experiences at all price points, from the affordable to the extreme. The best of the best across all product, service and travel categories–as well as noteworthy marketplace change ...(Read More)