By Eric Meyers Oct. 4th, 2011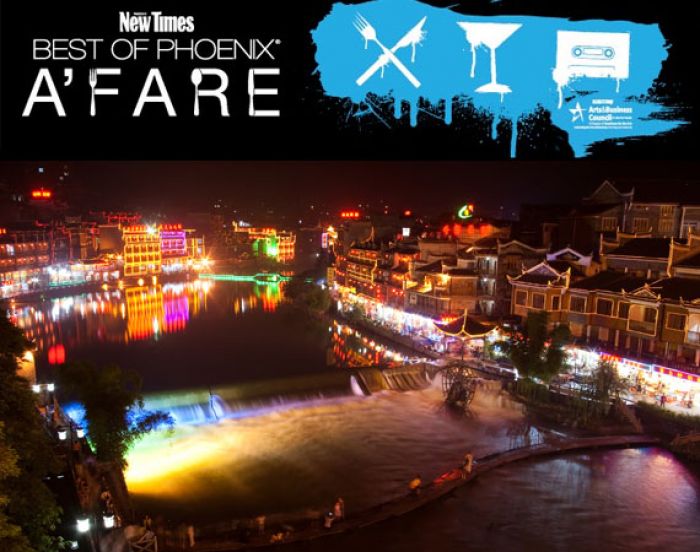 Photo Courtesy of Shutterstock and Phoenix New Times
On Saturday, October 8 the Phoenix New Times will host the 12th annual Best of Phoenix A'fare. This event brings together 35 of the area's
best restaurants
and bartenders for a night of fun at the Biltmore Fashion Park.


This annual event is a great opportunity to sample food from many of Scottsdale and Phoenix's best chefs, from restaurants like Rico's, The Strand, Zoe's and many, many more. Last year, the party attracted over 1,500 people, and this year moves to a larger venue to accommodate everyone.

For out-of-towners who want to come to the area and have a handful of drinks with your food, the New Times has partnered with The Ritz-Carlton, Phoenix to provide special room rates and packages to accompany the festival.

Proceeds from the event will be donated to the Arts & Business Council of Greater Phoenix to help further their commitment to creativity and local commerce. Tickets will be available at the door for $35, which gives you access to food, wine, beer, cocktails and plenty of entertainment.

For more information visit PhoenixNewTimes.com.
Eric Meyers
Eric Meyers is a native New Yorker who graduated in Journalism at San Francisco State University. While in the bay, he wrote for various publications like 944 and [X]Press. He has considerable experience in many aspects of culture, and holds a minor degree in the subject. Eric Meyers is also an Online Content Creator for The House Boardshop and author of two cover features for Snowboarder Ma...(Read More)