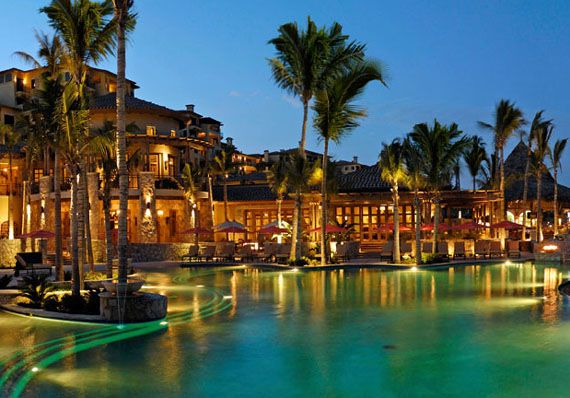 Photo Courtesy of Hacienda Beach Club & Resort
Whether traveling for a holiday vacation, some much needed rest and relaxation, or looking for the beach,
Cabo San Lucas
is the perfect getaway for celebrities and families alike.
In the heart of the action on the Baja Peninsula, Hacienda Beach Club and Residences is the premier vacation destination Winter, Spring, Summer or Fall.


Located on the Sea of Cortez adjacent to the Cabo San Lucas Marina and overlooking "Land's End" with the famous stone arch is the beautiful and newly built Hacienda Beach Club and Residences. Occupying the same oceanfront acreage as the Historic Hacienda Hotel once did, this property is a spectacular vacation option.

With 109 units, including 16 oceanfront Villas, the residences are anywhere from one to four bedrooms and all are full-ownership properties. A rental pool is available for guests to enjoy the resort and Residences and Villas are still available. Opened in 2009, many of the units have been snatched up, but a few ideal properties are available for vacationers who wish to return time and time again.


The property is chock full of luxury accommodations and beautiful grounds. The two infinity pools and several outdoor Jacuzzis are a perfect spot to watch the incoming and outgoing sea traffic or jet skiers riding the waves. Poolside service includes the delicious Ceviche Verde and a wide array of flavorsome beverages (margaritas are of course a specialty and highly recommended).

DK's Bar overlooks the ocean and Medano Beach where guests of Hacienda can enjoy complimentary sea kayaks or other services such as waverunner rental or arranging for a bananaboat expedition.

In the midst of everything, the quiet beach is just steps away from the bustling marina which is host to fishing vessels, private yachts and glass-bottomed water taxis. The nightlife is alive and well in Cabo with such historic venues as the Giggling Marlin and Cabo Wabo.


At Hacienda there is a variety of activates to enjoy as well, including tequila tasting, managers cocktail reception and ceviche demonstrations. The Kids Club is also a wonderful service provided for children ages fice to twelve from 9:00 .am. to 5:00 p.m. with pi?ata making, Spanish lessons, arts and crafts and Wii and Playstation.

No oceanside experience would be complete without a spa and the Hacienda doesn't disappoint. With a café, complete with juice bar and courtyard fountain, guests know they are in for a treat even before they enter the facility. Spin, yoga and pilates classes can be taken along with a state-of-the-art fitness facility for guests' use. The spa includes a full service menu, including poolside massages and couple's treatments as well as a wonderful outdoor relaxation area complete with cold plunge pool, sauna and steam room.



With such elegant touches as the original fountain from the Hacienda Hotel still in the main roundabout and all rooms enjoying a Sea of Cortez view, Hacienda Beach Club and Residences is a great option for families looking for a new and unique experience.

Hacienda Beach Club & Residences
800.670.0310
www.HaciendaCaboSanLucas.com

Via Examiner.com