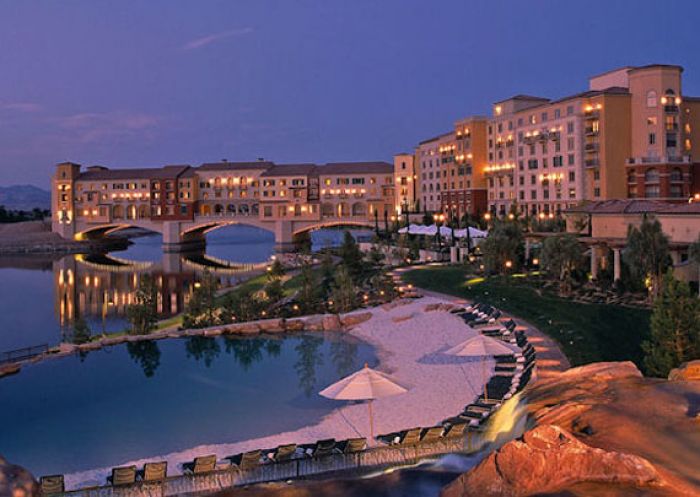 Photo Courtesy of Ravella at Lake Las Vegas
Go to Las Vegas for relaxation? Maybe not on the frenzied Strip, but, there is an alternative. Less than 20 quick miles to the east, the Italian influence infused into
Ravella at Lake Las Vegas
is stunning, luxurious and above all,
riposante
, restful.
Guests can lose themselves in golf (the Southshore course was designed by Jack Nicklaus), boating on the largest privately-owned lake in the U.S., and on miles of hiking and jogging trails. The fitness center and 30,000-square-foot spa provide for further indulgence.

Both Ravella and its Italian namesake, the Amalfi Coast town of Ravello, are places in which to revel. Indeed, our evening wine cruise on the resort's yacht La Contessa was magical, as a full moon came up from behind Alpenglow-tinged mountains. Truly La Bella Vita, the beautiful life.


Unlike its behemoth cousins, Ravella offers only 349 luxury guestrooms and suites, all with oversize bathrooms that would make an emperor feel at home. The Medici Café and Terrace, on the lower level of the hotel, offers serene dining with commanding views of the Florentine Garden and Lake Las Vegas. The Firenze Lobby Lounge transforms itself during the day from breakfast fare, through light lunches, to hors d'oeuvres and drinks.

Spanning three areas of the lobby, Firenze is the perfect place to read, fire up a laptop, chat, or just enjoy spectacular views. Perhaps the feature of the property that does most in creating the riposante, resort-like atmosphere is that there is neither shopping nor a casino inside the hotel.


Not to worry! Just steps away from the hotel is MonteLago Village, the resort's own Galleria, offering international restaurants and pubs, shops, a home décor boutique, a chocolatier, gourmet coffees, gelato, and a cigar shop with top-shelf spirits and walk-in humidor. Old world charm is created by meandering cobblestone streets, unique and colorful architecture, and always, the views of the lake and mountains.



Casino MonteLago is scheduled for its Grand Reopening on May 28, 2011. In keeping with the intimate, relaxed ambiance of Ravella, the casino will be a bijou operation, with no glitzy headliners, nor live table game pit. Casino MonteLago will be the only casino on Lake Las Vegas, serving several luxury properties and nearby multi-million dollar residences.


At Ravella, alfresco is the operative word, with many outdoor venues to enjoy. The Tuscany Courtyard, private beach with waterfall, and the giardino, Florentine Garden, is a most relaxing area to soak up the considerable ambiance of the resort. For weddings, the intimate La Capella di Amore is an over-water chapel, located on the Ponte Vecchio Bridge.



Ravella at Lake Las Vegas is an ideal spot for a personal Italian getaway. Sofia Cortina, a guest I met one evening as we warmed ourselves by the fire pit in the Florentine Garden, said of her stay, "My husband, Tony, is here on business, but to me, it's a bit like home. This place truly is a gioia (gem) a diamante in the desert." Well said, Sofia. I hope Tony doesn't forget the cannoli.