By Lena Katz Feb. 1st, 2011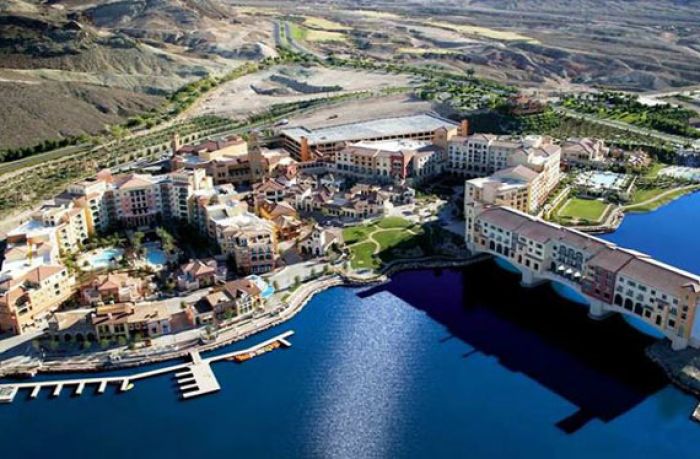 Greater Las Vegas residents breathe a sigh of relief to see one of the area's most elegant resort properties get a new lease on life. The former Ritz-Carlton at Lake
Las Vegas
in Henderson has been purchased by Dolce Hotels and Resorts and will reopen as the Ravella Lake Las Vegas on February 11.
The new owners promise "luxury experiences at affordable price points," and the property will have a spa and wellness center, multiple
dining and drinking
establishments and 39,000 square feet of meeting space. In addition to a lobby redesign, the Ravella will also reinvent the dining and spa areas. As for the enhanced services and privileges that have become standard in Las Vegas mega-resorts, the Ravella plans to offer them through partnerships with Lake Las Vegas businesses rather than trying to be self-contained.
While bucking the local trend, this deluxe, but intelligent, approach might be just what the area needs. Executives at the 349-room Ravella, and parent company Dolce Hotels, hope to draw in business and leisure travelers, as they're touting Henderson as a "quiet departure from the Strip."
Lake Las Vegas, with its two marinas and
Jack Nicklaus golf course
, offers a laid-back escape from big city congestion and summer temperatures. Proximity to outdoor attractions (Lake Mead, the Hoover Dam and Red Rock) and outdoor recreational activities is also a big draw. Dolce Hotels and Resorts currently owns and operates 27 properties across North America and Europe.
Ravella Lake Las Vegas
1610 Lake Las Vegas Parkway
Henderson, NV 89011
855.434.7653
www.ravellavegas.com
Lena Katz
Lena Katz is the author of the Travel Temptations series (SIP, SUN, SNOW), published by Globe Pequot Press in 2009. Lena is also a travel expert for Celebrations/1800FLOWERS and WEtv (online and on-air). She contributes to the South China Morning Post and ABC News online. Lena is a former Orbitz Travel blogger and former columnist for the LA Times. She's been published in Brides Magazine, Robb Rep...(Read More)