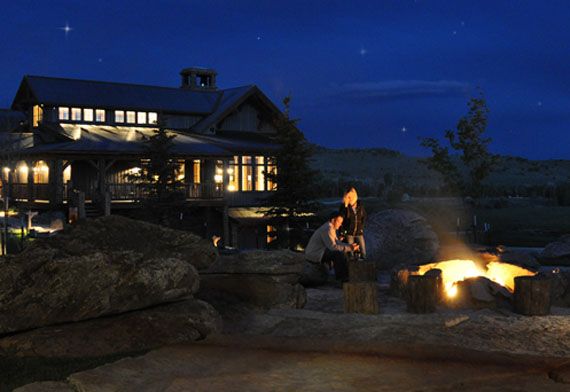 Photo Credit: Chad Chisholm & Brush Creek Ranch
All-inclusive vacations are often thought of as being south of the border, conjuring images of sandy beaches and crashing waves, cheap tequila and thin pi?a coladas. That is all about to change. Nestled between the Snowy Range and Sierra Madres in the breathtaking North Platte River Valley of
Wyoming
, is the band new Lodge and Spa at Brush Creek Ranch, an all-inclusive luxury ranch.
Situated on 13,000 acres, the experience is all-inclusive including 35 activities, top-shelf liquor, and a self-serve wine cellar. Guests are encouraged to think of the experience as visiting a friend's home, a very generous friend. Where "no tipping" applies to the warm and accommodating staff and grazing cattle alike, Brush Creek offers a lavish and memorable experience.



The Saloon is a perfect hangout with darts, shuffleboard, karaoke, and a front porch overlooking the valley to enjoy a glass or wine or chilled cocktail while relaxing at the end of the day. A-list celebrities and pop stars alike have enjoyed the enchanting hall, with a specialty cocktail named after a particular red headed country star who beguiled guests with an impromptu concert on open mic night.


A "boot free zone" offering slippers to guests, the Main Lodge is home to a 38,000 square foot living room, with wine cellar, grand piano, coolers stocked with everything from Starbucks Lattes to Rockstar Energy Drink and bottled water. A wraparound porch is a perfect place to enjoy a glass of wine and the stunning sunsets over the sprawling property; or sit by the nearby firepit surrounded by large granite boulders or sturdy tree stumps for taking in the evening.

The lodge is also home to the spa, complete with outdoor teepee facility, perfect for a unique couples massage. Twenty-four-hour fitness facility with spin classes and P90X training, pebble-accented steamroom with lavender sage essence, and cedarwood sauna can all be found alongside meeting centers, conference rooms, and a 24-hour business center. WiFi is available on the entire property, so while enjoying the great outdoors in "the middle of nowhere," the best of both worlds are found under a blanket of stars and wide-open skies.


Gear for the 35 activities is included in nightly rates, making for an easy packing job when planning the trip. From horseback riding, fly fishing, and guided hiking tours to paintball, a shooting range, mountaintop yoga, and rock wall climbing there is something for everyone at Brush Creek. Cooperate retreats, family vacations, and full buyouts of the ranch are all viable options to enjoy the ranch, a spectacular stay whether doing corporate team building or throwing a beautiful wedding celebration.

Sleeping 150 total, rooms and cabins with names such as Lupine, Snowberry, and Juniper add to the charm. Accommodation options include areas such as the Rendezvous Camp, which utilizes a common ground area with firepit and refrigerated "barrels" to keep bottles of water chilled all over the property. Another possibility is Kinta's, one of the previous owner's private residence complete with two Master Suites, full kitchen, dining room, and Ice House - Brush Creek's "glamping" addition with charming full sized bed and modern ranch touches. The Lodge itself is home to 13 well decorated and luxury rustic rooms, and private cabins are found all over the property.


A working ranch, the ownership places special emphasis on "loving the land, but not loving it to death." Utilizing eco-friendly grazing practices and natural cleaning and hygiene products, the ranch is a standout and trailblazer in a state that doesn't even recycle. Leading the way in environmental stewardship, The Lodge and Spa at Brush Creek Ranch is a constant reminder that harmony can be found while conducting business, pleasure, or getting back to the basics of enjoying our natural surroundings. White Lodging Services, the ownership group of the ranch, has an extensive and well-known portfolio. This isn't their first rodeo, their company managing properties such as Renaissance Suites, Marriott brands, alofts and Hiltons from Arizona to Virginia.



From meeting spaces for business groups to a winter-time skating rink overlooking the rolling hills, Brush Creek Ranch has a lot to offer. Located in the North Platte River Valley one hour west of Laramie, Wyoming, nearby Saratoga airport is 15 minutes from the ranch, or shuttle service from Laramie airport or DIA in Denver is also available. For rates and reservations, visit BrushCreekRanch.com.