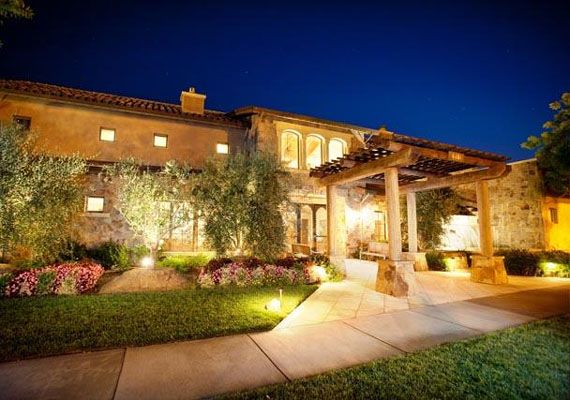 Photo Courtesy of Villagio Inn and Spa
There are few things as equally indulgent and rewarding as a trip to a luxurious spa for some serious self-pampering. There are few places that will do this as well as the Spa Villagio in
Yountville, California
.
Spa Villagio is part of the equally immaculate and inviting Villagio Inn and Spa. It is set off in a separate building from the resort, allowing it to be an escape within an escape. The resort is comprised of 112 guestrooms, including 26 suites that feature key amenities such as whirlpool jetted bathtubs, in-room wine cellars, wood burning fireplaces and much more.

Immediately upon entering the spa, you are greeted by the rich wood beams and high ceilings of the entrance, which, despite its open layout, is serene and quiet. From this moment you are completely taken care of and catered to. Check-in is simple and fast – no time is wasted in getting you ready for what can only be described as unparalleled treatments and service.


For anyone looking for a completely unique and exclusive spa experience, the Spa Villagio excels in the appointments of their Spa Suites. Whether you are looking to indulge solo and take full advantage for some well-needed rejuvenation, or want to spend some quality time with a loved one, you are best suited to choose from one of their outstanding suites.





Couples are in luck, because the Spa Villagio has two adjoining suites specifically designed for a pair seeking complete privacy and the utmost in luxurious amenities. The Loft and Maya suites are joined by large double doors that open to create one large space. Each features the large inviting massage table where you will enjoy your treatment; the specialty for these room is, obviously, the couples massage.


After slipping into your plush robe and cozy slippers you'll be greeted by your massage therapists to briefly go over the specifics of your massage and any requests before leaving you each to slide under the sheets on your massage table. What follows will undoubtedly be one of the best massages you're likely to receive.

The Spa Villagio therapists are very skilled and trained in responding to your body's needs, and it shows. Knots and tension are worked out smoothly, not painfully. Each body area is carefully, but confidently, seen to and you are left with literally head-to-toe relaxation.


But the best part of the experience may even be post-massage treatment when you are invited outside onto the patio to experience the double Jacuzzi bathtubs on your private patio. Your therapists will draw baths and add salts and bubble bath until it is foamy and inviting. Further, if you have worked up a bit of an appetite during your treatment, you can enjoy a refreshing and delicious spa sampler brought to you to enjoy outside by the baths. Then, the two of you are left alone to drop your robes and slip into the baths, nibble on the delicate but vibrantly flavored fare, and sip Champagne.

Each spa suite encourages you to indulge in the atmosphere of the spa and your privacy well after your treatment – 60 minutes of included relaxation time, to be exact. This is perfect for a couple looking to share some more time together before rinsing off in one of the generously oversized showers in each of the suites, boasting too many shower heads to count and completely complimentary shower products.


Even before the experience is over, you will be pondering how long before you can return. The Spa Villagio has made it its mission to provide incomparable service and options for you to enjoy a completely private and customized spa experience, whether you are looking to visit for an afternoon massage or a day of pure indulgence.

Settled soundly in the lush and sprawling hills of Yountville and California's surrounding wine country, it is easy to make an excuse to take a trip to the area. The only trick is finding a reason to leave.

By Jake Levy