By Touring & Tasting May. 26th, 2011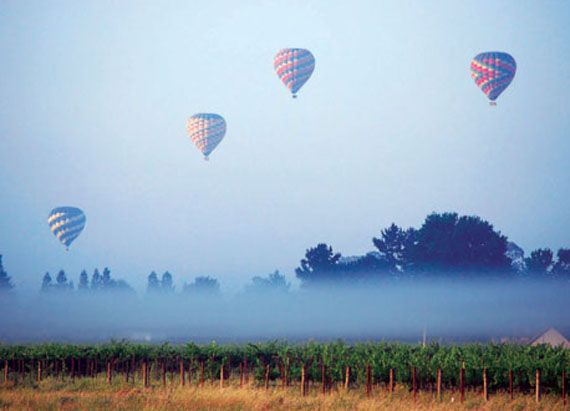 The story of Cornerstone Cellars began at harvest time 1991 in the town of Angwin on Howell Mountain. Dr. David Sloas, a Memphis physician and Cabernet Sauvignon devotee, was visiting renowned vintner Randy Dunn.
As he admired Randy's concentrated fruit, Randy revealed that he had more grapes than he could use and offered five tons to David. David made a quick call to his friend Dr. Michael Dragutsky and the doctors were suddenly wine producers.

Their first vintage won instant acclaim and a sage prediction from Robert Parker. "Cornerstone Cellars appears to be a promising newcomer to the California Cabernet Sauvignon scene," he noted in October 1995. Since then, Cornerstone Cellars wines have consistently received high ratings and coveted praise from The Wine Spectator, Wine Enthusiast, Robert Parker, and The Connoisseurs' Handbook of the Wines of California and the Pacific Northwest, 4th Edition which rated the winery as one of eight world-class Cabernet producers.


Although Cornerstone Cellars is now widely known for its powerful Howell Mountain Cabernets, the winery has reached beyond this niche in a variety of ways. David and Michael have welcomed two more key players: Winemaker Jeff Keene and Managing Partner Craig Camp.

"As winemaker, my goal is to produce wines that reflect site, appellation, and respect tradition," Jeff says. "Most of all, I want to make wines we love to drink." The premium grapes for Cornerstone Cellars wines are sourced from several carefully selected, distinctive vineyard blocks throughout the Napa Valley. Jeff's goal is to make compelling wines that speak clearly of the vineyard, variety, and vintage from which they are born.

When Craig joined Cornerstone Cellars two years ago, he embarked upon a new mission: to make memorable wines that are affordable enough to drink at home with a simple Wednesday night supper. In 2010, the first five Stepping Stone by Cornerstone wines were released (2009 Sauvignon Musqué, 2009 Corallina Rosé Grenache/Syrah, 2008 Syrah, 2008 Cabernet Franc, and 2008 Cabernet Sauvignon) at prices ranging from $16 to $35.


Craig's passion for Pinot Noir has also recently led Cornerstone Cellars to Oregon's Willamette Valley. Craig and the renowned winemaker Tony Rynders, whose résumé includes a decade at Domaine Serene, have enjoyed a longtime working relationship. Cornerstone Oregon is Craig and Tony's collaborative effort to make distinctive wines befitting the Cornerstone name — grown, produced, and bottled in Oregon.

Oenophiles anxious to taste all the wines of Cornerstone Cellars can join one of its three wine clubs (Cornerstone Collector's Club, Cornerstone Case Club, and Stepping Stone Society) or visit its chic new tasting room in downtown Yountville.

Impeccably appointed with modern seating and very modern art, the expansive yet intimate space offers an inviting environment for wine tasting. A bar featuring olive oils and balsamic vinegars encourages guests to further expand their palates. And when appetites really stir, it's nice to know that some of the Napa Valley's finest restaurants are just a stone's throw away.

In some ways, Cornerstone Cellars has come a long way in the past 20 years. But in the most important way, it has not. Cornerstone Cellars remains committed to using the best grapes from the best vineyards to produce the best wines it can possibly bottle.

WHAT TO BUY:

'07 Napa Valley Cabernet Sauvignon Ripe black cherries, cassis, hint of clove, caramel, cinnamon $60

'09 Napa Valley Sauvignon Blanc Aromatic, citrus, melon, hint of apple, wet rock $25

'08 Stepping Stone Cabernet Franc Bell pepper, big ripe red fruit $30

'08 Stepping Stone Cabernet Sauvignon Rich blackberry, strawberry, cedar, smoky cherry $35


CONTACT:
Cornerstone Cellars
6505 Washington St.
Yountville, CA 94599
Tasting Room Open Daily 10 a.m.–6 p.m.
cornerstonecellars.com

SPECIAL NOTES: Culinary events, educational seminars, wine club events, wine club discounts, corporate events.
Touring & Tasting
Established in 1995, Touring & Tasting offers an array of compelling marketing opportunities through its biannual, nationally distributed magazine wine club services weekly e-newsletter print newsletter and Website, TouringAndTasting.com. Touring & Tasting's Wine Club delivers an incomparable assortment of premium, hand-selected wines to a broad spectrum of motivated wine consumers. We offe...(Read More)