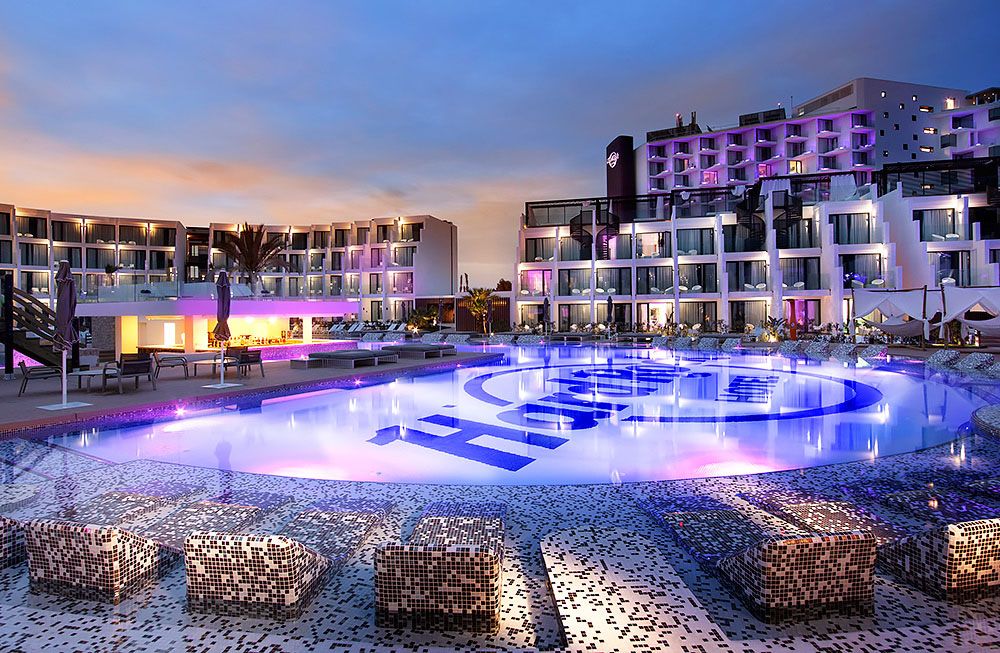 Photos Courtesy of Hard Rock Hotel Ibiza
Think of Ibiza and the mind conjures images of all-night dance parties on the beach, neo-hippies and modern bohemians indulging in too much sun, sand and libations. Think of the Hard Rock Hotel and you probably picture a pool party in Vegas, perhaps with the same spirit of carefree abandon but different clothes (or lack thereof), and music. Now the two have merged with the opening of the new Hard Rock Hotel Ibiza, an impressive beachfront development that brings a new dimension to Ibiza's burgeoning luxury hospitality scene.
The Hard Rock Ibiza, the brand's first European hotel, is now the island's largest five-star hotel with 493 rooms, including 235 suites. Though "star" standards do differ by country and even region—Ibiza isn't Dubai after all—it's probably more luxurious than you might think. The setting is certainly perfect, directly on the beach in Playa d'en Bossa and is being operated by Spain's Palladium Hotel Group, which also owns the outstanding Ushuaïa Ibiza Beach Hotel next door. The synergy between the two properties works to their mutual advantage.
The property's style is more of a Mediterranean influence for a brand that is decidedly American in origin; though today it now encompasses 181 different venues in 55 countries, including 140 cafes, 20 hotels and nine casinos. Those who have only experienced café venues should be prepared for an altogether more luxe, exclusive and sexier vibe at the Hard Rock Ibiza, which is pushing "love" as a central theme and a means of identifying itself with the locale in addition to music. It feels a little less touristy, more laid back and glamorous in a European way.
The rooms are not concentrated in a single tower but fan out over the property centered around entertainment spaces and swimming pools. The top suites of course command the best views and many feature private outdoor spaces of their own. The hotel also has several restaurants, shops, a Rock Spa, and of course the amazing collection of rock & roll memorabilia that has become the signature of all Hard Rock properties, growing from one of Eric Clapton's guitars to hundreds of thousands of items. This also ties in to the fact that Ibiza has always had a big music scene; many musicians have composed seminal works while vacationing on the sunny Mediterranean isle.
The biggest headline grabber for the hotel so far has been Sublimotion, often referred to as the world's most expensive hotel restaurant, though that hardly does justice to the place. We prefer to call it extreme dinner theater. With 20 different courses, it costs $2,000 per person and can only accommodate 12 people at a time. Using a variety of theatrical effects the room changes from the library of a mansion to the ocean floor, to a throbbing nightclub and much more. The cocktails magically stir themselves, desserts spin and float, and some of the food has been broken down to its molecular components and then reassembled in spectacular fashion.
Another outstanding feature is the Rock Star Suite, also a signature element across all Hard Rock hotels. This one happens to have a panoramic view of a particularly beautiful ocean and beach. At 1,775 square feet, it is indeed fit for a rock star and includes an enormous round bed. The oversized terrace of course has its own hot tub, and a bar can be brought in for hosting events. There's even a separate service entrance so your guests won't be disturbed by staff coming and going. The décor is decidedly glam with portraits of David Bowie hanging on the wall.
Estado Puro, the property's flagship restaurant, aims to distill the tradition of Spanish tapas to its purest form. Chef Paco Roncero, who also oversees the magic at Sublimotion, amazes his guests on a somewhat smaller scale. Molecular cuisine may seem somewhat faddish at the moment, but in Roncero's capable hands it still manages to impress. What's a little liquid nitrogen between friends anyway? Estado Puro also gives you a playful education about Spanish dining with signs on the walls offering up snippets of restaurant slang and design elements echoing cultural memes.
The Rock Spa is the ultimate place to recover from the previous night's excesses, with 14,500 square feet of treatment rooms, spa pools including thermal soaks and relaxation areas. The signature massage table is outfitted with speakers that vibrate with the rhythm, so that the music itself literally massages you. Bridal parties have a salon of their own to indulge in preparations for the big day. Whether that includes several bottles of Champagne, is completely up to you.
Our favorite place at the property was the extremely chic Beach club, with indoor/outdoor dining in addition to chaises and beach beds for lounging. This being Ibiza, it's open until 2 a.m. and there's plenty of Dom Pérignon on hand to accompany the tasty Mediterranean fare. One thing Ibiza has no shortage of is beautiful people, and people-watching at the venue is an activity in and of itself. Or you can just sit and watch the yachts go by.
Live music is also of major importance. International superstars including Chic & Nile Rodgers, Ub40, Robin Thicke, Icona Pop, Jason Derulo, Ellie Goulding, Kylie Minogue, Snoop Dogg and Placebo are all booked to entertain at the property this summer. Most recently the hotel and the Ushuaïa Ibiza Beach Hotel next door have introduced interactive Smart VIBs (Very Important Bracelets) that can be purchased to personalize visits. The wearable technology comes in different forms dubbed Zen, Clubber and Ballad that include certain services and amenities.
The VIBs allow guests to access each of the hotels' facilities and rooms without keys or cards and also make payments for services. Managed via a number of touch screens located throughout the two properties, pricing starts at USD $40 per bracelet. The Smart VIB Clubber bracelet for instance allows access to the coveted MegaVIP bar at the Ushuaïa as well as a post-party "rise and shine" breakfast at any hour of the day. Now that sounds good to us.