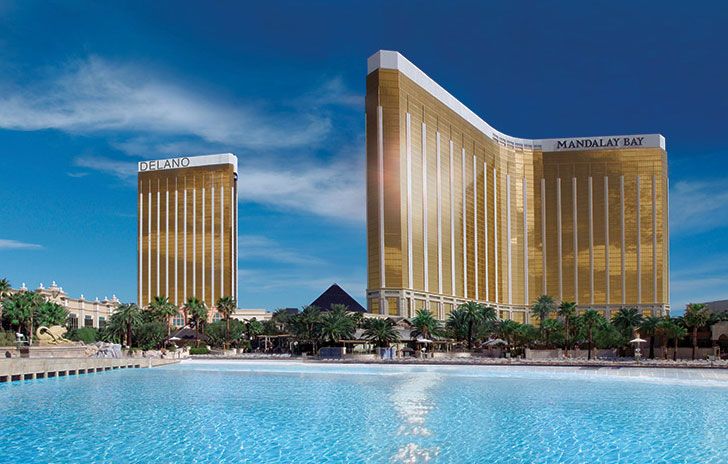 Photos Courtesy of Delano Las Vegas
Today Sin City's newest hotel Delano Las Vegas has opened. Formerly known as THEhotel, Delano is the result of a massive renovation, where nearly every dimension of the original resort has been re-imagined. The 43-story property is operated through a partnership between MGM Resorts International and Morgan's Hotel Group and is non-gaming and non-smoking.
These are just two of the more obvious ways that Delano is different from most other hotels in the city. But there are others, equally as meaningful. First, it is an all-suites hotel each at 725 square feet. And second, it also has a very different design and feel to it in contrast to other Las Vegas hotels, perhaps because of the non-gaming, non-smoking aspects, and its unique desert oasis vision.
Delano Las Vegas's décor engenders a sense of desert serenity, one that is part of the new hotel's vision, conceived in part by Morgan's Hotel Group, and its exceptional designers. This sense of differentness can be first seen in its own dramatic entryway and check-in area. A massive, halved 126,000-pound boulder sits just beyond the wood-slatted gate that marks the entrance. The yellow, orange and gray specimen is about 150 million years old, nearly nine-feet tall and five-feet deep; it needed a 240-ton hydraulic crane to hoist it onto a flatbed and deliver it to the property. The hotel's designers found the boulder near Jean, Nevada, a small desert town about 30 miles north of Las Vegas.
After entering, guests can see other colors and textures inspired by the subtle, color-layered landscape of the Mojave Desert. White sheer curtains descend from the ceiling to create columns in the lobby. Behind the front desk is a wall of river stones suspended from the ceiling in a piece by Korean artist Jaehyo Lee. Known for his work with natural materials, Lee has not had his work displayed in Las Vegas until the opening of Delano.
The use of these natural materials in the lobby and other public areas are meant to make a peaceful, and for Las Vegas, revolutionary first impression for those who are used to the constant movement, color and loss-of-time glamour of Las Vegas.
"We wanted to remind those who came to Delano Las Vegas that there is such beauty and peace in desert areas, and really, Las Vegas is in the Mojave desert. This aspect is so easy to forget here," said Verena Haller, Senior Vice President of Design for Morgan's Hotel Group. "But there is such subtlety, color, endless space and dramatic light in the desert. We wanted this hotel to be a kind of oasis, and certainly a homage to these luminous facets of our desert environment."
Yet it is not only in the lobby areas that Delano Las Vegas pays respect to its surroundings. The artwork in the guest suite corridors depicts classic desert roadside scenes. The spacious, one-bedroom suites have an airy brightness, as the guiding colors are a crisp white with gold accents. Anchored by a gray geometric-print carpet, each room also has a large photo from Delano South Beach, its sister hotel, with photos of seductive underwater scenes. Suite guests also enjoy amenities ranging from 46-inch flat-screen Samsung TVs, Keurig coffeemakers and roomy spa-style baths. And from its floor-to-ceiling windows, there are views of the strip and desert mountains beyond.
With Jane Cox, Director of Spa Services at the helm of the 14,000-square-foot Bathhouse Spa, she and the MGM/Morgan's Hotel Group team have re-envisioned the essence of a desert spa with the sound and sense of water, and the use of many desert materials.
"With all of our Bathhouse Spa treatments, our goals are re-creating an equilibrium of wellness. Our use of the soaking tubs [and] desert materials all define a kind of desert poetry, unlike anywhere else," commented Cox. "The Bathhouse allows the guests to rebalance themselves, through the use of all our treatments. The desert is an enlivening, yet calming place, and we want our experiences to reflect that."
As examples that Jane mentioned, not only are there exceptional soaking tubs, but also spa treatments that use naturally-sourced desert materials such as desert lavender, sage, lemon oil, lily and Prickly Pear. There is also a red mud wrap as homage to the red rocks of Sedona, Arizona and body treatments using small amounts of salt from the Great Salt Lake in Utah. In addition, the Global Journeys spa rituals last from three- to four-hours, and are treatments using products and ideas from different areas of the world like Asia, India, Europe and the islands of Fiji and Tahiti.
Rounding out the new services of the hotel, are the restaurants, but before discussing them, one new facet that is unusual to Las Vegas must be mentioned. Delano Las Vegas built a greenhouse on property, for guests to be reminded that many culinary resources used are locally sourced from the Southern Nevada or the Southwest region of the United States. The greenhouse also furnishes herbs for the resort's new Della's Kitchen restaurant.
The restaurant is overseen by Executive Chef Susan Wolfla, who is committed to beginning a locally-sourced food concept in Della's, and in all of Las Vegas. "People don't know about all that we have here, and all that we can acquire in the Southwest and West. Most, not all, of the food we use here is from Nevada and neighboring states," said Wolfla. "We are happy with this, as it supports our economy and allows for the freshest of ingredients to come directly to our customers."
Della's Kitchen is one of four restaurants within the hotel which includes Mix at Delano on the 64th floor, a high end venue from chef Alain Ducasse. Franklin serves craft cocktails in a space decorated with deep blue and bronze, and a new light design creates the effect of fireflies on the ceiling space above. And finally, there is 3940 Coffee and Tea, where guests can enjoy artisanal teas, freshly squeezed juices and signature coffees.
Delano is pronounced DELL-ah-no, and was Franklin Roosevelt's middle name. The rooms start about $115 on a weeknight and rise to around $500 on busy weekends. The design concept is a fascinating one, as it seeks to bring the best and most compelling parts of the desert inside, possibly reminding all who walk through the 150-million-year-old boulder, how ethereal our lives are, and how eternal the desert really is.