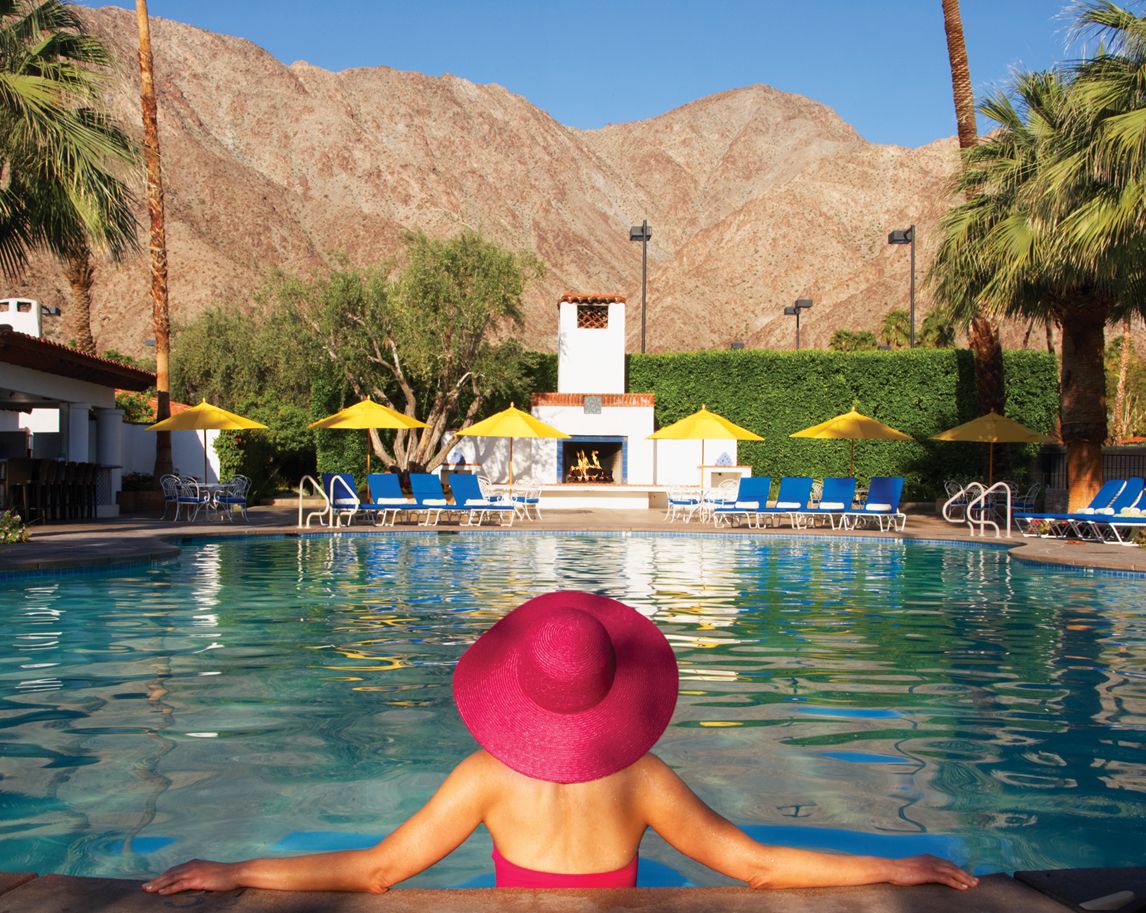 Photos Courtesy of La Quinta Resort & Club
When I was young, Palm Springs made me think of heat and the elderly—but that's only because I really had no experience with the area other than where my parents dragged me. Adolescent me had no idea what she was missing. As an adult, I associate the desert area with the gigantic Cabazon Dinosaurs, the Coachella Valley Music and Arts Festival, the Salton Sea, the Palm Springs Aerial Tramway, amazing thrift stores, Salvation Mountain, and of course, peaceful dessert nights. Now, after visiting La Quinta Resort & Club, I can add lavish accommodations and amazing massages to that list.
La Quinta Resort & Club recently underwent a massive multi-million dollar restoration, which we were fortunate enough to check out right after the reveal. As the first luxury resort to open in the Palm Springs area in 1926, La Quinta has a pretty rich past, full of Hollywood glamour. It's pretty well known that Frank Capra wrote Lost Horizon (1937) while lounging by the pool, and that stars like Greta Garbo and Clark Gable often visited. What started out as a series of adobe bungalows now includes 620 casitas and suites, 98 villas, the 23,000-square-foot Spa La Quinta, 41 accent swimming pools, 53 hot spas, 23 tennis courts, PGA West championship golf courses and academy, and Chef Jimmy Schmidt's Morgan's in the Desert (plus a few other restaurants, of course).
The Waldorf Astoria resort put a lot of money into updating the property without losing its classic look, nailing the restoration. As a guest, it feels like you stepped into 1940s film starring Bette Davis, only you have modern day amenities and gadgets all tucked away until you need them. Los Angeles-based firm Smith & Firestone was brought in for the residential-style design that features custom tile work and wrought iron elements, new Victorian-style furniture, floor coverings, two-toned blocked drapery panels, Wingback-style headboards, textured leather bed benches, upgraded lighting, and blue-sky bathroom accessories. Other amenities include 42- to 47-inch flat-screen high-definition televisions, Keurig coffee makers, charging stations with two USB ports, and photography inspired by the surrounding mountain landscape.
The different casitas are clustered around 41 different showcase pools and hot tubs, creating a private neighborhood feeling. They are designed around a palette of ivory, terracotta, and rich chocolate brown. The second-floor Starlight Casitas (starting from $159 per night) are definite stand-outs, with their own patios offering great mountain views and an open area for al fresco dining and entertaining—featuring a fireplace and plush couches.
Take it up another notch and stay in the highly coveted El Presidente suite, which starts at $1,329 a night and includes its own private pool and spa. Though the design is similar to the Starlight Casita, El Presidente has updated landscaping and patio furniture, and completely renovated decks.
Let's talk about the Spa La Quinta for a moment, because we would be doing you a disservice if we didn't mention the 75-minute La Quinta Signature Citrus Smash ($230). The full body renewal massage uses a custom blended scrub made from Salt of the Earth, grapefruit, tangerine, and orange blossom essential oils with mineral components from the Great Salt Lake. After being scrubbed from neck to foot, the rain shower is turned on to relax you even further. Then the masseuse finishes the treatment by massaging a deeply hydrating Whipped Body Crème with Grapeseed Oil into your refreshed skin. Trust me, this scrub will make you feel reborn. Plus, unlike other full-body experiences, my eyeliner was still intact and I didn't have to wash any greasy oil from my hair—a quick outfit change and I was even ready for a James Beard Foundation dinner going on at the property.
Having spoken with countless people, many of whom live in the area and stay at the resort to get away from their busy daily life, La Quinta continues to be a special place in many lives, affirming Palm Springs as a relaxation destination, and we can certainly see why. I'm already thinking La Quinta Resort & Club may just be my home-away-from-home during future Coachella music festivals.