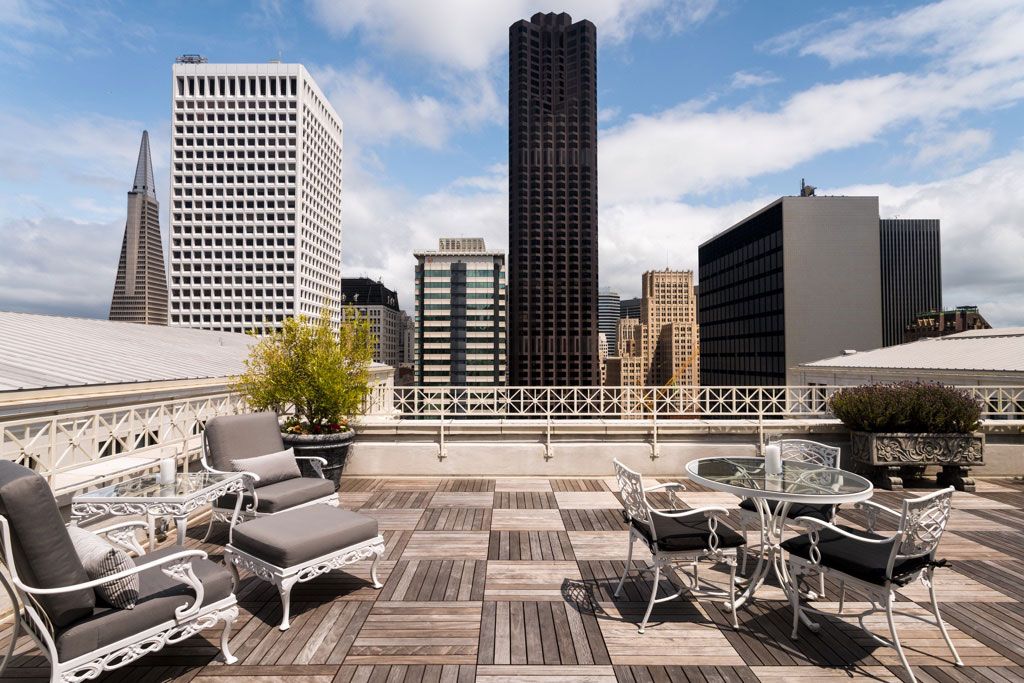 Photos Credit: The Ritz-Carlton, San Francisco
Traveling up Stockton Street in San Francisco, there's building after building, all beautiful and historic. And then there's the Ritz-Carlton. It is a massive, white, seven ionic-columned, neo-classical building on Nob Hill. Winner of so many hospitality awards, it's easy to lose count. Built in 1909, it was once the Metropolitan Life Insurance Company's Pacific Coast headquarters.
We recently visited to experience its best suites: The Presidential and Ritz-Carlton. Both define a kind of elegance and ease that guests have come to expect from the brand.
Presidential Suite
The interiors were done by Hirsch-Bedner Associates, who are renowned for their subtle, relaxing environments. Walking in to the Presidential Suite, #910 ,you're greeted by a large-yet-intimate foyer and living room. The suite itself is 1,960 square feet, with a spacious 1,200-square-foot balcony overlooking the Financial District and Terrace Courtyard. And though it is a large one-bedroom, the space can be expanded by selecting a one-bedroom suite to the room. The dining room seats six, and has a fully stocked pantry, wet bar and personal wine cellar. The current starting rate for is $8,000 USD per night with the connecting suite ranging from $600-$800 per night.
Ritz-Carlton Suite
And if we were happy with the view from the Presidential Suite, we were overwhelmed by the one from The Ritz-Carlton suite #919. This is a 1,980-square-foot space with one master bedroom offering views of Coit Tower, Alcatraz and the San Francisco Bay. It is a view that looked like a painting, magical and a bit unreal. Because the Ritz-Carlton suite is a bit smaller than the Presidential, there is also an option of connecting to a Junior Suite with two queen beds. The current starting rate is $6,000 USD per night with the connecting suite ranging from $600-$800 a night.
Presidential Suite
Inside both accommodations are marble baths, Jacuzzi tubs, the Frette 1,000-count bed linens, and cashmere throws. The dining rooms both had fresh white roses on the tables, emitting a fragrance that could only be described as heavenly. Should you request a special breakfast, lunch or dinner, property's award-winning Executive Chef Luis Lujan will prepare a meal for you and your guests within the suite. Should you prefer to cook on your own, both suites feature a pantry with refrigerator, wet bar, personal wine cellar and Nespresso machine. Rooms also come with access to the Club Lounge where travelers can enjoy complimentary food and drinks, free Wi-Fi and weekend caviar and wine tastings.
The elegance, bordering on opulence, of both suites lay in the details and in the location. From their balconies, looking out onto San Francisco, you can easily get a real sense of place. Even the sound of the passing Trolley Cars below add a nice touch to these City-by-the-Bay suites.