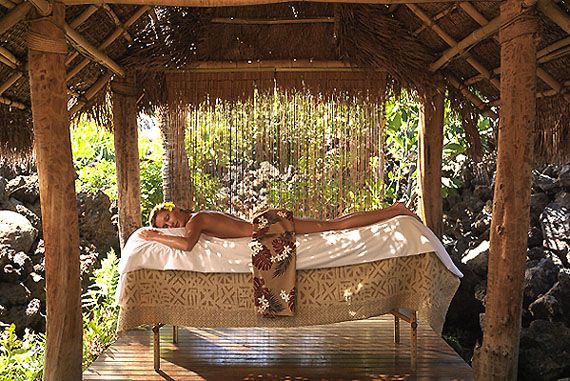 Luxury Spas:
What's not to love about a posh
spa
pampering using gorgeous products in a beautiful setting? No matter your desire, The
Big Island's
Kohala Coast offers The Full Monty of spa treatments and services to make relaxing a breeze.
And it is a breeze – quite literally at the
The Fairmont Orchid's Spa Without Walls
. True to its name, the spa offers a variety of treatments in one of 10 outdoor waterfall massage hale (houses) nestled outdoors among a secluded retreat of waterfalls, streams and koi ponds. Everywhere you look, there are orchids, banana trees, coconut palms, ferns and more, creating shade and beauty at every turn. (Only three treatment rooms are located inside.) The spa features boundless services to offer you complexion perfection — or for that matter — an improved body, mind and spirit. I met with Linda Aprecio, the adorable salon supervisor who proferred a pristine pampering: the Kerstin Florian anti-aging facial ($155 for 50 minutes). This treatment began with lavender-infused steam towels, followed by an application of a rejuvenating eye cleanser, cleanser, and toner. Next came the rosewater eye pads, an enzyme-peel mask exfoliator and then a decadent foot massage. To prep my skin for the extractions, Ms. Aprecio massaged in orange Neroli oil, followed by a massage with the same oil on the neck and shoulders. To finish, she added 24-hour moisture cream to my face, along with a Vitamin C ampoule containing jasmine oil and arnica, to rehydrate the skin ($79). The results? An instant improvement in my skin's texture. Translation: I didn't need my favorite blusher — I was already glowing.
But don't stop there. The spa's most popular treatment is the signature Kona Coffee Exfoliation that's destined to perk up your mood. This aromatic scrub is made exclusively on the island for the Spa Without Walls by the fabulous Warren Botanicals. Crushed organic Kona coffee beans are mixed with local orange cream lotion to stimulate, exfoliate and soften, followed by a 25-minute massage with fragrant Big Island vanilla lotion ($179 for 50 minutes). Life — or a spa treatment — just doesn't get much sweeter than that.

Scrub Me Tender at Four Seasons Hualalai
To say that my "Sparkle" spa treatment at Four Seasons Hualalai on The Big Island of Hawaii's Kohala Coast was mood-enhancing, and practically life-changing, is an understatement. It was one of those spa treatments — in a life filled with spa treatments — which I will never forget ($250 for 80 minutes).


Everything about this resort — and the spa — is designed to offer you a sense of place, and an understanding of your environment. Most spas offer you the standard menu of services, but Four Seasons Hualalai Spa takes it to a whole different level. What they offer is a distinctive and exclusive spa Apothecary of creams, oils, lotions and potions, many of them indigenous to Hawaii, so that you can have your product custommade — that's right — custommade — with a teaspoon and spatula, right before your very eyes.

I met with Lisa Chasey, who showed me the Apothecary that was inspired from the kupuna (Hawaiian elders), who shared their knowledge of the islands and its local ingredients, which are an essential part of the spa's focus. The resulting Apothecary features a variety of ingredients that you can select for your very own treatment. Things like Grapeseed oil. Coconut. Black lava salt. Spirulina. Pikake flowers in an almond-oil base. Green tea. Chickpea flour. And turmeric. To name just a few.

I wanted to be uplifted, and in my book, nothing beats the scent of oranges — mix it with chocolate and I'm over the moon. So I chose moisturizing ground cocoa butter, red sea salt, lavender oil, macadamia nuts, and powdered milk (whose lactic acid is exfoliating). To these, Lisa mixed in orange essential oil. The result? A Creamsicle concoction that smelled divine. (To be honest, I wanted to eat it!)

Lisa escorted me to the wet-treatment room, where she buffed and sloughed my skin with my very own Creamsicle creation. It felt divine — a vigorous rubdown with an exfoliating glove that opened my pores and woke up my skin. After exfoliating me on both sides, she took the Vichy shower and hosed me off while I was still lying down. A shower while you're in repose? That in itself was relaxing. After that, she tore off the top layer of towels, and the plastic beneath it, to reveal another layer of towels on my treatment bed, where I could continue to stay still. Divine!

Then she began the awesome massage. Have you ever had a massage where your body soaked up every stroke? Where you moaned and kept saying, "Wow, that feels so incredibly good?" Where the stroking was, well, even better than sex itself? That's what this massage was like. Lisa did a great job on my body, but when she moved to my head, it was even better. For my neck and shoulders, it was complete nirvana. I wasn't just jelly, but officially Smucker's. I have to say, it was one of the best massages I've ever had in my life — and it was so fantastic, I know I'll never forget the entire experience.

The spa, and the resort, surely offer a lot to love. The 28,000-sq-foot spa was transformed after a 15-month, $40 million enhancement; today the spa integrates tropical gardens with cool interior spaces. There's even an open air "Waiea" or "water of life" garden where you can enjoy complimentary pre-treatment rituals by a quiet stream. Guests can also choose one of four new outdoor hales in which to enjoy their spa experience. The sybaritic services include 11 massages such as island stone and lomi lomi, plus massages ensuite and in a poolside cabana; 11 types of facials including renewing facials for men and Vitamin C facials; and numerous body treatments such as a coconut scrub and wrap. After your service, you can sit in the Waiea garden and enjoy complimentary refreshments. No matter your service, you'll be good to glow.


Other Spas Of Note On The Kohala Coast
If you want to transform — and possibly even transcend the moment — you must schedule a visit to the Mauna Kea Beach Hotel's Mandara Spa located on the ground floor right near the beach. Mandara had its beginnings on the spiritual island of Bali. Today, Mandara spas offer Balinese-inspired services, while the name "Mandara" is Sanskrit, and comes from an ancient legend about the gods' quest to find the secret to eternal youth and beauty. Lucky me, I had a Swedish massage ($135 for 50 minutes — ask for Lillian) and you'll revel in every moment. Every Mandara treatment begins with a foot ritual in which oil and warm towels are placed on the soles of your feet. You'll also have the option to select your favorite scent for your pampering: I chose Island Spice, a glorious mix of cloves, ginger, and nutmeg, which was the next-best thing to Agraria, the famous San Francisco potpourri, or a pomander ball. Other scents include the Mandara (sandalwood and patchouli), Tranquility (vetiver) and Harmony (lavender bergamot). Everything about the massage was sublime, including the head and scalp massage that made me positively euphoric. Afterwards, Elemis' lime oil was spritzed in the air to awaken the senses.

Other Mandara spa treatments include the Elemis Tri-Enzyme Resurfacing Facial (which I have enjoyed on numerous cruise ships), the Mandara four-hand massage (bliss on a blanket), detoxifying seaweed massage, Balinese body polish, exotic coconut rub with milk ritual wrap, and more delights than you could ever take partake of in one day.

Ah Spa!
If you want "Serenity Now," by all means don't use the hilarious technique made famous by George Constanza's father on "Seinfeld." Peace and serenity are achieved everyday at the luxurious Mandara Spa at the Waikoloa Beach Marriott Resort & Spa on the Kohala Coast. The 5,750-square-foot spa offers two levels of relaxation and treatment space that promises moments of blissful reverie. Guests are welcomed with details that capture Mandara's Asian influence, including ornate Balinese carvings and bamboo finishes in the design. A sense of the islands warmly fills the ocean view reception area, as soft, tropical Hawaiian music plays in the background, setting a peaceful ambience for guests to relax. Like I said, "Serenity Now!"


Guests will find:

7 treatment rooms – two facial rooms and five massage and body treatment interchangeable rooms
Separate men's and women's lounge areas including showers, high-tech electronic lockers and spa amenities
10-person steam room
Full-service salon including hair, makeup and nail treatments

Signature Services include:

Miracle Micro Therapy (Microdermabrasion) that uses fine baking soda crystals to exfoliate the skin and diminish any unwanted coloring or markings
Hawaiian lomi lomi deep tissue massage
Elemis Aroma Stone Therapy, one of Mandara Spa's most popular treatments, specially designed to melt away muscle tension and calm the spirit

The spa's luxurious treatments typically comprise tropical coconut, exotic frangipani monoi, papaya, island coffee, chocolate macadamia nut, lime and ginger, and beautifully scented pure essential oils of lavender, chamomile and rosewood.

There's something for everyone. Couples can indulge in relaxing treatments in one of seven treatment rooms, including Mandara's double suite. Men can take part intreatments specifically for them, such as Elemis Urban Cleanse for Men Facial and Men's Spa Escape package. Teens can choose treatments created for Generation Y with the Y-SPA menu, focusing on the needs of youths (16-18 years for spa treatments and 12-18 years for salon services). With a parent in a deluxe spa suite, youths can enjoy the Acne Attack Facial which addresses teenage skin problems; Surfers Scrub, a perfect way to prepare for a tropical tan; and Styling Session and Magical Manicure to step out with perfection.


One of The World's Best
Back in 2009, the Mauna Lani Spa on the Kohala Coast ranked Number One in Hawaii, according to Islands magazine and Conde Nast Traveler. And it's easy to see why. This gem is a great place to unwind and be pampered. The spa's theme is "Fire and Ice," to reflect the Big Island's splendid range of geographic wonders, from the snowy peaks of Mauna Kea to the flowing lava of Kilauea Crater. The spa features nine outdoor hales with two large enough for a couples massage. There's also a garden scented with gardenia, ginger and a variety of beautifully scented flowers. And when it comes to spa treatments, there are oceans of experiences. Massages include lomi lomi; the lomi lomi hula; and the Fire and Ice, all which start with a 15-minute footbath. Body treatments galore include a cooling aloe vera and Ti Wrap, a Kona Mocha body scrub, and chai soy mud body wrap — here's where you'll love someone "dishing the dirt" on you. Ten types of facials, including one for men and another for teens, will offer complexion perfection. Do it our way — spend the morning at the gym, then head out to the beach for some terrific tanning. Then enjoy your spa treatment late in the day, around 4 or 5 p.m., so you can head back and take a nap right before a delectable dinner. That's the best way to do it in paradise.

Thinking Outside The Spa
The Kohala Spa — a luxurious 25,000 square-foot facility located at Hilton Waikoloa Village on the Big Island of Hawaii — is taking relaxation and rejuvenation to a new level "outside of the spa" with the re-introduction of the Seaside Cabana Massage program. After a three-year hiatus, the Seaside Cabana Massage program is back by popular demand and better than ever, providing Hilton Waikoloa Village guests with the spa experience of a lifetime. From the privacy of an oceanfront Seaside Cabana, guests can embrace the true spirit of Hawaii as the rhythmic sound of Pacific Ocean waves crash around them and an experienced masseuse performs the lomi lomi or the Kohala massages. Curtains surround three sides of the Seaside Cabana, maintaining privacy for each guest while also providing unrestricted views of the sparkling ocean waters. In the winter months, guests enjoy whalewatching from their Seaside Cabana, as the shallow waters along the Kohala Coast are prime location for humpback whales and their new baby calves.

Kohala Spa therapists have studied the lomi lomi Massage technique for decades, as many are "kama'aina" Hawaiian natives and learned this therapeutic method from their elders. Lomi lomi uses a holistic approach to healing through both gentle and vigorous kneading strokes that ease muscle tension, increase circulation and promote relaxation. Also known as "Loving Hands," the lomi lomi massage incorporates the use of fingers, hands, forearms and elbows for a rhythmic, full-body experience.

The Kohala Massage, named after the Hawaiian word for "cherished land," is the most popular treatment at the Kohala Spa. Using many of the same techniques of the lomi lomi, the Kohala Massage is a full-body, holistic healing experience tailored to each guest's specific needs. A Seaside Cabana Massage is $220 per person for either the lomi lomi or the Kohala Massage. Since its facility renovations and treatment menu updates in 2009, the Kohala Spa's selection of time-honored Hawaiian treatments, modern therapies and ancient healing techniques now includes 25 different baths, treatments and therapies inspired by the Big Island's geographical diversity, natural beauty and rich cultural heritage.

More Spas To Surrender To
Visit the spa at Kona Village to reclaim your connection with all your senses through a massage. The healing world of Ka'upulehu, where Kona Resort Village is located, was respected by the ancient Hawaiians for its mana, or spirit. Experience the exceptional comfort and well being of a traditional lomi lomi to create a living bond within yourself. Or, allow yourself another awakening of your choice with a massage, facial, or island-inspired body treatments. Luxuriate in the Kona Village Resort's spa treatment room, or in the seclusion of your own hale, or bungalow.


On my wedding day in Waikiki, I gave myself six hours of free time so that I could have a Day of Beauty at the Paul Brown Salon and Spa, before my 5 o'clock nuptials at the Royal Hawaiian Hotel. And believe me, I emerged as Cinderella, after a manicure, pedicure, makeup application, and hair styling. Well, lucky you, there's now another location of the Paul Brown Salon and Spa at the Hapuna Beach Prince Hotel, which is a must for all visitors who wish to look their best. The spa offers massages, body treatments such as seaweed wraps, facials, makeup application, hand and footcare, and of course, hair care. A cut by Mr. Paul Brown himself will set you back $150 — but aren't you worth it?