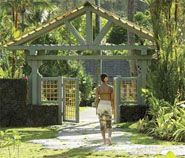 Luxury Travel:
There's the Road to Perdition. The Road to Nowhere. The Road to El Dorado. Roads are common enough; we take them to the grocery store, to work, to pay our taxes. Why then do they hold such significance when referred to in a literary sense? As if placing a simple word, "the," in front of it transforms an ordinary road into the catalyst to a mystical place. Will the road lead us to salvation, to better things or possibly down the wrong path? While the answer remains open to interpretation, no one will argue that The Road to Hana will take you to a magical destination. One of America's top 10 most beautiful roads, The Road to Hana ends in a place steeped in Hawaiian culture and shrouded in the mists of ancient Polynesian song and story.
This is a place where you can leave the stresses of the world behind. The intimate 66-room newly restored luxury
Hotel Hana-Maui
is known for its secluded location and incomparable beauty. There are no TVs in the rooms, so you'll have no trouble focusing on your life's journey (hopefully you set your DVR to record Lost while on crusade). If you absolutely must connect with the outside world, Internet services and a television are available (but why you would want to swap nature at its finest for celebrity gossip is beyond us).
While you're in Hana to soak up the lush, tropical nature around you, Hotel Hana-Maui provides luxury accommodations that only enhance your reconnection with nature. Consider where the next road will take you from your seaside bluff, plantation-style Sea Ranch Cottage with enlightening ocean and mountain views. Or, book a night in the Plantation House, a turn of the century home accented with warm Hawaiian Koa wood throughout; full kitchen and bar, two bedrooms including a master and guest bedroom; large wrap-around lanai overlooking beautiful lush landscaped grounds.
Known since ancient times as a region of physical and spiritual healing, Hana retains a spiritual connection with the land and its history, which has been all but lost in more populated areas of the island state. Always considered as a place of great abundance, Hana evolved into a plantation town-the evidence remains with the areas plantation style homes. As the sugar industry waned in the 1940's, San Francisco industrialist Paul Fagan bought 14,000 acres and converted them into a cattle ranch. He also built the Hotel Hana-Maui in 1946 with 10 rooms for high-end travelers. The tradition of comfortable, luxury accommodations tailored to discriminating travelers continues to this day. Unlike Paul Fagan's original guests, visitors to the modern-day Hotel Hana-Maui can indulge in spa services in the
Honua Spa
, a deeply relaxing sanctuary of peace and tranquility enhanced by Hana's natural tropical beauty.
It may be said that all roads lead to Rome but if you've ever traveled along The Road to Hana, you would whole-heartedly disagree-there is no place else on earth like it.
For LxM Amy Covington