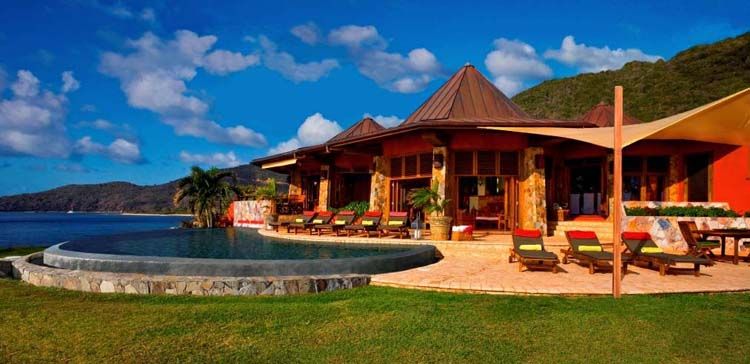 Photo Courtesy of Baraka Point Estate
Baraka Point Estate knows that location is important and that's why this
luxury villa
is situated on the west coast of Virgin Gorda. With panoramic views of the Caribbean Sea, Virgin Gorda is consistently beautiful no matter the time of year you plan on visiting. Temperatures rarely ever leave the 80 degrees bracket, and if it does somehow manage to break 90, the cool trade winds compensate. With the dependable weather, guests at Baraka Point Estate can plan their visit at anytime knowing that they'll have a vacation of sun and cool breezes to look forward too.
Rented to only one group of guests at a time, with a maximum of 16 total people, Baraka Point is incredibly exclusive and private. With a full staff that doesn't live on the grounds, guests will literally have their very own tropical retreat for however long they choose to stay. At 12,000 square feet, the villa is set in two acres of palm gardens and rests on one of Virgin Gorda's premiere snorkeling beaches. An amazing reef spreads out across the bay and giant boulders line the beach, making it completely secluded.
Baraka Point is great for families and advises guests to consult with them regarding how many kids so they can recommend the perfect sleeping arrangements. With bright colors used throughout the decorating, the villa strives to bring the Caribbean feeling within the walls. Hard woods, handmade silks, and furnishing from Indonesia, China and India help to create a place guests can relax within.
There are five king size ocean view suites, including four bedrooms for small children, as well as a large pavilion that incorporates living, dining, and entertainment rooms, and a Games Pavilion that has a queen size sofa bed within and an en-suite bathroom. There's an infinity pool that wraps around the main terrace and a dining terrace where guests can enjoy dinner while watching the sun set in the water.
Not having to share the staff with any other guests is definitely a perk. The chefs can cook to order, offer a planned daily menu, or have fun surprising you. If you'd like to cook your own meals, the full kitchen is of course available to you whenever you wish. Guests can also enjoy the Spa & Wellness Pavilion where Kim, the co-manager and spa therapist, will calm you with body wraps, massages, and facials.
Most guests will probably want to take advantage of the Caribbean location. With so many outdoor activities, there may not be enough hours in the day to do everything you want. Baraka Point offers water sports like wake-boarding, water-skiing, tubing, catamaran sailing, kayaking, and snorkeling. If you want to venture on-land, there is a full tennis court and guided hiking, bird watching, and star-gazing. Other activities like diving, windsurfing, deep-sea fishing, bouldering, island-hopping, and para-gliding can be arranged for you by the concierge. Even better is that most of these activities can be tailored to children, as well as additional activities like Iguana sightings and face painting, making Baraka Estate a great
family vacation
idea.
Rates range from 15,000 to 65,000 depending on the season you choose and how many people are in your party. Included in the price is transportation to the villa, a Hobie Catamaran sailboat, beach buggy, and other various equipment and activities.
For more information visit
BarakaPoint.com