By Jared Paul Stern May. 10th, 2011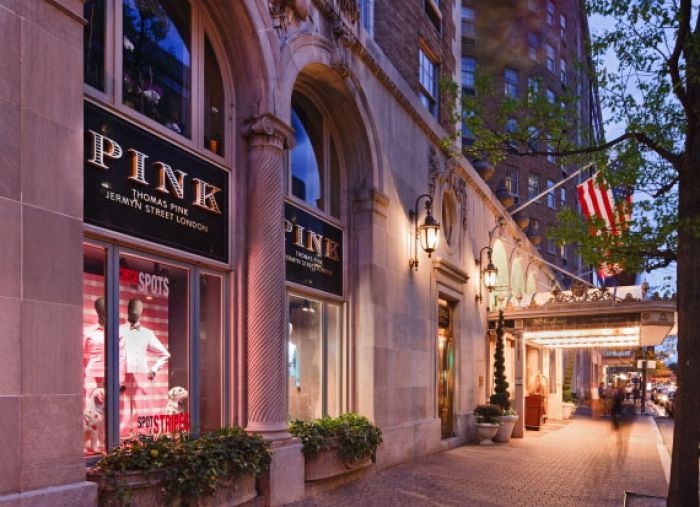 Ron Blunt Photography Courtesy of Thomas Pink
Luxe
LVMH
-owned London shirtmaker and haberdasher Thomas Pink has unveiled a new design concept at its
Washington, D.C. store
, a favorite sartorial stop for dapper politicos. Key to the concept is the tension between the
Jermyn Street heritage
of the brand and the design aesthetic which is encapsulated in the dynamic eclecticism of 21st Century London.
Taking a cue from classic British club interiors, contrasting finishes on walnut paneling highlight different product areas, while a herringbone floor of polished black granite detailed with a narrow band of signature pink unifies the space. Black and pink is also evident in the leather-trimmed upholstery of the furnishings. The new concept also features a state-of-the art video wall with brand imagery.
The brand's heritage, inspired by the legendary 18th Century legendary tailor to the aristocracy Mr. Pink, is illustrated with classic British hunting scenes. Thomas Pink's "cheeky fox" emblem cleverly graces door handles. "It has been exciting and inspirational to create such a modern and innovative interpretation of the Pink brand," notes Jonathan Heilbron, President and CEO of Thomas Pink. "The new store concept intelligently unifies past with present and uses contemporary technology to bring our brand to life."
Jared Paul Stern
Jared Paul Stern has written for the Wall Street Journal, New York Times, the New York Times' T magazine, GQ, WWD, Vogue, New York magazine, Details, Hamptons magazine, Playboy, BlackBook, the New York Post, Bergdorf Goodman magazine and Luxist among others. The founding editor of the Page Six magazine, he has also served as a judge for everything from the International Best Dressed List to the Fo...(Read More)