By Touring & Tasting Nov. 9th, 2011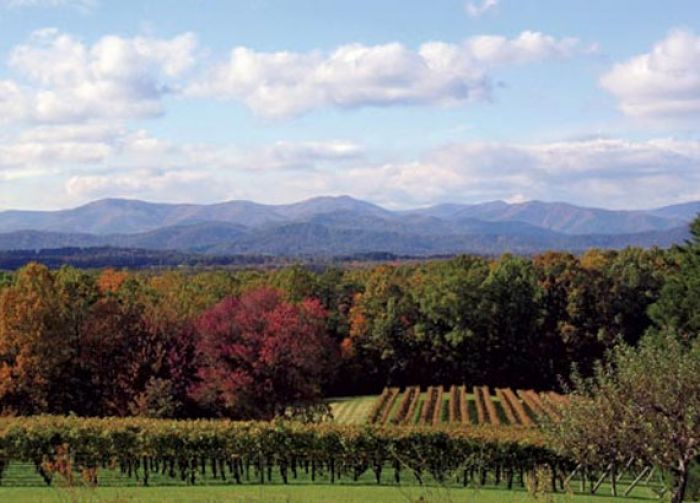 Twenty years have passed since the first crop of grapes was harvested at Horton Vineyards and made into wine. Since then, the original 55 acres founded by Dennis Horton and longtime business partner Joan Bieda, have expanded to 100, with more than 20 grape varieties under cultivation. But that's not what sets Horton Vineyards apart.
From the beginning, Dennis had a quest. As a longtime lover of wine and the Commonwealth of Virginia, he was convinced that certain grape varieties had a home in its soils. His research took him to the warm growing regions of the Rhône Valley, and the exquisitely floral grape, Viognier. The grape's propensity to grow in wide-open clusters allow humid air to circulate around the fruit, and its thick skin makes it resistant to heavy rain storms. Dennis focused on Viognier and quickly won national acclaim with his French-style, aromatic vintages. Today, Horton Vineyards is synonymous with Virginia Viognier.

However, at Horton Vineyards, Viognier is only the beginning. Today's portfolio is a virtual candy store of both white and red discoveries. The whites stretch far beyond Viognier, all the way to the North American Niagara grape. The reds range from Cabernet Franc to Norton, a native Virginia grape. The first Port wine made from the Norton variety in the state was produced by Horton Vineyards, and today, the 2007 Norton varietal is Horton Vineyard's most popular red wine.


Dennis has launched a host of other grapes in the state including Malbec, Syrah, Touriga Nacional, Petit Manseng, Pinotage, and Rkatsiteli. It's no wonder that Dennis was recently honored with the 2011 Gordon W. Murcie Lifetime Achievement Award for his role in Virginia's wine industry.

A visit to Horton Vineyards stands up to its reputation with a few surprises mixed in. Beyond the lengthy portfolio of Vitis vinifera varietals, there is a White Chocolate wine—proving that Horton Vineyards is willing to explore and go where many winemakers have not gone before, and still come out a winner.

WHAT TO BUY:

'10 Viognier Chiseled orange blossom, honeysuckle, stone, rich tropical fruit, spicy dry finish $20

'07 Norton Plum, tart cherry aromas, long spicy finish $15

'04 Vintage Port Blackberry, cherry aromas, hints of cinnamon, cedar $20

CONTACT:

Horton Vineyards
6399 Spotswood Trail
Gordonsville, VA 22942
800.829.4633
vawinee@aol.com
HortonWine.com
Tasting Room Open Daily 10 a.m.–5 p.m.

SPECIAL NOTES: Owner on site, complimentary tastings, picnic grounds, gift shop, open year-round.
Touring & Tasting
Established in 1995, Touring & Tasting offers an array of compelling marketing opportunities through its biannual, nationally distributed magazine wine club services weekly e-newsletter print newsletter and Website, TouringAndTasting.com. Touring & Tasting's Wine Club delivers an incomparable assortment of premium, hand-selected wines to a broad spectrum of motivated wine consumers. We offe...(Read More)