By Carly Zinderman Feb. 24th, 2012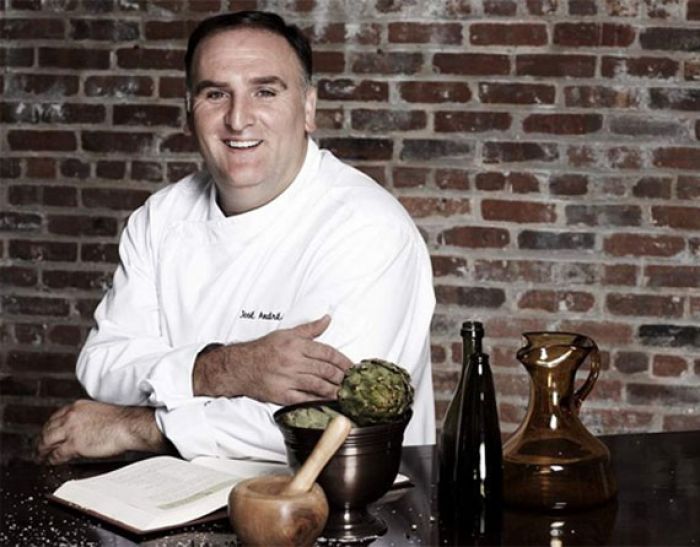 Photo Courtesy of Think Food Group
Spanish Chef Jose Andres has led a food revolution in America, popularizing the small plate concept at restaurants big and small. The
top chef
is also responsible for bringing molecular gastronomy techniques from Spain to the United States. The master chef began his career at the age of 15 and attended the School of Restaurants and Hotels of Barcelona. He trained in Michelin-starred restaurants including El Bulli with world-renowned master chef and friend Ferran Adrià.
It was in the nation's capital however, that Andres began changing the dining scene. Andres is responsible for several renowned D.C. fine dining concepts including Jaleo, Oyamel, Café Atlantico, and minibar by jose andres. When he opened minibar by josé andrés in 2003, the praise began pouring in and hasn't stopped yet. Andres is the owner of ThinkFoodGroup (TFG) and he has been named "Outstanding Chef" by the James Beard Foundation in 2011 and
Conde Nast Traveler
's "Hot Restaurateur" in 2011.
As a leading innovator in the food industry, Andres has been inspiring cuisine not only in The District, but around the world with his masterful culinary techniques and inspiring flavors. Outside of the
Washington D.C. restaurants
Andres has opened several other establishments including The Bazaar by José Andrés and Saam at the SLS Hotel at Beverly Hills. His latest project at The Cosmopolitan of Las Vegas features three new restaurants: Jaleo, China Poblano and é by José Andrés. Plans to open a Bazaar in Miami are slated for 2012.
In addition to opening restaurants that feature his modern Spanish cuisine, Andres is also host and executive producer of the PBS series
Made in Spain
. He has authored several cookbooks including the companion to the PBS series,
Made in Spain: Spanish Dishes for the American Kitchen
and
Tapas: A Taste of Spain in America
. In Spain, he has also become a television sensation, hosting
Vamos a Cocinar
on Televisión Española (TVE), which became the country's most popular cooking program and now airs in numerous Latin markets around the world. He was the first chef to be honored with the prestigious Order of Arts and received the Letter medallion from Spain's Ministry of Culture.
Andres' achievements have him working outside the realm of the kitchen as well. He has been invited to participate in policy forums and has even taught at the Harvard School of Engineering and Applied Sciences as part of the course "Science and Cooking." He has been featured on numerous television programs including
60 Minutes
, Food Network's
Iron Chef America
, Bravo's
Top Chef
, and Anthony Bourdain's
No Reservations
, and several NBC and NPR shows.
Loyal to the city in which he gained such gastronomic prestige, Andre is Chairman Emeritus for D.C. Central Kitchen, an organization that combats hunger and creates opportunities with culinary training. Additionally, in an effort to fight hunger in humanitarian crises around the world, Andres launched World Central Kitchen.
See All The
Top Chef Recipes
Carly Zinderman
Carly Zinderman is a Senior Staff Writer for JustLuxe, based just outside of Los Angeles, CA. Since graduating from Occidental College with a degree in English and Comparative Literary Studies, she has written on a variety of topics for books, magazines and online publications, but loves fashion and style best. In her spare time, when she?s not writing, Carly enjoys watching old movies, reading an...(Read More)