Jun. 26th, 2013
7 of D.C.'s Most Prestigious Annual Balls and Galas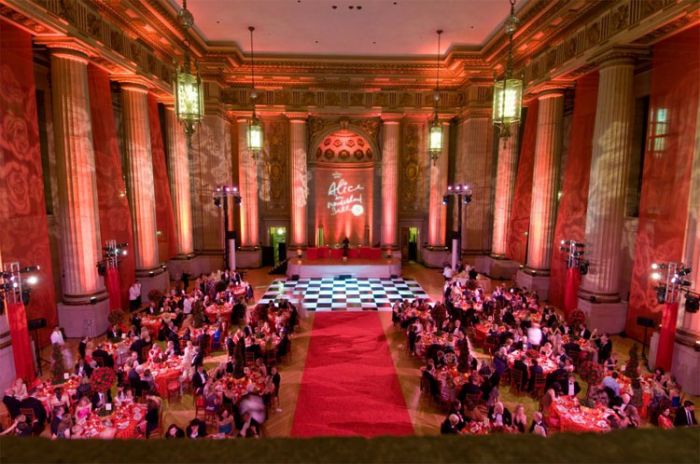 Photo Courtesy of The Washington Ballet
When Washington D.C. politicians, socialites, and high-profile community leaders get together in ornate gowns, perfectly tailored suits and cocktails in hand, significant changes are sure to follow. Each year, the District holds some of the best galas, balls and events that bring a community of world-changers together to fundraise in lavish ways. While the main goal of the evening is to boost funds, no expense can be spared at these functions; everything from the music, speakers, décor and prizes are immaculately planned to a tee. Here's a look inside some of Washington D.C.'s most prestigious balls and galas whose efforts continue to raise millions for charities and causes each year.
Photo Courtesy of 2013 Presidential Inauguration





The Official Inaugural Balls


Every four years, the Official Inaugural Balls pay tribute to the nation's new or second-term President. Anyone who's anyone in politics shows up to these events and 2013 was no different with 30,000 in attendance. Typically the official inaugural balls are by invitation only, so snagging a seat inside is a notable honor. Due to the state of economic affairs for the country, the balls were limited to the Children's Concert, Commander-In-Chief Ball and the Inaugural Ball, all held at the Washington Convention Center.
With that in mind, organizers were made to think creatively with a minimalist approach. The room was converted using only a few drapes and decorations against the exposed ceiling and fluorescent lights. The Obamas took to the floor for the first dance during Jennifer Hudson's rendition of Al Green's "Let's Stay Together." Guests also enjoyed performances by Alicia Keys, Black Violin, Brad Paisley, Far East Movement, FUN., members of the Glee cast, John Legend, Katy Perry, Maná, Smokey Robinson, Soundgarden, Stevie Wonder and Usher.
Photo Courtesy of Leukemia Ball





The Leukemia Ball


The Leukemia & Lymphoma Society (LLS) fund over $71.4 million annually on blood cancer research, education, and patient services and is considered the world's largest voluntary health organization dedicated to funding the fight against leukemia. LLS has awarded more than $750 million in research grants since it began in 1954. Each year since 1988, LLS has hosted the Leukemia Ball and has brought in nearly $48 million for their causes.
Approximately 2,000 guests attend the ball, one of the largest non-political black-tie events in D.C. Throughout the evening, guests can mingle over a carefully chosen dinner menu and purchase raffle tickets for a chance to ultimately win a Mercedes-Benz at the end of the night. This year, with the theme of 'Saturday Night Blues,' the ball hosted comedian Dana Carvey and musical guests Jim Belushi and the Sacred Hearts. Sponsorships for the event, however, do not come cheap and begin at $10,000, while single ticket prices cost $1,000. Its 2013 affair raised $2.75 million.
Photo Credit: Rena Schild/Shutterstock





Charityworks Dream Ball


Charityworks' black-tie event in the fall, the Dream Ball, is held at The National Building Museum and helps to create changes in the community to break the cycle of poverty by uniting corporate leaders, donors and volunteers. CharityWorks is a major philanthropic organization in the Washington Metropolitan area, distributing millions in high-impact grants. Each year, the organization partners with two non-profits (one military and one non-military).
Last year, CharityWorks transformed the building into an exotic paradise with the theme of 'Midnight at the Oasis.' Guests enjoyed a four-course dinner in the midst of bold, vibrant fabrics and exotic-themed dancers. Operatic performances by Nathan Pacheco along with silent and live auctions filled the evening. Sponsorships for 2013's Obsidian Fantasy-themed ball begin at $1,500 for an evening of cocktails, dining and dancing on October 5, benefiting Fisher House and Capital Partners for Education.
Photo Courtesy of Fight For Children





Fight for Children's Fight Night


Held at the Washington Hilton, DC's premiere fundraising event Fight Night, created by Fight for Children, brings together over 2,000 prominent business, sports and media figures together for food, drinks and professional boxing bouts. The night raises funds for the organization along with others that provide education and health care services to low-income children in Washington. Tickets for the evening begin at $1,000 or $8,500 for a table of 10. Their 2012 event raised $2.2 million.
Chaired by Under Armour, Fight Night 2013 aims to raise $3 million for Fight For Children and will collaborate for the first time with fund programs in both DC and Baltimore. On November 14, attendees will have the opportunity to partake in a seated dinner, live and silent auctions and watch boxing legends Gerry Cooney, James "Buster" Douglas, Aaron Pryor, Michael Spinks and more duke it out in the ring.
Photo Credit: Tony Brown/Imijphoto.com





The Washington Ballet's Annual Spring Gala


The Washington Ballet's (TWB) Annual Spring gala is a great event choice for those who enjoy the arts. Each year, the ballet raises funds through an extravagant production filled with whimsical themes and an impressive list of dancers. Single purchase tickets begin at $1,000 and tables start at $15,000. This year's spring event was held on April 12 and was themed 'The Hemingway in Paris Ball.' Proceeds benefited TWB's Community Engagement programs: The Washington Ballet@THEARC, DanceDC, and Excel! Celebrating its world premiere of "The Sun Also Rises," TWB hosted classic drinks like the Jack Rose which appeared in the novel. Channeling Paris in the 1920s, dancers in plumes and satin petticoats performed the can-can while guests ate authentic French meals and sipped on French wines. Guests were also treated to excerpts from "Twinkle, Twinkle Little Mozart." In 2012, TWB raised over $320,000 for its three community engagement programs.
Photo Courtesy of The USO





USO Gala


Recognizing honorees from each branch of the armed forces for their extraordinary bravery, loyalty and heroism, as well as a special volunteer, the annual USO Gala pays tribute to our men and women in uniform. In attendance each year are Washington dignitaries, Members of Congress, military leadership, members of the USO Board of Governors, USO corporate sponsors and the media. Individual tickets are $1,000 with sponsorship packages starting at $15,000.
In 2012, the annual event hosted 1,100 guests whom began the night with a cocktail reception followed by dinner inside the Wardman Park Marriott. The black-tie or military equivalent affair boasted a performance by Jordin Sparks and speeches by Sloan D. Gibson, President and CEO of USO; General Martin Dempsey, chairman of the Joints Chiefs of Staff; and Leon Panetta, Secretary of Defense. On October 25, their 2013 gala will feature even more incredible servicemen and women on this star-studded night.
Photo Courtesy of Meridian International Center





The Annual Meridian Ball


Attended by diplomats, members of the Cabinet, Congress and the international business community, the Meridian Ball is considered one of Washington's most distinguished events. Held at the Meridian House, the black-tie, or military attire, affair brings together guests for intimate dinners hosted by Ambassadors at their private residences and embassies. Tickets can also be purchased for a separate White-Meyer House dinner. Pre-Ball Embassy Dinner and Ball costs $650 while the White-Meyer Dinner and Ball will be $450 per person. Proceeds from the ball go toward Meridian International Center's events and programs designed to strengthen international understanding and foster the open exchange of cultural ideas in the spirit of a unified global existence. Washington's most elite and powerful are in attendance, each enjoying the evening's festivities and mingling with VIPs. The 2013 Meridian Ball will be held on Friday, October 18.
The list of prominent fundraising events is extensive in the District and attending one of these illustrious galas is held in high esteem. Those in the know realize that it's not if you'll attend, but rather, which you'll attend.
You might like :
Things To Do in Washington D.C.
.

Washington Map

.
.

Luxury Hotels in Washington

.