By Gwen Mayes Dec. 9th, 2009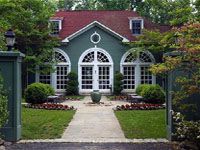 Washington DC Retreats:
Less than one hour outside the Beltway, far from roll calls and late night sessions of Congress, is Goodstone Estate and Inn, a 265-acre luxurious hideaway and working farm nestled in Middleburg, VA. Once a stopping point for weary travelers in the late 1700s, the former estate has 18 restored guestrooms in rustic, but lavishly appointed cottages and barns sprinkled across the rolling Blue Ridge Mountains in the middle of foxhunting country.
This is where you go to forget about traffic and deadlines. This is where you go when you want to slow down. Unwind. Relax.

On a recent fall retreat, I stayed overnight in the Bull Barn. Yep, just what you think, the bull got his own miniature barn when Goodstone was a working dairy farm in the mid-1900s. Today's stylish accommodations (sans the bull) are the property's finest -- a stone fireplace, butler's bar, iron-studded leather furniture and refurbished barn doors make it a classy cottage for a couple's special occasion or writer's retreat. Like other rooms at Goostone, the bathroom in Bull Barn is as big as the bedroom and features a deep soaking tub with programmable Jacuzzi, double copper sinks, steam shower and heated tile flooring. Exposed beams and pine floors original to the barn add to the country charm. Ditto for the walking cane and binoculars for a morning hike.
Other cottages on the property, former tenant homes, feature 2-4 bedrooms exquisitely decorated with English antiques, generous sitting rooms and private nooks overlooking the hazy blue vistas of the mountains. Each cottage has a stone patio with a wisteria covered canopy and gas grill, accommodations perfect for a family gathering or small corporate retreat.
Despite its remote location, everything you need is on the property including top chef, William Walden's inspiring dinner Thursday through Monday evenings and full or continental morning breakfast daily (included). Local herbs, cheeses and organic vegetables make for delicious cuisine; the lamb the best I can remember.
The spaciousness of the property allows for meandering by Goose Creek or hiking through fields dotted with sheep and a friendly, blue-eyed llama. It's hard not to envision a hearty way of living but with the amenities of handmade granola with fresh cream and scones under glass always nearby. Spa services, trail riding and a romp with the foxes can all be arranged. I opted for reading a few more chapters of a novel curled up under a handmade down quilt and took pleasure in doing nothing.
Silence is the only sound you'll hear at Goodstone, other than the crackling of the fire. Go there to relax. Stay there because you are.
For
JustLuxe
Gwen Mayes
Writer,
WritingWithInsight.com

Gwen Mayes
Gwen Mayes is a freelance health and wellness writer, lawyer, political junkie and former physician assistant. Based in DC, Gwen teaches writing workshops for the American Medical Writers Association focusing on persuasive writing. She writes about things, places, events, and lifestyles that simply make people feel better. Read more about Gwen at www.writingwithinsight.com. ...(Read More)