By Gwen Mayes Aug. 23rd, 2010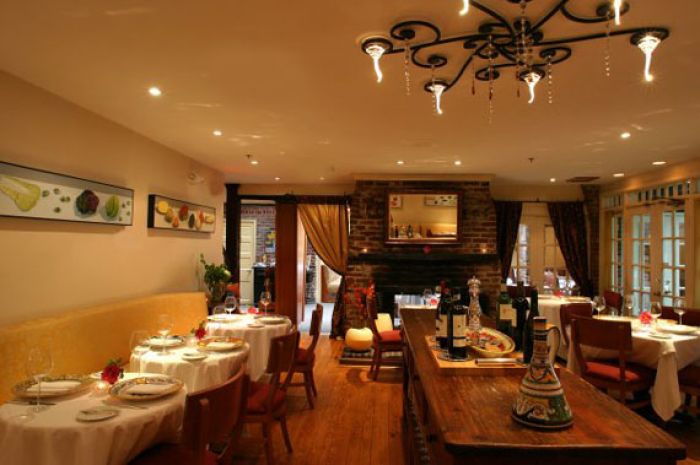 Restaurants in DC:
A popular spot for lunch in Old Town Alexandria is Restaurant Eve, a refurbished warehouse nestled in a brick courtyard a few blocks from some of the oldest establishments in the
DC area
. Chef Cathal Armstrong, a young Irish father of two, was awarded DC Top Chef in 2007 when he reset the bar for the use of regional farm meats, cheeses, vegetables and fish in the DC restaurant scene.
Despite the restaurant's award-winning Tasting Room and sun-lit Bistro, my favorite experience is the Lickity Split Lunch featured in the Lounge, a cozy, warm bar with settees angled around a stone fireplace and bar stools for serious lunch conversations. The special menu allows you to "pick two" of anything on the menu, including wine by the glass, soups, salads, and desserts for $14.95. On a recent visit, a friend and I had the heirloom tomato salad with luscious, thick tomatoes from Twin Springs Farm in Pennsylvania, a shaved ham and cheese sandwich courtesy of Polyface Farms, and a generous, savory portion of chicken confit on the bone over baby greens dampened with a sweet vinaigrette.

Restaurant Eve is convincingly the best restaurant in the Old Town area, just a short few miles south of Washington, DC off George Washington Parkway. Gas lanterns and original pebble streets outside add to the charm and historic feel inside.

Regulars at the restaurant know to save room for the signature dessert, "Birthday Cake" ... Just Because, a two-layer white cake covered with thick butter cream pink frosting dressed up with colorful sprinkles, swirls of pink piping and nothing but pure fun. The experience will remind of your childhood parties when clowns made animal figurines from balloons and you had never heard of a 401(k). What started as a nod to Armstrong's less serious side has become the most requested item on the menu creating such a buzz the recipe is no longer available on their website. For lunch, each "cake" is a dainty miniature reproduction of the original 9-inch version just enough for four or five bites.

Lickity Split Lunch is available 11:30 a.m. to 4 p.m. Monday through Friday and is the perfect way to start a long weekend. I manage to get there once or twice a month, not nearly as often as the diner next to me last week who claims to have had lunch there "about 1,600 times." Even if he's exaggerating, every visit leaves you planning the next.

Gwen Mayes
Gwen Mayes is a freelance health and wellness writer, lawyer, political junkie and former physician assistant. Based in DC, Gwen teaches writing workshops for the American Medical Writers Association focusing on persuasive writing. She writes about things, places, events, and lifestyles that simply make people feel better. Read more about Gwen at www.writingwithinsight.com. ...(Read More)